From a kickstarter campaign to now the top selling Wear OS smartwatch on Amazon, Mobvoi's TicWatch proudly launches the newest model; the TicWatch Pro.
Resolving the common gripe of battery life, the TicWatch Pro promises a battery life of five to 30 days on a single charge thanks to a layered display technology that entails a seamless interchangeability between a low power FTSN (Film compensated Super Twisted Nematic) display and an OLED display.
With the interchangeability of screen display and a design reminiscent of a high-end automatic watch, the TicWatch Pro will retail for USD $249.99 (appx SGD $340.05, excluding taxes) and are available on the Mobvoi TicWatch's website.
---
Mobvoi launches TicWatch Pro, a premium smartwatch with high-end design and extended battery life
Powered with Wear OS by Google™, the flagship model's Layered Display technology extends battery life between five to 30 days on a single charge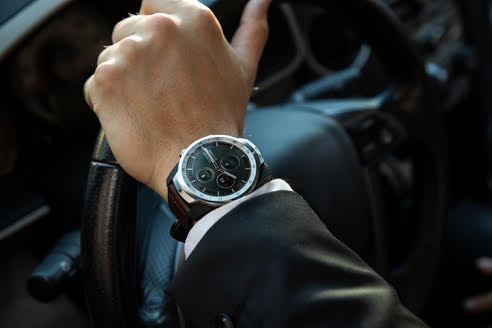 SINGAPORE – July 11th, 2018 – Mobvoi Inc., a leading artificial intelligence (AI) company backed by Google™ and Volkswagen, is launching TicWatch Pro, whose innovative Layered Display technology enables it to last between 5-30 days on a single charge. Powered with Wear OS by Google, TicWatch Pro helps users to stay connected to what matters most, allowing seamless interactions with everyday life.
Mobvoi's TicWatch line is the top selling Wear OS by Google smartwatch line on Amazon. With TicWatch Pro, Mobvoi is now setting the benchmark for smartwatch battery life in the industry. On top of that, Mobvoi is setting itself apart in the wearables space through award-winning designs, and the innovative integration of artificial intelligence within its line of products.
Short term battery life is a common pain point faced by many smartwatch users, with many models needing recharging every 1-2 days. An innovative technological breakthrough, the TicWatch Pro utilises Layered Display technology (patent pending) to allow the user to seamlessly interchange between a low power FSTN (Film compensated Super Twisted Nematic) LCD display and an OLED display, that sit on top of one another. The FSTN display (top layer) is a transparent LCD display offering high visibility in direct sunlight, and transparent quality when not turned on, while the OLED (bottom layer) offers a higher definition, full colour display.
'TicWatch Pro is the result of our relentless pursuit to make a premium smartwatch that greatly resolves the battery life issues which have been inherent in smartwatches' explained Zhifei Li, CEO and Co-Founder of Mobvoi. "Our approach has been to innovate with the screen, radically reducing battery consumption. Ultimately, TicWatch Pro is our flagship smartwatch designed to further our mission of bringing anyone and everyone access to affordable, high quality smart devices."
The power to switch between displays and their related "modes" allows TicWatch Pro users to achieve unprecedented battery life and control over battery usage in an award-winning smartwatch.
In 'Smart Mode', the OLED display with Wear OS by Google is engaged and battery life will extend up to two full days of usage. On the other hand, the 'Essential Mode', engages just the FSTN display and battery life will extend up to 30 days. On reaching low battery in Smart Mode, users can switch to Essential Mode so the watch can last for another three days.
In Essential Mode, users will see time, date, step counting, and heart rate monitoring. The health and fitness data syncs when TicWatch Pro is switched to Smart Mode. OTA updates over time will add more functions into Essential Mode (since the sensors can still be accessed in this mode) including distance traveled, calories burned, speed and cadence. In Smart Mode, users will have the complete Wear OS by Google experience through the OLED display.
Along with its innovative display and unrivaled battery life, TicWatch Pro offers access to a host of apps, including:
Google Play™ Store – Access to thousands of apps through the on-watch Play Store, and the ability to download them directly on the watch
Google Assistant™ – Access the Assistant directly on your wrist to check the weather, start your run, set a reminder and more just by asking
Premium build quality – Watch bezel and rear cover are stainless steel (SUS), while the rest of the case is a type of hard nylon (polyamide) reinforced with glass fiber (50GF); skin-friendly silicone strap covered with premium genuine Italian leather
NFC Payments – Use Google Pay™ to pay directly from your wrist
IP68 Water and dust resistant – Withstands submergence in water up to 1.5 meters for up to 30 minutes (swimming not recommended)
Health and fitness sensors – Heart rate monitor, Accelerometer, Gyro, Magnetic Sensor, Ambient Light Sensor, Low Latency Off-Body Sensor
Health and fitness apps – Along with health and fitness apps from Google, Mobvoi's own Health and Fit apps are pre-installed as well
Thousands of watch face options – Available to download through Google Play™
Music Streaming – Listen to your playlists through your preferred music streaming app
"The TicWatch Pro is an exciting entrant into the smartwatch segment, the fastest growing segment in wearables today", said Pankaj Kedia, senior director and business lead, smart wearables segment, Qualcomm Technologies, Inc. "We have been working closely with Mobvoi over the last 2 years and announced our first products in China last month. We are delighted that the TicWatch Pro is coming to the US. We are working with Mobvoi on new experiences, new products and are excited to support their global expansion and the many possibilities they are creating for consumers."
Singapore Pricing and Availability
Mobvoi will be expanding its presence in Singapore through a strategic partnership with Challenger. The TicWatch S (Sport) & E (Express) will now be available in 25 Challenger stores across Singapore. TicWatch Pro will be available via Mobvoi official website.
The TicWatch S and E complements users with active lifestyles, especially with the convenience of Google Assistant, fitness apps like Google Fit, and the powerful Google app ecosystem on your wrist. The TicWatch S and E are also award-winning models, taking the prize for the iF Design Award and Good Design Award respectively in 2017.
All models are now available for purchase:
Device
Colours
Price
Availability
TicWatch Pro
·      Shadow Black

·      Liquid Metal Silver

USD 249.99

*appx SGD 340.05, excl taxes

·      Available online via Mobvoi's official Website
TicWatch S (Sport)

·      Knight

·      Aurora

·      Glacier

SGD 299
·      Selected Challenger Outlets1

·      Mobvoi officialWebsite

TicWatch E (Express)
·      Shadow

·      Ice

·      Lemon

SGD 239
For more information, please visit: https://www.mobvoi.com/
— END —
TicWatch Pro's Technical Specifications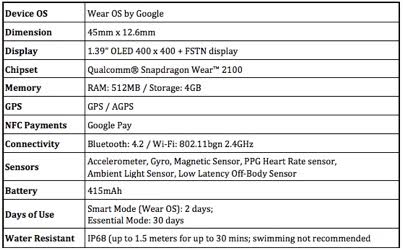 *Google, Wear OS by Google, Google Assistant, Android Wear, Wear OS, Google Pay and Google Play are trademarks of Google Inc. Wear OS by Google works with phones running Android 4.4+ (excluding Go edition) or iOS 9.3+. Supported features may vary between platforms and countries.
1Selected Challenger Stores carrying the TicWatch S&E
1)      313 Somerset
2)      Ang Mo Kio Hub
3)      Bugis Flagship
4)      Bugis Junction
5)      Causeway Point
6)      Changi City Point
7)      City Square
8)      Clementi Mall
9)      Compass One
10)    Great World City
11)    IMM mall
12)    JEM
13)      Jurong Point
14)      Junction 8
15)      Lot 1
16)      NEX
17)      North Point
18)      Parkway Parade
19)      Plaza Singapura
20)      Punggol Waterway Point
21)      Raffles City
22)      Suntec City
23)      Tampines Mall
24)      Tampines 1
25)      Vivo City