We were at Kingston's showcase room at COMPUTEX 2018 last week to take a look at their latest storage products. Many consumers may be familiar with the SD and MicroSD card solutions, as they are well distributed everywhere around the world.
Kingston's new SD and MicroSD Cards – CANVAS Series
Kingston has announced a refresh to these SD cards, and will be re-branding them with a new model CANVAS branding. More specifically, these storage cards will come in CANVAS Select, CANVAS Go! and CANVAS React models, each for a different audience that seeks for different kinds of performance and price points.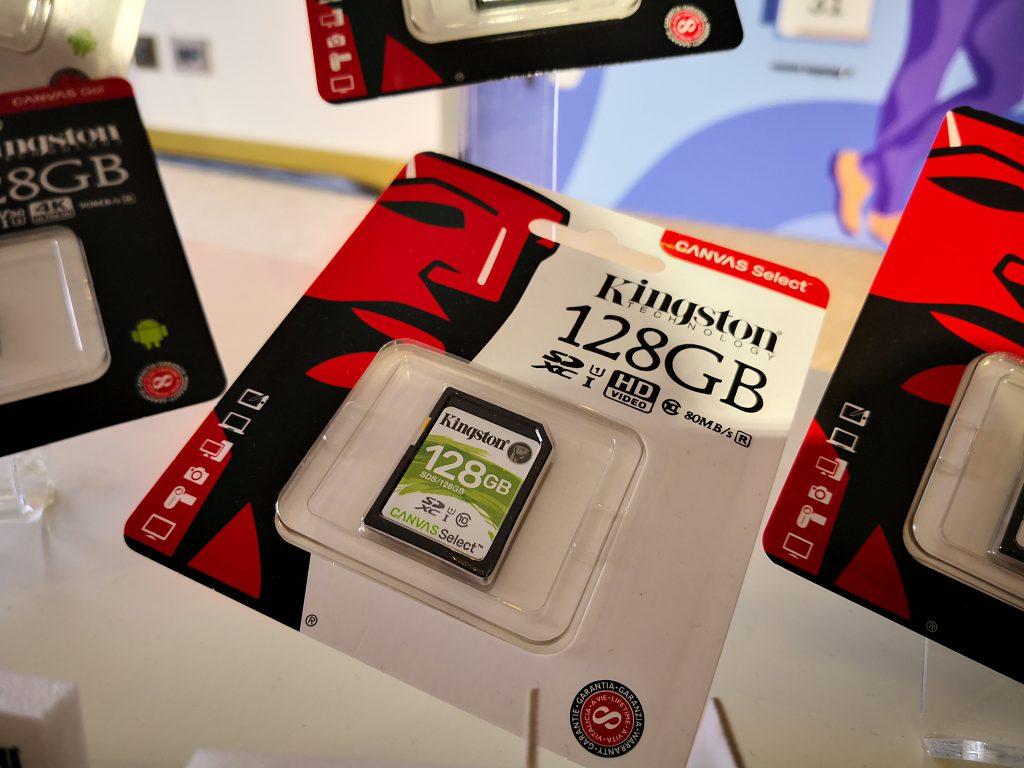 The CANVAS Select model is Kingston's no-frills SD Card solution. This is targeted for users who are less concerned with performance, but requires large storage space for an affordable price. They are rated with a read speed of 80MB/s. It's also rated to have a write speed of at least 10MB/s.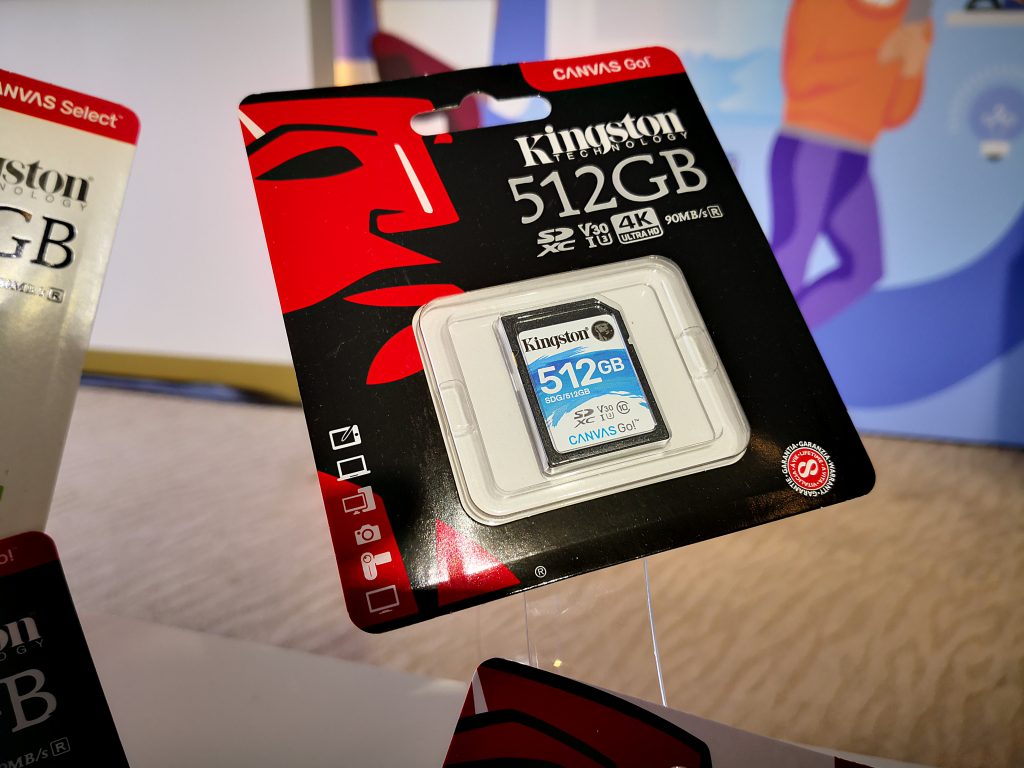 On the other hand, the CANVAS Go! has a read speed of 90MB/s. It is also rated to have a  Video Speed Class of V30, which essentially means a higher 30MB/s write speed than the CANVAS Select.
The CANVAS Go! is therefore more suitable for video recording of 4K videos, as its write speed is able to sustain the large file size written to the card per second.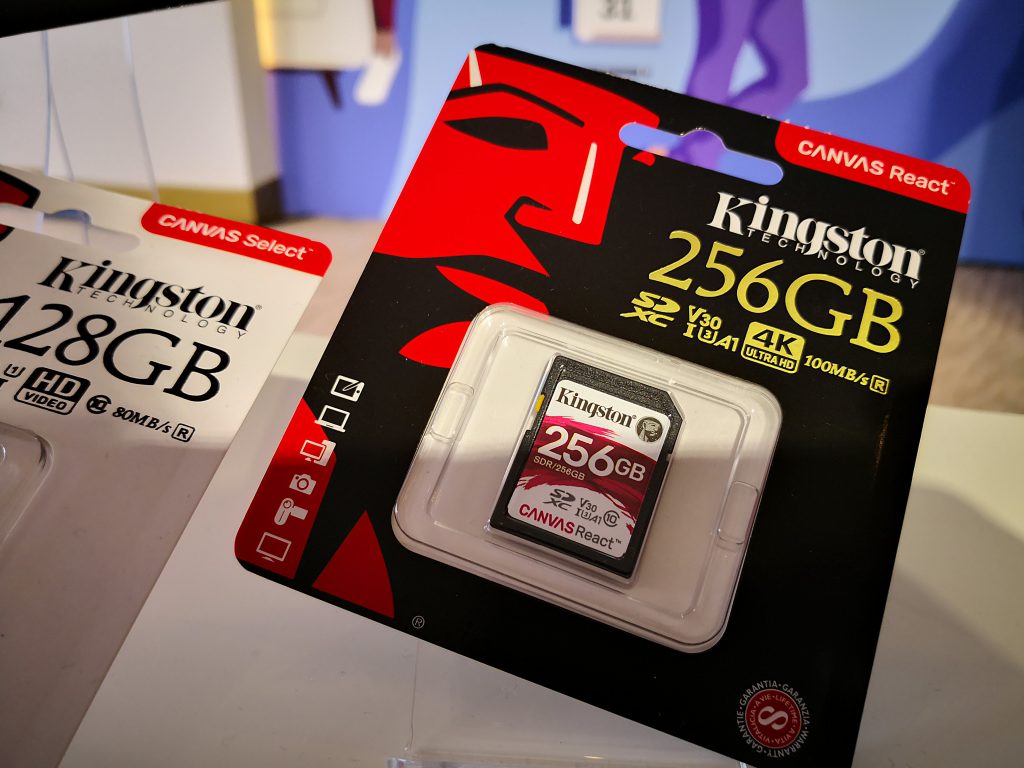 At the top of the line of the CANVAS series is the CANVAS React SD Card. As compared to the CANVAS Select, the React is rated to have a even higher read speed at 100MB/s. It has also the A1 symbol, which means that it has a minimum threshold of Random Read of 1500 IOPS and Random Write of 500 IOPS. When transferring multiple small files across to and from the SD Card, the React will perform better than the Select.
Kingston UV500 Series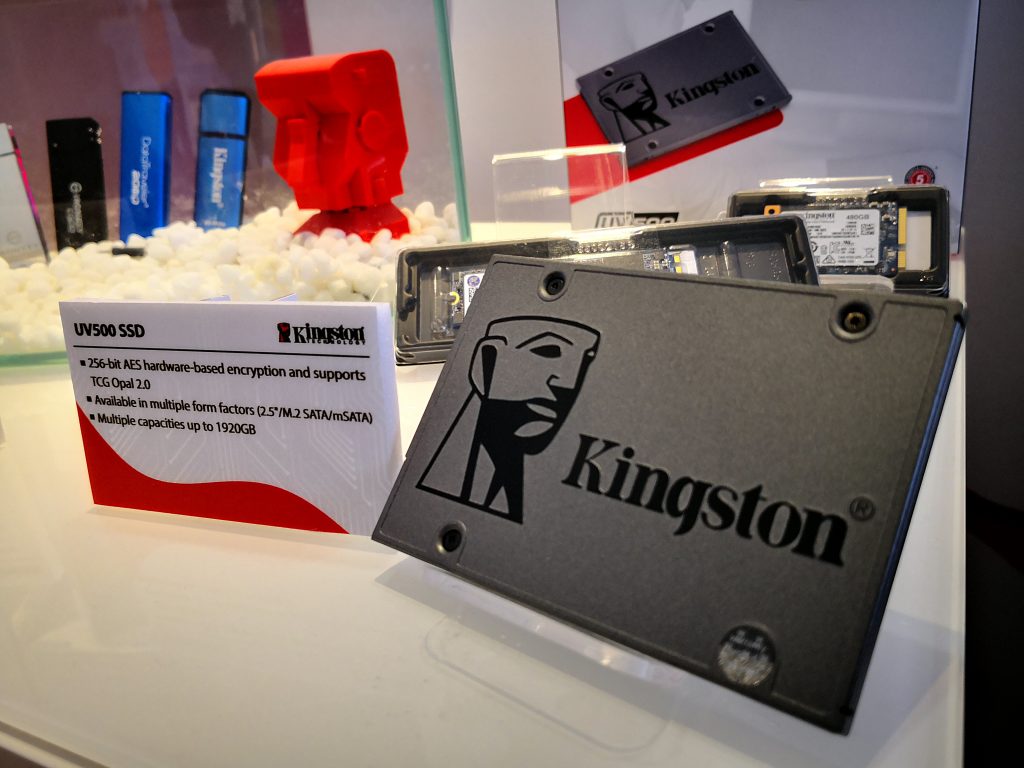 The UV500 series differs from any other SSDs in the market as all data that are stored on these drives will be automatically encrypted. There is a hardware chip on the SSD that supports 256-bit encryption and encrypts all data that goes through it before getting stored on the NAND flash. We do expect that this product will be used in markets and places where data security is of a certain importance, such as computer systems in military or government locations.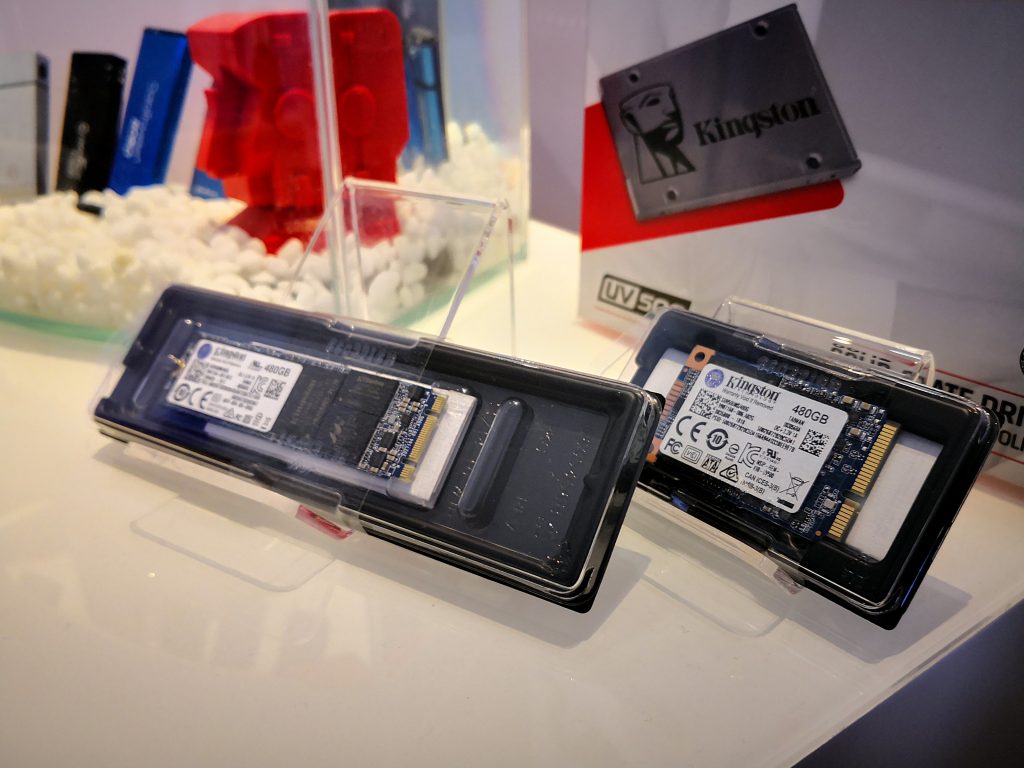 The UV500 is also available in M.2 and MSATA form factors.
Kingston Bolt Duo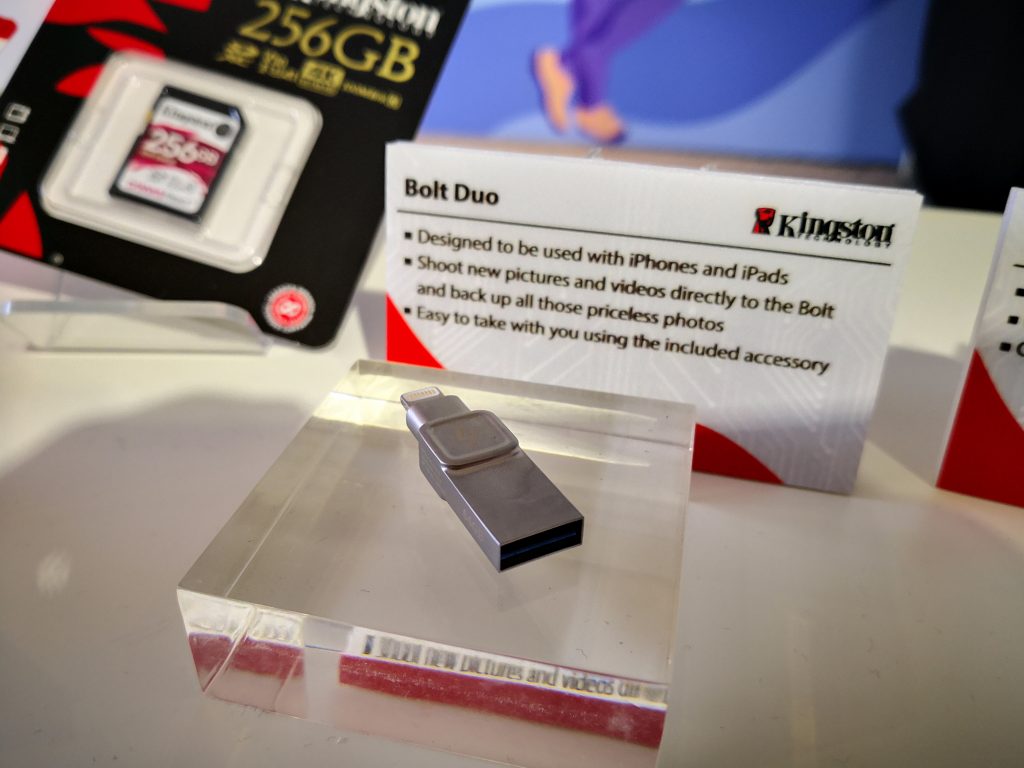 Kingston also showed the Bolt Duo, which is a USB drive that is compatible with Apple devices, as it comes with a lightning interface. Users can directly read and write videos, picture and files on the Bolt. Of course, the USB drive can also be plugged onto a PC, so that users can have quick access to the files stored on it. This drive acts as a quick interface to transfer files between computers and the iPhone devices.
Computex 2018: Kingston Demonstrates Family of Storage Solutions
Demonstrates Industry's Fastest NVMe SSD for Digital Production Environments
Announces the All New Canvas Series of Flash Cards
Showcases Embedded Solutions in Consumer Devices
Kingston, a world leader in memory storage products and technology solutions, is set to share its latest and upcoming products during Computex 2018. The demonstration highlights the capabilities of the fastest NVMe SSD, embedded and encrypted solutions, mobile lifestyle products, including the brand new Canvas series for SD and microSD cards.
From enterprise SSDs, encrypted USBs, consumer mobile products to embedded solutions, Kingston continues to offer customers rock-solid reliability, ultimate security and maximum performance. The demonstration shows Kingston's commitment to offering the most complete family of storage solutions. The demonstration includes:
DCP1000 PCIe NVMe SSD: With four times the data rate of HD, Kingston's PCIe NVMe solutions provide the end-to-end data acceleration required for modern media workflows as demonstrated on the Wall of Video with hundreds of individual, high-resolution videos.
Data Security: Kingston Encrypted Solutions
Both Kingston and IronKey™ encrypted USB drives are designed to protect data and maintain a productive and efficient mobile workforce, and are key component of GDPR compliance.
Kingston UV500 SSD protects sensitive data with 256-bit AES hardware-based encryption and supports TCG Opal 2.0. It is available in three different form factors (2.5″, M.2 2280, mSATA) to accommodate any client system.
Embedded Solutions: Kingston's embedded solutions include eMMC, eMCP, ePOP and DRAM components. The embedded solutions can be widely used for any other consuming electronic existed in people's daily lives.
Mobile Lifestyle and The New Canvas Series of Flash Cards
The all-new "Canvas" series SD and microSD memory cards allows users and creators to record precious moments and bring out the imagination. With the Canvas cards, people can paint with colorful memories and create their own masterpiece. It offers three different variations in both SD and microSD cards: Select, Go, and React to suit consumers' needs.
DataTraveler Bolt Duo is designed specifically to free up space on Apple®1 iPhone®1 and iPad®1 with limited memory. Users simply plug it in, download the Bolt app and then back up to their camera roll.
Nucleum USB 3.1 Type-C ─ With Nucleum, users can connect up to 7 devices at once and keep your creativity flowing. Besides, it can power up your Apple® MacBook while also connecting to a USB Flash drive and charging an iPhone. The compact size and built-in cable also make the Nucleum a perfect travel companion to take with on location.
1 Apple, iPad, iPhone, and Lightning are trademarks of Apple Inc., registered in the U.S. and other countries.
Kingston can be found on:
Facebook: http://www.facebook.com/KingstonBlogFansClub.en
YouTube: http://www.youtube.com/user/KingstonAPAC
About Kingston Technology
Kingston Technology is the world's largest independent manufacturer of memory products. Kingston designs, manufactures and distributes memory products for desktops, laptops, servers, printers, and Flash memory products for computers, digital cameras and mobile devices. Through its global network of subsidiaries and affiliates, Kingston has manufacturing facilities in California, Taiwan, China and sales representatives in the United States, Canada, Europe, Russia, Turkey, Ukraine, India, Taiwan, China, and Latin America. For more information, please visit www.kingston.com.
Kingston and the Kingston logo are registered trademarks of Kingston Technology Corporation. All rights reserved. All other marks may be the property of their respective titleholders.
©2018