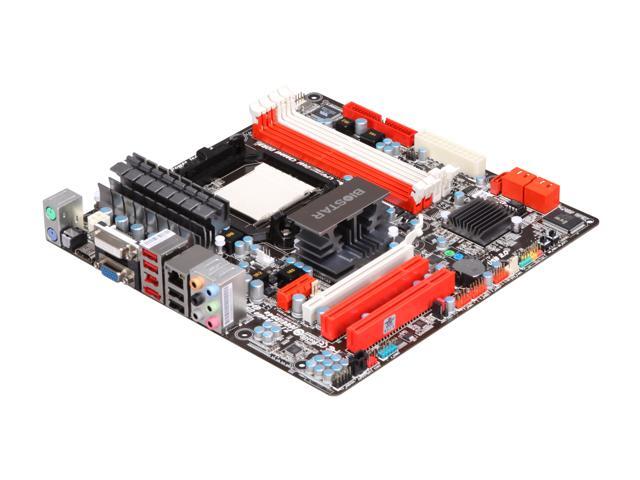 The biostar ta890gxe is the best board you can buy if you're on a budget but want to leverage on a whole new level of performance with sata 6gbps interface. Armed with amd's 890gx chipset, the ta890gxe allows you to run your phenom ii, athlon ii and any of the future amd processors, as long as they are of the am3 socket. Additionally, this motherboard supports the newest phenom ii x6 hexa core processors too. This motherboard is in a micro atx form factor and it is able to fit in any micro atx slim towers, making the board suitable for a home theatre pc as well. Another point to take note, I just said about a home theatre pc: with integrated ati 4290 graphics onboard, there isn't a need to get an extra graphics card to provide an video out to your tv as well. With a hdmi output, you're also able to get audio off your hdmi cable to your big screen television at home, just by one simple cable that transmit both your video and audio signal. Ati avivo technology with the 4290 will ensure that the image produced on your screen will be corrected and appear brighter and clearer. Together with ati stream technology, instead of rendering videos in hours inefficiently on the CPU, you can now do it efficiently on the gpu ( or the integrated igp in this case) without much stress on the CPU and finish rendering in minutes. That is what is all about ati fusion. Using an amd CPU with an ati graphics core. You'll get unbeatable performance for the price compared to competitors on the blue and green team. With ati hybrid crossfirex technology, adding on a hd5450 or 3200,4200 graphics card on your system will give 2x the performance on your igp. Certainly a plus points not only for this motherboard, but all the other boards that has hybrid crossfire technology with them. I give a thumbs up for ati and amd for such technology. Provided with this motherboard is a free home theatre remote. You now realise how much biostar wants you to use their board for a home theatre pc.
Talking about the board itself, it is a tad bit disappointing that biostar left out usb3.0 support as well as another pci-e x16 slot for you to support for crossfirex. However, the availability of a pci-e x1 slot on the board solves the problem. You can add on a usb3.0 expansion card on that slot to move on to an ultimate future proof computer system that can last you for years.
I'll talk a little about the features that the board is equipped with, with the innovation by biostar.
1) bio unlocker enables you to unlock you phenom ii dual cores into tri or quad core. Why was this extra feature so significant? Isn't it the same as advanced clock calibration? You need to know that amd left out advanced clock calibration feature for the new 8xx series of chipset. It is left to third party controllers to enable the extra cores or l3 cache on these amd processors. Biostar named it bio unlocker, and unlocking and unleashing ultimate performance of your processor is as easy as a few press of the keyboard into your BIOS settings.
2)GTO63
Ultimate automatic overclocking feature that pushes your phenom II x6 to its limits
3)BIOSTAR "GPU" Technology
BIOSTAR G.P.U (Green Power Utility) is a new function, it will enhance energy efficiency by disabling extra phases while CPU on light loading. It integrated a friendly GUI to monitor what's your CPU resourcing, response and optimized the power saving on your system. Such as Heavy 3D Gaming, Internet or MSN charting, G.P.U will always arrange the best power efficiency in your system.