Leading global technology company, vivo announced that it is launching the vivo Y35 in Singapore on 24 September 2022. At an affordable price, the Y35 provides stellar performance from its Snapdragon® 680 processor and a total of 16GB RAM with vivo's latest Extended RAM 3.0 technology. It also comes with a suite of other features such as 44W FlashCharge, 5,000 mAh large-capacity battery, and IPX4 water-resistant and IP5X dust-resistant ratings.
It also sports a 50MP main rear camera, 2MP bokeh camera and 2MP macro camera, catering to the photography needs for even the most discerning users.
Here are some key highlights of the phone:
6.58-inch FHD+ display with a 2408×1080 resolution and P3 color gamut, providing an immersive visual experience.
Tripe Camera System featuring a 50MP main camera, 2MP bokeh camera, and a 2MP macro camera to cater to the photography needs of users
Large Storage Capacity of 128GB internally that can be expanded up to 1TB with its triple memory card slots
44W FastCharge + 5000mAh Battery Capacity: Get over 14 hours of screen-on time for High-Definition video streaming, or over 7 hours of graphic-intensive gaming. 44W FastCharge allows the phone to be charged to 70% battery in just 34 minutes
The Y35 comes in two colours Agate Black and Dawn Gold. It is available at the recommended retail price of S$359 (without contract) via vivo's official store on Lazada and Shopee, authorised retailers island wide, and vivo's Concept Store at Bugis Junction and Causeway Point. 
Singapore, 21 September 2022 – Leading global technology company, vivo today announces the launch of its Y35 smartphone, the latest in the brand's fun-filled and lively Y series. The Y35 exhibits best-in-class features along with exceptional processing power, packaged within a remarkably chic yet durable design to deliver a fuss-free user experience.
Experience lightning-speed performance thanks to the Y35's 8GB RAM, 8GB extended RAM and 128GB ROM, delivering processing speeds comparable to other smartphones way above its price point. The Y35 also features a 5,000mAh battery and 44W FlashCharge, allowing for fast charging and long battery life to cater to the most discerning users' needs. IPX4 water-resistant and IP5X dust-resistant is also present on the Y35, keeping it safe from water and dust build-up.
"The Y35 grants today's smartphone users ease of access with its excellent value for money. Powered by multiple top-level specifications and features, we aim to provide the best possible user experience with our Y35, which is also matched by a remarkably affordable price. With this latest device in vivo's Y series, we are redefining the status quo by incorporating elements of a fun-loving lifestyle and best-in-class features.
Prioritising a fun and intuitive user experience coupled with the impressive specs in this price range, you could say 'That's Y, Unleash the Double Fun," said Mr. Liu Hong Bin, CEO of vivo Singapore.
Beautiful Design with a 2.5D Curvature and 6.58-inch FHD+ Display
The all-new Y35 boasts a sizeable 6.58-inch FHD+ display with a 2408×1080 resolution and P3 colour gamut[1]. Besides being able to provide immersive visuals, the Y35 features a high touch sampling and screen refresh rate of up to 90Hz -for smooth and immediate screen response. The display has a maximum brightness of 550 nits, allowing it to maintain visibility and clarity for comfortable viewing even under direct sunlight.
Y35's stylish flat frame design exhibits elegant, contoured edges achieved with a 2.5D curvature and symmetrical rounded corners on both the front and back. Stylish yet comfortable to hold, its frosted anti-glare (AG) surface highlights a soft feel when held in the hand, and is resistant to scratches and fingerprints.
We have also put the Y35 through rigorous quality tests, to ensure we bring to users a device that is durable against scratches, drops, and extreme weather conditions. Additionally, its IPX4 water-resistant and IP5X dust-resistant ratings make the device the ultimate companion for users who frequently participate in adventurous outdoor activities.
The fingerprint scanner of Y35 is integrated with the power button on the device's side and allows users to power on and unlock the phone simultaneously. With the Face Wake feature, users can unlock their phones by simply picking up and glancing at their phones.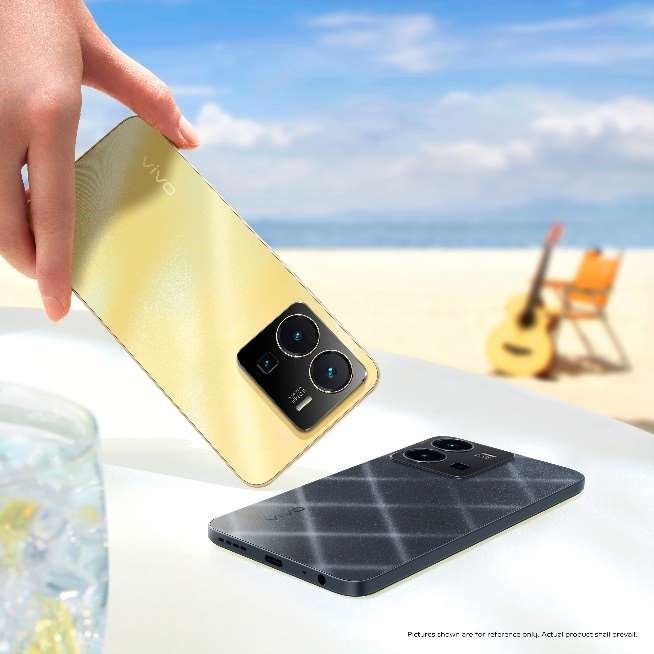 vivo's Y35 is available in two colours: Agate Black and Dawn Gold. Agate Black features a diffraction grating, with a million micron-sized lines that creates a dramatic contrast of light and shadow. Dawn Gold was inspired by the afterglow of the sunrise caressing the waves by the sea, highlighting a laidback and refined lifestyle.
Powerful Performance Meets Long Battery Life
At the heart of Y35 lies a Snapdragon® 680 processor built on the flagship-level 6nm process, offering a maximum clock speed of up to 2.4GHz, to deliver efficient and powerful performance while being power-efficient. With vivo's latest Extended RAM 3.0 technology, Y35 can extend its 8GB RAM with an additional 8GB virtual memory[2]— providing a total of 16GB RAM for a seamless and lag-free user experience. The ability to smoothly run multiple apps in the background is also made possible by the MultiTurbo 5.5 algorithm, which optimises performance strength and multitasking with even less power consumption.
vivo Y35 comes with a large internal storage capacity of 128GB, which is expandable up to 1TB[3] through its triple memory card slots, providing users the freedom to store as many files as they want – from photos, videos, documents and more.
Aside from its incredible performance, Y35 boasts a large 5,000mAh battery that can hold its charge for over 14 hours of online high-definition video streaming, or over 7 hours of graphic-intensive gaming. Equipped with 44W FlashCharge, the device can charge up to 70% battery capacity in only 34 minutes[4].
The vivo Y35 also offers immersive Hi-Res Audio thanks to its upgraded audio booster, allowing it to reproduce loud and crisp audio up to 72 dB that is adjustable across 17 levels, catering to the sensitive and varying needs of all consumers.
Triple Rear Camera Configuration for all photography needs
The 50MP main camera of Y35 utilises a large sensor to deliver high-definition pictures that reduces the need of a secondary camera[5]. The device's 2MP bokeh camera can deliver sophisticated portraits characterised with greater depth and accuracy. Meanwhile with the 2MP macro camera, users are able to capture captivating photos in macro mode, with a focus distance as close as 4cm. Users will celebrate the difference in clarity made possible with the 16MP HD front camera, allowing for vibrant selfies, no matter the lighting conditions.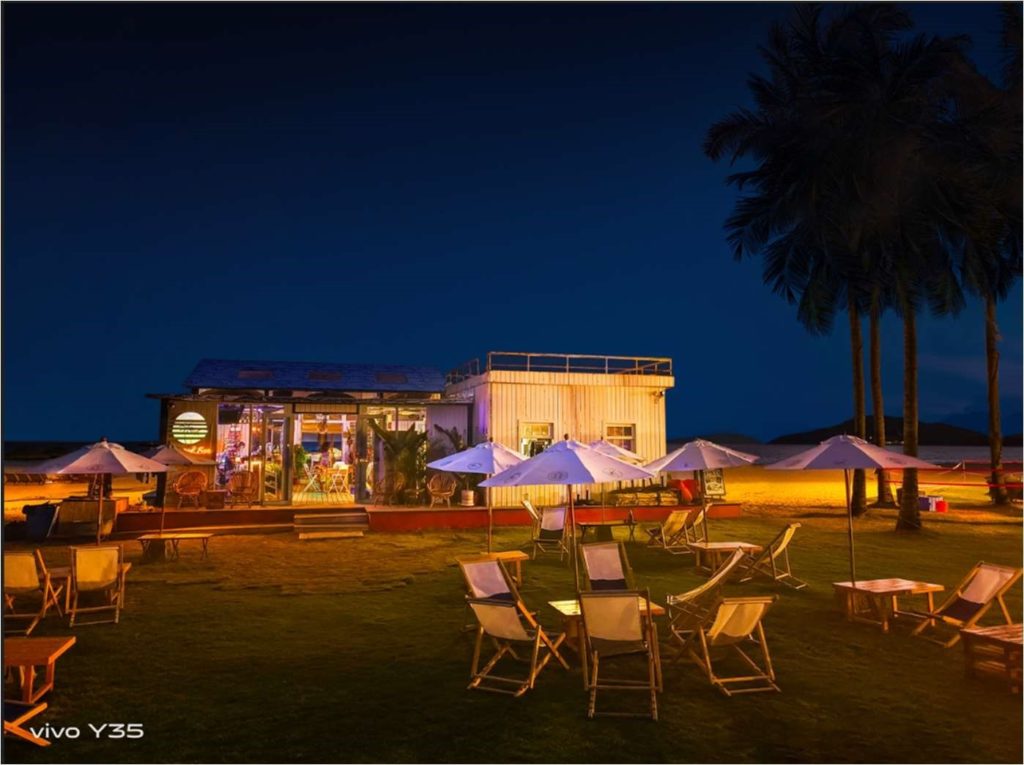 The rear camera's Super Night Mode employs multi-frame denoising to help users capture vivid details in poor lighting conditions. When several light sources are detected, the inbuilt Al brightening technology helps capture well-adjusted and balanced pictures. With Super Night Mode's smart noise reduction algorithm combined with Aura Screen Light, users will be able to capture selfies in the dark with ambient soft light projected from the phone.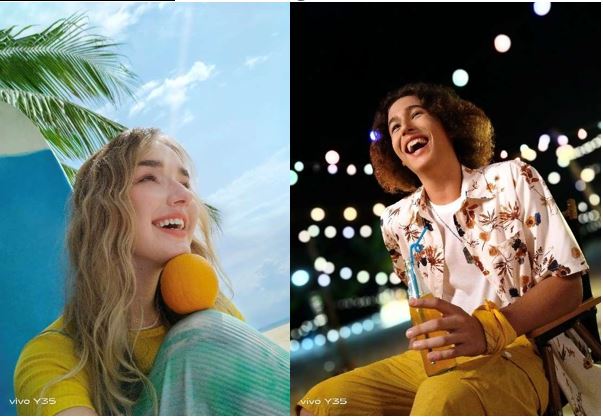 Portraits on Y35 are specifically designed to incorporate Face Beauty, bokeh flare, and many other styles to fit users' personalised needs. Be it selfies or selfie videos, the smart Face Beauty algorithm enhances every aspect of the subject's face, brushing up skin tones, and smoothing facial complexions while beautifying facial features. Users can also manually adjust the finer details to achieve looks that best represent themselves and their unique personalities.
Price and Availability Information
The vivo Y35 is available in Singapore from 24 September 2022 in two colours, Agate Black and Dawn Gold.
The recommended retail price for the vivo Y35 is S$359 (without contract). For a limited time, consumers who purchase the Y35 will receive a complimentary notebook giftbox (worth S$19.90). *The promotion is available while stocks last, and terms and conditions apply.
Y35 can be purchased through vivo's official store on Lazada and Shopee, authorised retailers islandwide, and vivo's Concept Store at Bugis Junction and Causeway Point.
[1] Measured diagonally, the screen size is 6.58-inch in the full rectangle. Actual display area is slightly smaller.
[2] The extended 8GB memory is virtual memory and realised by software.
[3] Supports memory expansion of up to 1TB. Memory card needs to be purchased separately.
[4] The data shown is from vivo's laboratory. Actual battery duration and charging speed is subject to actual usage and may vary depending on environmental and other factors.
[5] The pixel value may vary under different camera modes and is subject to actual usage.