– SteelSeries expands the Arctis Nova multiverse for every gamer with the Nova 7, 3, 1 –
– Powered by SteelSeries Sonar Audio Software, the Arctis Nova 7, Nova 3, and Nova 1 headsets change the game with best-in-THEIR-class performance and audio quality –
CHICAGO – AUGUST 23, 2022
 – From the makers of Arctis, the most awarded audio line in gaming,  
SteelSeries
, the worldwide leader in gaming and esports peripherals, today introduces a new headset to rule the soundscapes and airwaves across the globe – the Arctis Nova 7 – the heir to one of the best-selling gaming headset of all time.
Through four years of innovative and meticulous engineering, SteelSeries set out to push boundaries, solve problems for a gaming lifestyle in today's rapidly changing culture, and reinvent the world's #1 premium gaming headset. Engineered with the Nova Acoustic System, featuring High Fidelity audio, supercharged by the 
Sonar Audio Software Suite
, and delivering 360° Spatial Audio, the Nova 7 lets gamers hear the finite details that others don't.
With wireless freedom and Simultaneous Audio, players can listen to two audio streams at the same time with 2.4GHz and Bluetooth, easily swapping between PC, Mac, PlayStation, and Switch with USB-C. Communications are key and the new ClearCast Gen 2's AI-powered noise cancelation gives players crystal clear comms. The bidirectional mic is the same technology used by Formula 1 teams. When paired with Sonar Software, it silences background noise and distractions cutting out keyboard tapping and button-mashing from a gamer and their squad. Additionally, the mic has been reimagined with a unique design that blends seamlessly into the earcup when fully retracted for on the go.
In addition to the Arctis Nova 7, SteelSeries expands the Nova multiverse and future of gaming audio with the introduction of the Arctis Nova 3 and Nova 1 headsets. The people spoke and SteelSeries listened. Whether the pain points were related to poor sound quality and booming bass, inability to utilize a single headset across multiple platforms, or even fatigue from all-day use, the extended Arctis Nova family of headsets solves multiple problems for gamers. The brand took all this feedback and created the ultimate sound experience across an entirely new line of headsets specifically designed for a variety of different consumer needs and price points.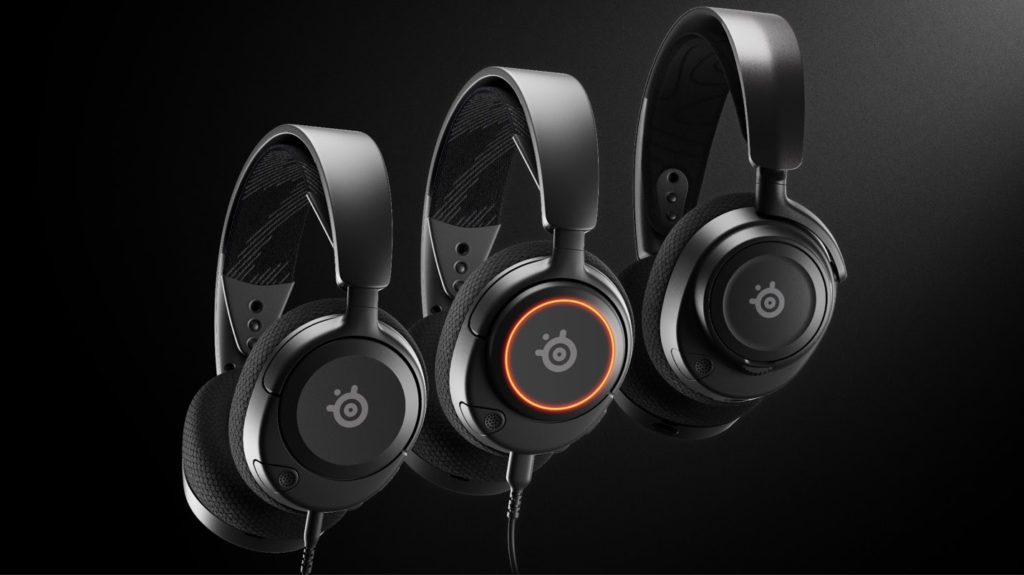 From left to right: Arctis Nova 1 | Arctis Nova3 | Arctis Nova7
Elite performance comes standard with Arctis Nova 7, Nova 3, and Nova 1 headsets. Each headset in the extended Nova family is equipped with the Nova Acoustic System, which fuses hardware and software to raise the bar over the competition and provide gamers with a new superpower known as '
Almighty Audio
.' The combination of custom-designed High Fidelity speaker drivers that offer unparalleled sound purity, plus immersive 360° Spatial Audio for an immersive soundscape, along with the 
Sonar Audio Software Suite
, which features the first pro-grade parametric EQ for gamers and allows them to adjust every individual frequency, provides an unparalleled in-game advantage to players.
From the noob to the aspiring esports pro, from the budget conscience to those that invest or splurge on gear, from the non-discerning to the audiophile, gamers deserve products that exceed their needs and expectations, enhance their experience, and make them feel like a star. Players can choose from three options within the extended Nova lineup based on their style of play, budget, and personal preferences.
Arctis Nova 7 – Venture past the mundane into Almighty Audio with the Arctis Nova 7. Listen to two audio streams at once with simultaneous 2.4GHz and Bluetooth, easily swapping between PC, Mac, PlayStation, and Switch with USB-C. Stay in the action with a 38-hour battery and a fast charge function, bringing 6 hours of use after just a 15-minute charge. Players will experience noise-free communications as AI-algorithms guide the ClearCast Gen 2 mic to clean up both incoming and outgoing audio in team chat. The ComfortMax System delivers 4 points of adjustability and breathable AirWeave Memory Foam cushions for marathon sessions on any platform. The original SteelSeries Arctis 7 was the most-awarded headset of all time… Welcome to the future of gaming audio. (Available in PC, PlayStation, and Xbox-specific models).
Arctis Nova 3 – It's time to glow up in style with Nova 3's PrismSync RGB in 16.8 M customizable colors. Almighty Audio has never been more accessible and powerful AI-algorithms guide the noise-cancelling mic to clear out background noise — from both the user and their teammates over chat. Gamers can lose themselves in the soundscape with Almighty Audio across several platforms with USB-C compatibility, including PC, PlayStation, Mac, Nintendo Switch, a mobile device, or iPad. The ComfortMax system provides all-day comfort.
Arctis Nova 1 – Almighty Audio for one and all. The Arctis Nova 1 provides superior sound quality along with the ComfortMax system that delivers 4-points of adjustability to easily find a perfect fit on the lightweight headset, featuring AirWeave Memory cushions. A broadcast-quality noise-cancelling mic reduces background sounds, keeping in-game communication clear while staying comfortable even during long gaming sessions. The Arctis Nova 1 features a 3.5mm jack that works with virtually any platform, including PC, PlayStation, Xbox, Nintendo Switch, and a mobile device. (Available in black or white colorways and PC, PlayStation, and Xbox-specific models)
Available at 
SteelSeries.com
, and retailers around the world, the Arctis Nova, Nova 3, and Nova 7 are available for the following MSRPs:
Arctis Nova 7 – NA $179.99 | EMEA €199.99 | APAC $199.99
Arctis Nova 7P – NA $179.99 | EMEA €199..99 | APAC $199.99
Arctis Nova 7X – NA $179.99 | EMEA €199.99 | APAC $199.99
Arctis Nova 3 – NA $99.99 | EMEA €109.99 | APAC $109.99
Arctis Nova 1 – NA $59.99 | EMEA €69.99 | APAC $69.99