If you've been shopping around for a gaming mouse for a while, you might have noticed that lightweight gaming mice often spot holes (typically hexagonal) on the body of the mouse. Cutting hexagonal holes into the mouse's frame is a method that is often used to cut down on the weight of the mouse without compromising on essential features. For those with trypophobia, however, these gaming mice may feel and look like a nightmare. Cooler Master seemed to have solved this problem with the Cooler Master MM731.
The wireless MM731, a follow-up to the MM530, achieves an extraordinarily low weight of 59 g without the use of externally visible holes. Let's take a look at what else the lightweight wireless gaming mouse has to offer.
Cooler Master MM731: Specifications
| | |
| --- | --- |
| Size: | 122.3 mm x 69.0 mm x 39.1 mm |
| Size (inches): | 4.81″ x 2.72″ x 1.54″ |
| Ambidextrous: | No |
| Weight: | 59 g |
| Number of Buttons: | 5 (including wheel click) |
| Main Switches: | LK Optical V2 (70 M) |
| Wheel Encoder: | Mechanical |
| Sensor: | PixArt PAW3370 |
| Resolution: | 100–19,000 CPI |
| Polling Rate: | 125/250/500/1000 Hz |
| Cable: | 1.80 m, braided |
| Software: | Yes |
Cooler Master MM731: Unboxing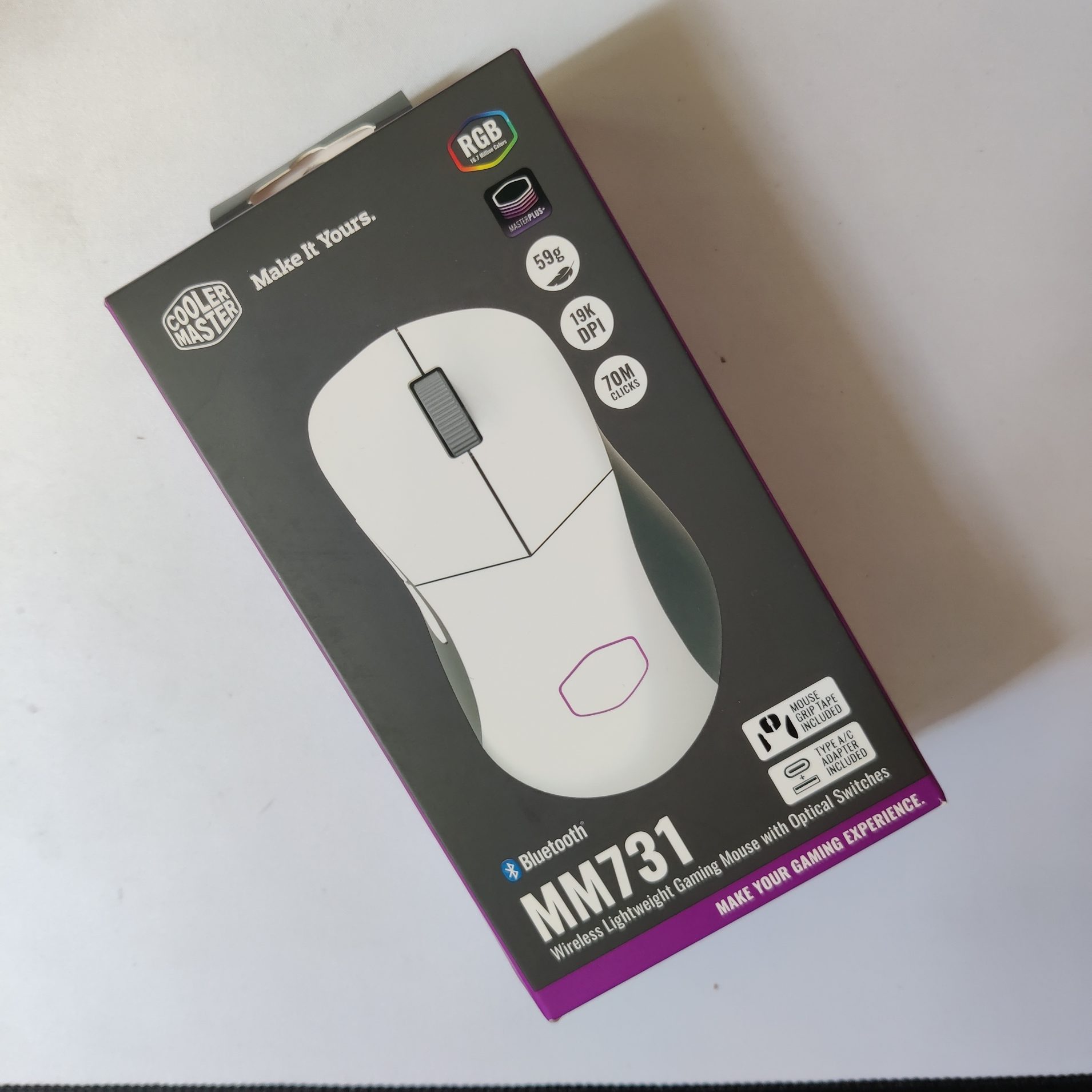 In addition to the mouse itself, you'll find in the box a full kit, including:
Charging cable (USB Type-A to Type-C)
Mouse grip tapes
Wireless extender
Quick start guide
Cooler Master MM731: Design and Functionality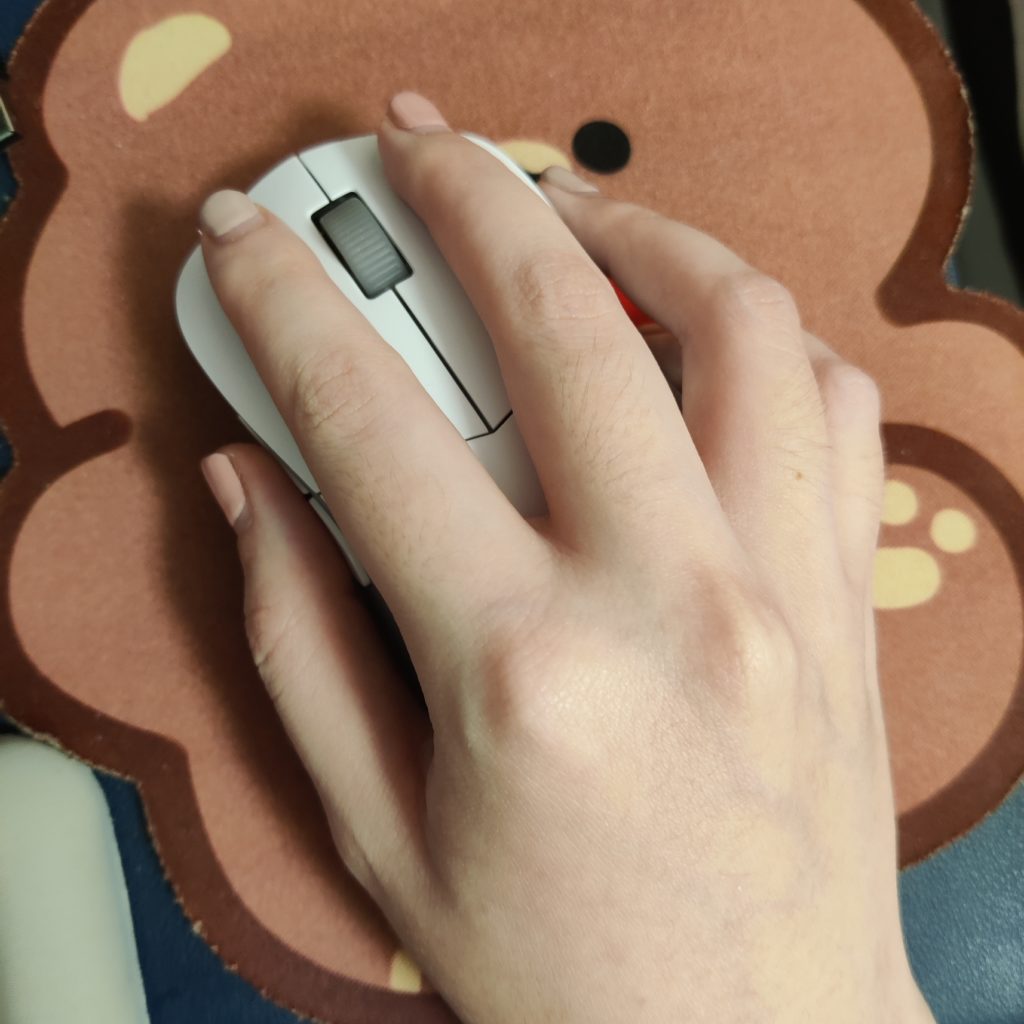 The MM731 is a right-handed ergonomic mouse that may be used with any of the three grip styles: palm, claw, or fingertip. The medium-sized mouse is suitable for most hand size. Its smooth matte surface does not attract dirt or fingerprints, which is great.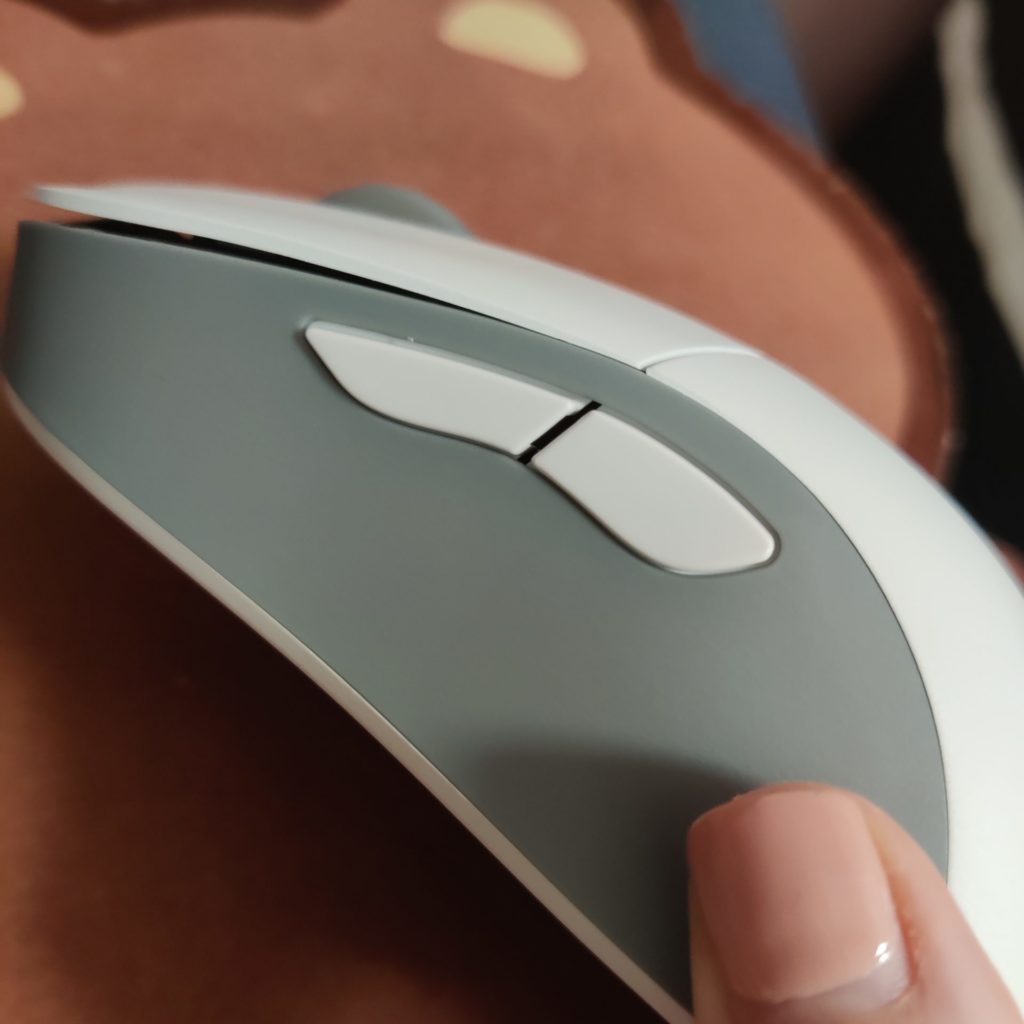 The mouse has an RGB-backlit Cooler Master logo on the area where your palm will rest. There are two programmable thumb switches on the left side, and a Bluetooth/2.4 GHz/USB switch on the underside. There's also a pairing button, DPI switch, LED status light, and a small slot for the USB dongle.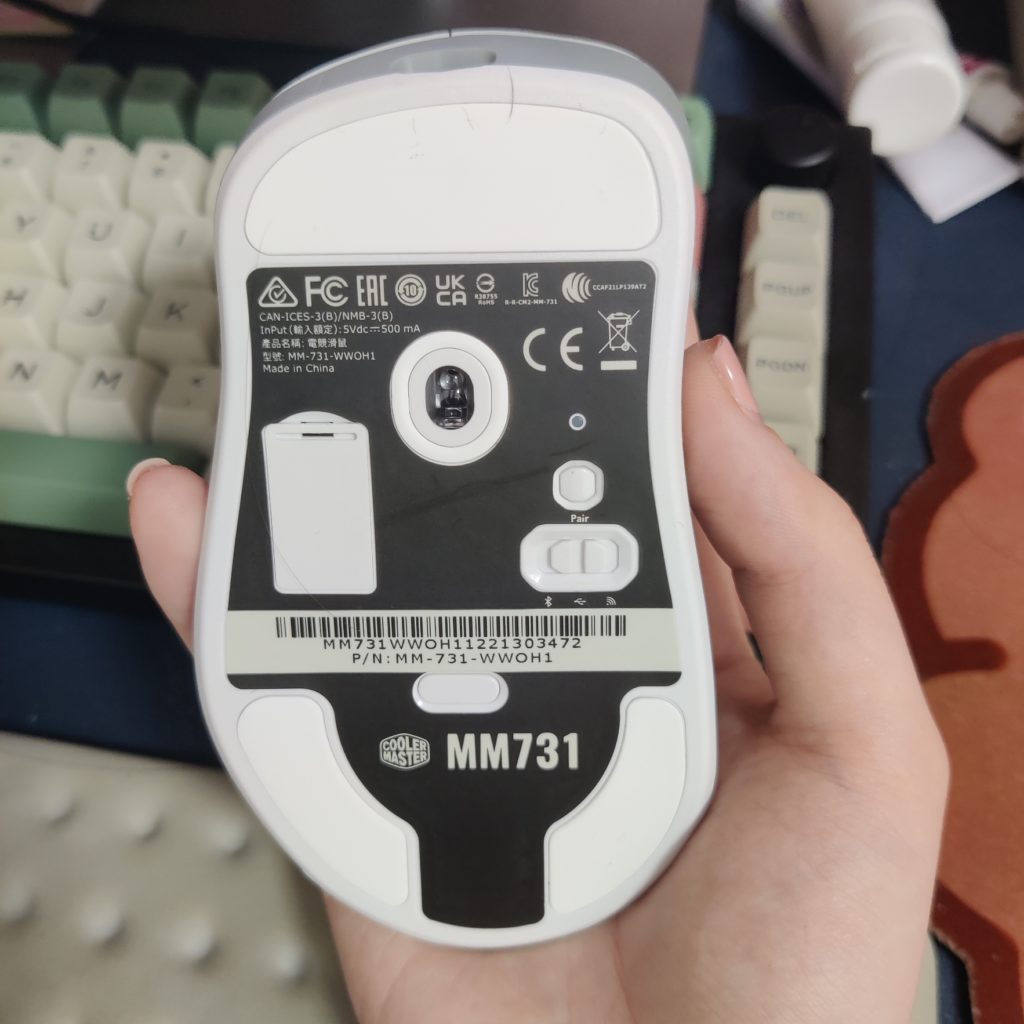 All buttons are tactile and feel snappy. Particularly, we loved that the scroll wheel was silent and nice to scroll on. There also isn't much to complain about button placement – everything was within reach and made sense.
Aesthetically, the mouse looks sleek. As mentioned, the mouse weighs just 59 grams, and Cooler Master managed to achieve that without punching any holes in its body frame. The hole-less body also lends a hand to the durability, whether perceived or not, of the mouse for intense gaming sessions.
Cooler Master MM731: Features
Let's take a look at the key features of the Cooler Master MM731 and see how they play out when in use.
Hybrid connectivity
When utilizing the MM731, you may choose from wired mode, 2.4 Ghz wireless, or Bluetooth 5.1 to connect to multiple devices.
When it came to connectivity, the 2.4 GHz mode was unquestionably steady and responsive. When we turned it on, it automatically linked our PC to the mouse. This connection had minimal latency and performed well throughout our use.
With Bluetooth, polling rate was lowered, so we wouldn't recommend it for gaming. It still performed admirably for light tasks such as browsing, though.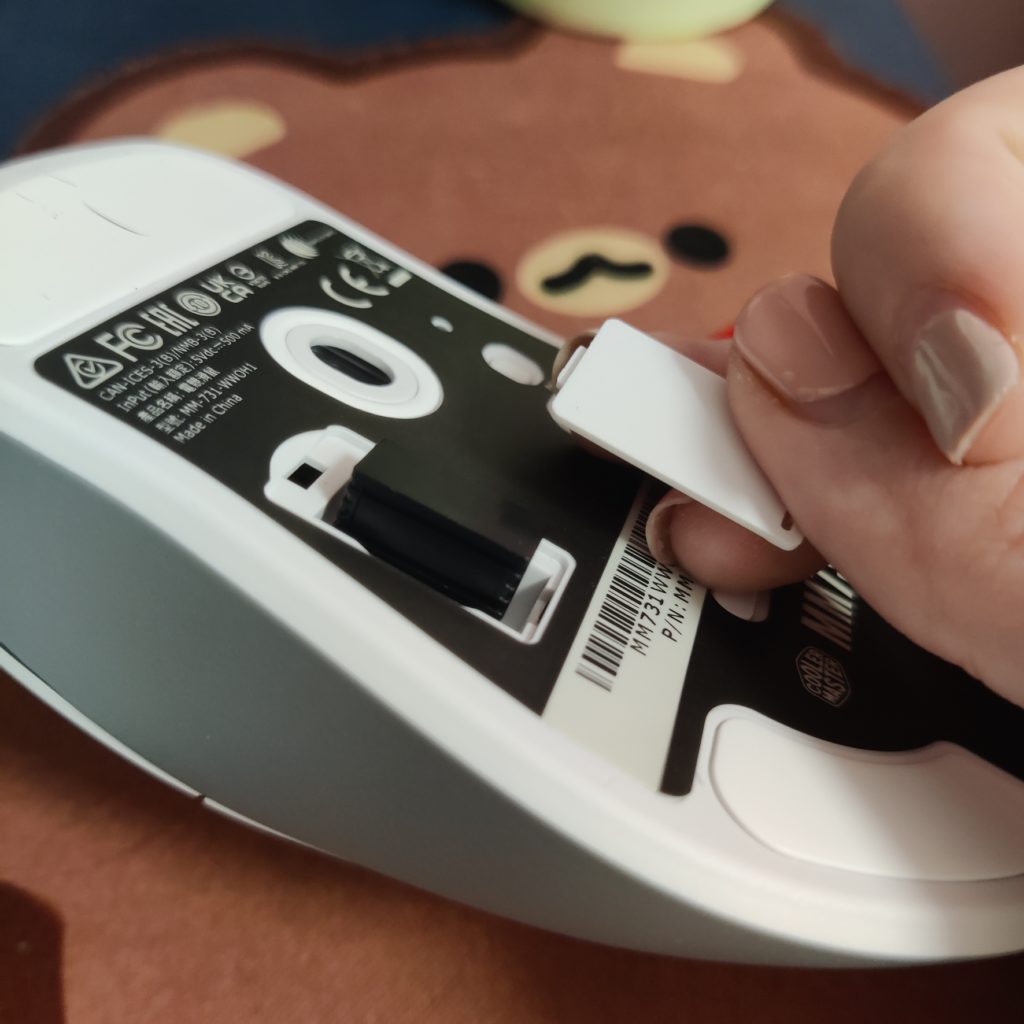 It is, however, the attention to detail that sets Cooler Master apart. We loved that Cooler Master included a spring at the bottom of the mouse for easier access to the 2.4GHz dongle. You merely have to lift the flap and the dongle will spring up. For someone who struggles to get the dongle out of every gaming mouse that I've used, this really improves the experience that I had with the mouse.
Cooler Master also paired the MM731 with a new Ultraweave cable that's designed in-house and made out of of durable, lightweight fibre. The flexibility accorded by this cable improves precision aiming. Even if you don't game, the cable really makes for a comfortable experience – so much so that it really didn't bother me that the mouse is tethered to a wire.
Pixart optical sensor
The Cooler Master MM731 comes with gaming-grade hardware that is adjustable up to 19,000 DPI. You can adjust the DPI levels in real-time depending on your game or playstyle.
The Pixart optical sensor also reduces lag and stuttering while providing more accuracy. In use, movements were pretty seamless, making gameplay really smooth and fuss-free.
PTFE feet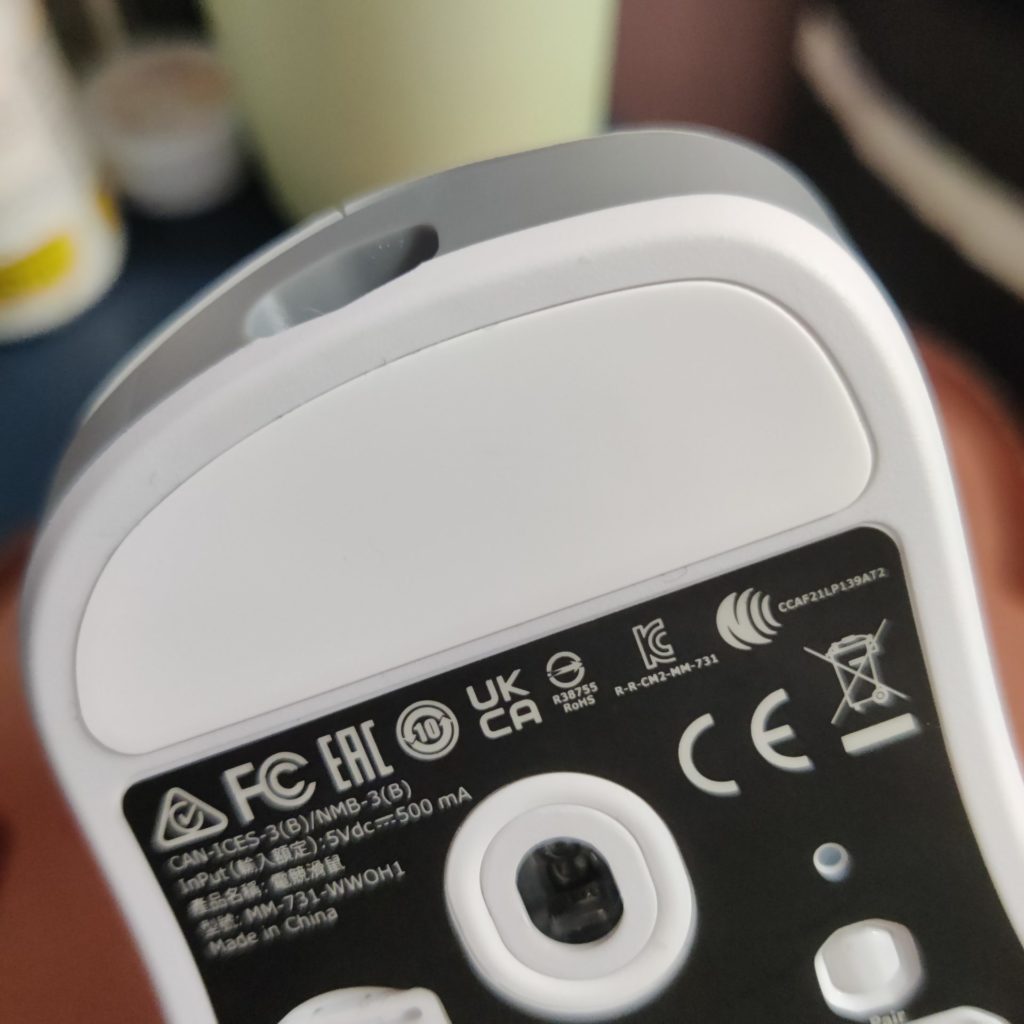 Speaking of smooth, the MM731 comes with PTFE mouse feet for enhanced performance. It is pretty large, so gliding the mouse around was a breeze, whether it be on a mouse pad or directly on a desk. These PTFE feet are pure and graded at over 95% PTFE. The only complaint we have is that Cooler Master did not include extra feet in the box.
MasterPlus+ Suite software
The MM731 is one of the first Cooler Master products that support the company's new MasterPlus+ software. This is where you manage all of your Cooler Master peripherals and components, as well as synchronize lighting settings between devices.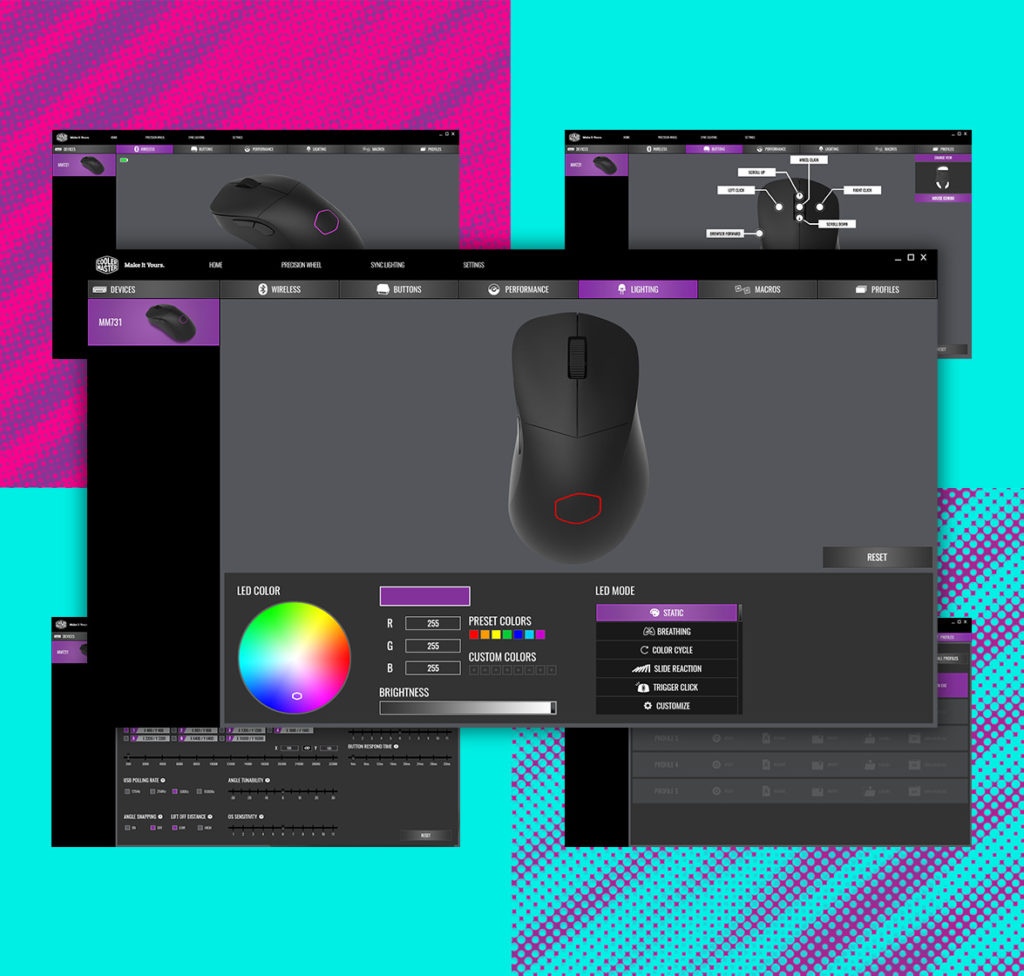 Specifically, for the Cooler Master MM731, you can customize the sleep mode delay, low power mode notification, button assignment, sensitivity, illumination, macro programming, and on-board profile. The software is easy to use, and you may create up to five on-board profiles, which should be plenty for most people.
Cooler Master has also included a combination function that allows you to add a second layer to your mouse if you need to double the number of buttons/hotkeys accessible on the Cooler Master MM731.
RGB accents
The Cooler Master MM731 has one LED zone – the logo on the palm area.
While RGB fans might lament at the lack of RGB zones, I think it's a refreshing and subtle look for gaming hardware to not be slathered with RGB light zones all around.
You'll find three pre-defined lighting effects on the software: Static, Breathing, and Cycle. Colors are vibrant and consistent. You can also use custom colors, adjust brightness and transition speed on the software. You may even choose to switch it off completely.
Battery life
Cooler Master claims that the MM731 lasts 190 hours on Bluetooth and 72 hours on 2.4 GHz without LEDs. While we weren't able to test it for 72 hours, we found that after about 16 hours of continuous use on 2.4 GHz, the battery indicator was around 70 – 80% – which is pretty true to Cooler Master's claims.
Cooler Master MM731: Pricing and Availability
The Cooler Master MM731 is available at SGD $99.
For more information, click here.
Cooler Master MM731: Verdict
The Cooler Master MM731 is a well-built lightweight mouse with a good mix of features that make it worth considering. While it does not have any extremely unique features that make it stand out from the pack, it has within it other simple, well-thought out features that make using it that much more enjoyable.