Singapore, 15 June 2022 – Leading global technology company, vivo today announces the launch of its latest flagship smartphone, the vivo X80 Pro 5G in Singapore. The X80 Pro 5G is the newest in vivo's X series line of phones and continues to demonstrate the company's relentless pursuit of providing stellar user experience in photography and videography with the smartphones' artistic cinematic modes, flagship performance, and technological innovations.
Taking inspiration from the design of professional cameras, the back of the phone features the all-new aesthetically pleasing Ceramic Cloud Window camera module. Building on vivo X series' professional mobile photography foundations, the vivo X80 Pro 5G continues to provide users with a refined and premium mobile experience with both new and upgraded cinematic and photography, developed in collaboration with ZEISS – a global leader in optics and opto-electronics.
"At vivo, we strive to create the ultimate mobile photography and videography experience to our users, combining innovation, cutting-edge capabilities, and developments through our partnership with ZEISS. The vivo X80 Pro 5G is a testament to our goal with our flagship X series of products, which is to deliver phones that offers exceptional camera capabilities, stellar user experience, and well-rounded flagship performance," said vivo Singapore CEO, Mr. Liu Hong Bin.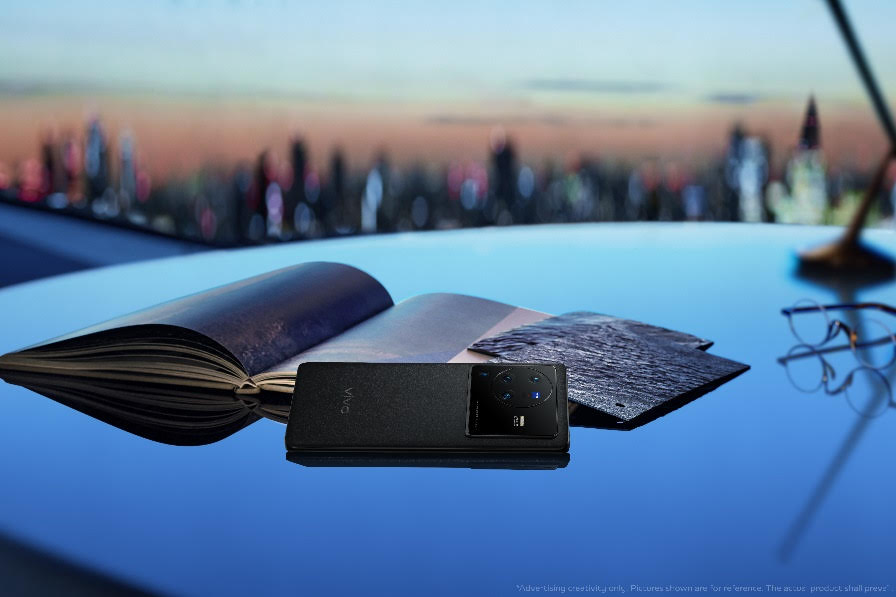 Featuring a frosted glass back in its Cosmic Black finish, the vivo X80 Pro 5G is soft to the touch and comfortable to hold in hand
Premium Mobile Photography Experience
The vivo X80 Pro 5G sports a rear quad-camera system with a 50MP Ultra-Sensing GNV Camera with Optical Image Stabilisation (OIS), a 48MP Wide-Angle Camera, a 12MP Gimbal Portrait Camera, a 8MP Periscope Camera, and a 32MP front camera to suit all photography needs.
The 50MP main camera's customised Ultra-Sensing GNV Sensor assists to reduce reflectivity and stray light. This camera uses a High Transmittance Glass Lens to ensure low dispersion and temperature drift to reduce glaring. The new 12MP Gimbal Portrait Camera is a core upgrade on the X80 Pro 5G that allows for video enhancement and stability. Additionally, ZEISS T* Coating applied on the camera system enhances light transmission and reduces light flares and other aberrations that can negatively affect the image.
Furthering the pursuit to provide a premium photography and videography experience, the X80 Pro 5G is equipped with the latest iteration of vivo's imaging chip, the vivo V1+, to deliver an elevated experience to users with a built-in AI system for augmented visual enhancement. With the vivo V1+, the AI Video Enhancement on the X80 Pro 5G allows the device to switch automatically between Video HDR and Night Mode depending on the scene conditions, boosting night shooting capabilities.
Camera Panning is a new and exclusive feature that further enhances the X80 Pro 5G's capabilities. This feature includes Portrait Motion tracking technology, which reduces motion blur caused by shaky hands or sudden movements. The Night Sports Mode also allows users to take outstanding, dynamic images, as it can capture clear photos and videos even in extreme scenarios thanks to its improved motion detection and reduction abilities.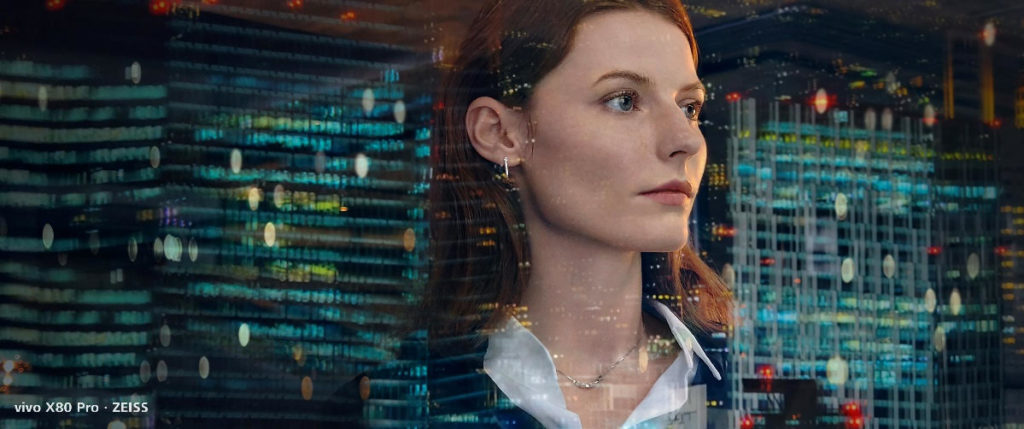 Powered by features co-developed with ZEISS, the X80 Pro 5G produces quality bokeh which is only often achieved in professional cameras
Groundbreaking Professional Imaging Features with ZEISS
The new ZEISS Cinematic Video Bokeh feature on the vivo X80 Pro 5G allows it to create a unique 'oval flare' bokeh with a 2.39:1 ratio, enabling users to shoot with a widescreen cinematic lens effect that can capture aesthetically pleasing and expressive videos. On the other hand, the regular lens video bokeh styles allow users to create portrait videos with unique bokeh effects. The bokeh effect varies to match the focal length, aperture, and shooting distance in a 16:9 frame.
New effects have been added to the ZEISS Superb Portrait feature, such as ZEISS Cinematic Style Bokeh. This feature enables users to recreate classic film aesthetics by adding film-like, artistic oval bokeh effect with a 2.39:1 widescreen aspect ratio, a feature similar to the ZEISS Cinematic Video Bokeh. The overall effects are also enhanced with vivo's cinematic lens simulation algorithm and a dual-camera depth-of-field technology that combines flare rendering and processing.
Night Photography has been improved on the X80 Pro 5G, with upgrades to the ZEISS Superb Night Camera feature. With features such as Pure Night View, users can capture clearer and sharper photos at night. In addition, the X80 Pro 5G supports XDR Photo Display Technology that enhances clarity for backlit images and improve tones that better replicates what the human eyes can see and optimises the display capabilities of the X80 Pro 5G through highlighting contrasting tones in photos to produce photos with high-quality HDR effects.
Lastly, upgrades have been made to the X80 Pro 5G's ZEISS Natural Colour mode, aided by a proprietary AI Perception Engine to improve colour accuracy and account for colour and scene changes. This is an industry-leading hue shifting technology that can reproduce natural colours and combined with the AI Perception Engine, can automatically and accurately optimise both exposure and white balance. This feature now includes the ability to adjust tone brightness, capturing moments that appear more lifelike, refined, and natural.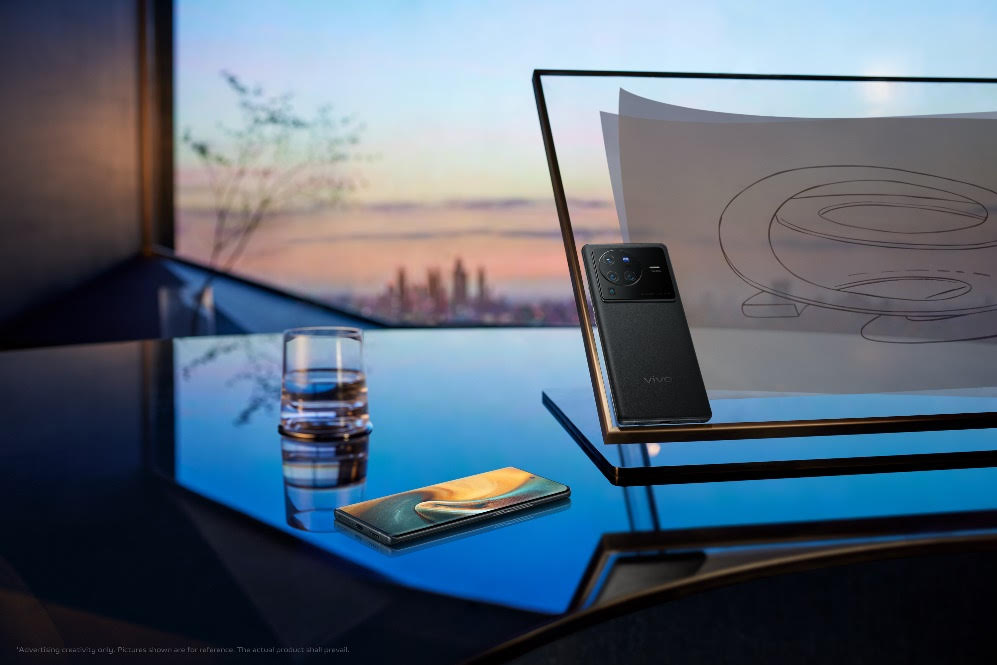 A 6.78-inch LTPO AMOLED display ensures colour accuracy and clarity, for work, games, or photos and videos
Outstanding Flagship Performance
At the heart of the X80 Pro 5G is the latest Snapdragon 8 Gen 1 Mobile Platform, coupled with enhanced LPDDR5 DRAM and enhanced UFS3.1, delivering efficient and reliable performance, and lightning-speed 5G connectivity speeds.
Charging speeds have also been improved with vivo's 80W FlashCharge. With the FlashCharge function, the sizeable 4,700 mAh battery can be fully charged in just 35 minutes. The device is also capable of 50W Wireless FlashCharge and 10W reverse charging.
Another exciting hardware on the vivo X80 Pro 5G is the also equipped with a brand-new 3D Ultrasonic Large Fingerprint Sensor that gives users a recognition area that is 11.1 times larger and allowing users to unlock their phone in 0.2 seconds.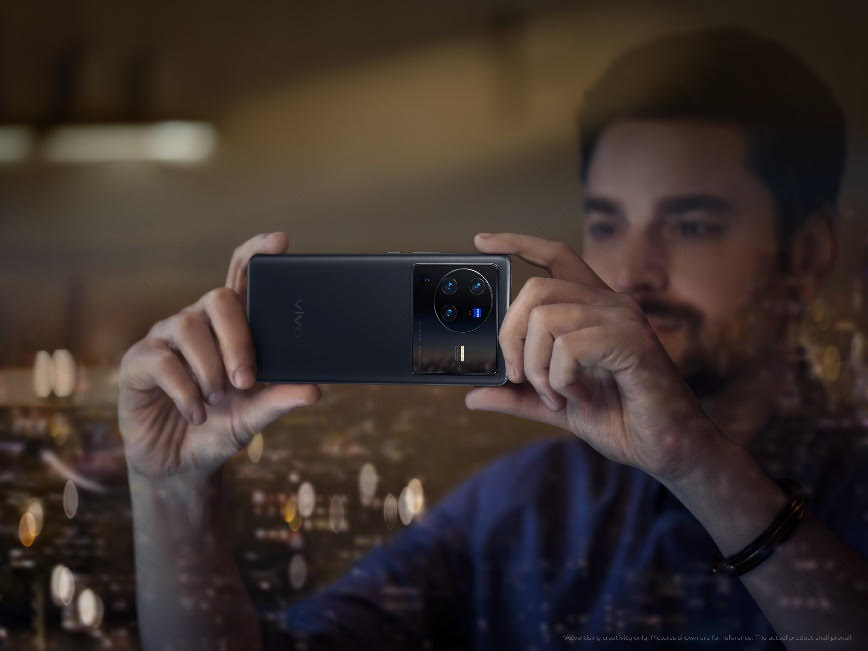 The X80 Pro 5G delivers outstanding images and videos through its quad-camera system
Gaming and Entertainment Focused Features
The vivo X80 Pro 5G is equipped with a X-Axis Linear Motor, paired with vivo's proprietary vibration algorithm that enables the device to produce intuitive, scene-based vibration effects to enhance the user's gaming experience.
Built into the X80 Pro 5G is an Ultra Large Liquid Cooling Vapor Chamber that allows for maximum cooling surface area to efficiently disperse heat and ensure optimal cooling. This allows the X80 Pro 5G to maintain performance stability and operating temperature while running the most graphically demanding games and applications.
Dual Stereo Speakers built in the X80 Pro 5G is the first in the X series of vivo's smartphones, giving an enhanced audio experience to users when watching videos, listening to music, or playing games.
Price and Availability Information
The vivo X80 Pro 5G will be available in Singapore from 18 June 2022 and comes in its unique Cosmic Black finish.
The recommended retail price for the X80 Pro 5G is S$1,699 (without contract). For a limited time, consumers who purchase the X80 Pro 5G will receive a complimentary protective case (worth S$19.90) and vivo's 50W Vertical Wireless Flash Charger (worth S$159). *The promotion is available while stocks last, and terms and conditions apply.
It can be purchased through major telcos including M1, StarHub, vivo's official store on Lazada and Shopee, consumer electronics and IT stores including Best Denki, Challenger, Courts, Gain City, and Harvey Norman, authorised retailers islandwide, and vivo's Concept Store at Bugis Junction and Causeway Point.
-Ends-
About vivo
vivo is a technology company that creates great products based on a design-driven value, with smart devices and intelligent services as its core. The company aims to build a bridge between humans and the digital world. Through unique creativity, vivo provides users with an increasingly convenient mobile and digital life. Following the company's core values, which include Benfen*, design-driven value, user-orientation, continuous learning and team spirit, vivo has implemented a sustainable development strategy with the vision of developing into a healthier, more sustainable world-class corporation.
While bringing together and developing the best local talents to deliver excellence, vivo is supported by a network of 10 R&D centres in Shenzhen, Dongguan, Nanjing, Beijing, Hangzhou, Shanghai, Xi'an, Taipei, Tokyo and San Diego, focusing on the development of state-of-the-art consumer technologies, including 5G, artificial intelligence, industrial design, imaging system and other up-and-coming technologies. vivo has also set up seven production bases (including brand-authorised manufacturing centres), across China, South- and Southeast Asia, and more regions, with an annual production capacity of nearly 200 million smartphones. As of now, vivo has branched out its sales network across more than 60 countries and regions and is loved by more than 400 million users worldwide.
*"Benfen" is a term describing the attitude on doing the right things and doing things right – which is the ideal description of vivo's mission to create value for society.
Stay informed of the latest vivo news at https://www.vivo.com/en/about-vivo/news