NVIDIA's Reflex ecosystem continues to grow, as more games are now supported with NVIDIA Reflex technology. NVIDIA Reflex can effectively reduce the system latency from peripheral inputs to display output, allowing gamers to be more responsive to the happenings in fast paced games.
In a typical graphics intensive game, the CPU queues up work in a render queue so that the GPU will always stay fed to show graphics on the display. While this helps maximize frame rates, it also inherently increases latency as frames are waiting in line to be rendered. NVIDIA Reflex is a technology that reduces system latency by synchronizing the CPU and GPU for the rendering of frames on a display. Reflex also reduces the back pressure on the CPU, enabling games to sample the mouse input at the last possible moment, further reducing system latency.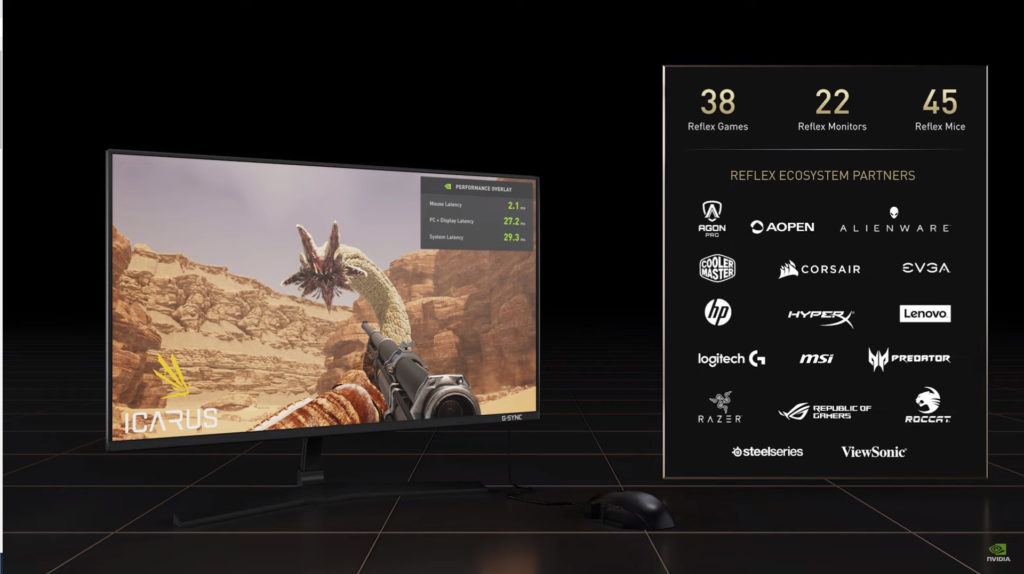 Currently, over 35 games have adopted Reflex, which also includes 8 out of the top 10 shooter games. In addition to games, the technology is featured in 22 monitors and 45 mice.
At COMPUTEX 2022, NVIDIA and ASUS have introduced their latest ASUS ROG Swift 500Hz Gaming Monitor to the Reflex family. Currently, this is the lowest latency, highest refresh rate G-SYNC eSports display ever created.
The ASUS ROG Swift 500Hz Gaming Monitor has been designed from the grounds up for competitive gaming. It features a brand new eSports-TN Panel (E-TN) technology that produces 60% shorter response times than standard TN LCD displays.
The newly announced monitor also supports G-SYNC eSports mode with adjustable vibrance and comes with the NVIDIA Reflex Analyzer built in.
Pushing the limits of display technology
"When we introduced the first 144 Hz monitor in 2012, people said the human eye can only perceive 60 frames per second," explains Gavin Tsai, Display Product Manager for ASUS. "Then, when we introduced our 240 Hz monitor, they said the human can't perceive the difference," continues Tsai. "Today, in a market where 144 Hz and 240 Hz gaming monitors are common and standard specs, we are breaking entirely new ground with the incredibly fast ROG Swift 500Hz."
With reduced motion blur, improved visuals and lower input latency, the ROG Swift 500Hz is designed to give professional esports gamers an advantage in tournaments. One of these impressive features – the extraordinarily low latency – is made possible in part through a vital partnership with NVIDIA. "The ROG Swift 500Hz with NVIDIA G-SYNC technology provides gamers the lowest latency available of any monitor on the market," said Seth Schneider, Esports product manager at NVIDIA. "And with NVIDIA Reflex Analyzer on board, gamers can measure their latency with one click, ensuring the fastest response times for the most intense games."
ASUS ROG Swift 500Hz
Panel size
24.1ʺ, three-sided frameless display (16:9)
Panel backlight / type
Esports TN (E-TN)
Resolution
1920 x 1080
Brightness
400 cd/m² (Typical)
Refresh rate
500 Hz
NVIDIA Reflex Analyzer
Yes
Connectivity
1x DisplayPort™ 1.4

1x HDMI® 2.0

2x USB 3.2

1x Earphone jack