Some of our readers may be familiar with Shenoy Audio, a boutique manufacturer of guitars, amplifier heads, portable speaker cabinets, and personal audio devices. The proudly Singaporean brand was created by GRAMMY Award Nominated Artist, Producer, and Audio Engineer, Arun Shenoy. In December of 2021, the brand announced the release of its flagship SH010 Hybrid Active Noise Cancelling Wireless Headphones.
We managed to get our hands on a pair of SH010 headphones – here's our review.
Technical specifications
| | |
| --- | --- |
| Type | Hi-Fi Audio (16 bit, 44.1 KHz) |
| Chipset | Airoha BT5.0 Wireless |
| Audio CODEC | SBC AAC |
| Active Noise Cancelling | Yes, Hybrid ANC with 4 mics |
| Noise Reduction | 28±3 dB |
| Noise Ratio | 50HZ-1000 Hz |
| Speaker Diameter | 40 mm |
| Driver Type | Dynamic, Graphene |
| Microphone | Yes. CVC 8.0 Noise Cancelling |
| Impedance | 32 Ohms |
| Frequency Response | 20-20 KHz |
| Range | 10 m |
| Battery | 500 mAh |
| Battery Life | Up to 25-30 hours of music playback and talk time (ANC off) and 12 hours(ANC on) |
| Charging Port | USB-C |
| Dust and waterproof | IPX5 |
| Compatibility | IOS/Windows/Android |
Unboxing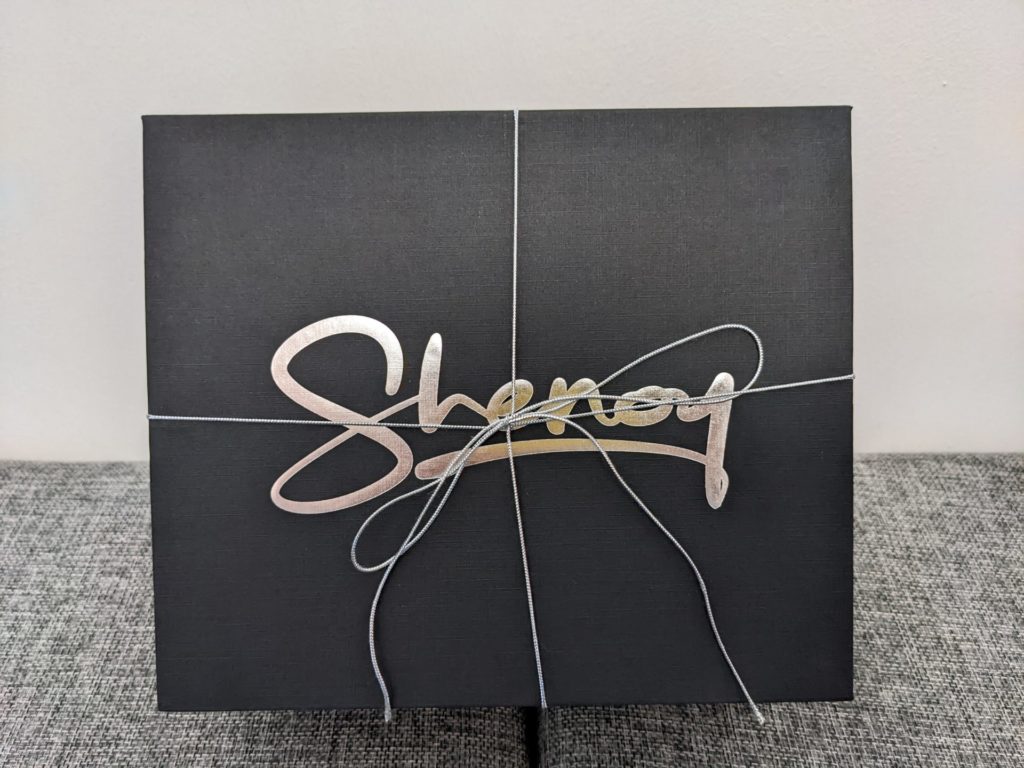 Looking at the box that the SH010 came in, Shenoy Audio clearly put much thought into the packaging. The headphones came in a beautiful black box with a magnetic clasp. Open it up and you'll be greeted with these items: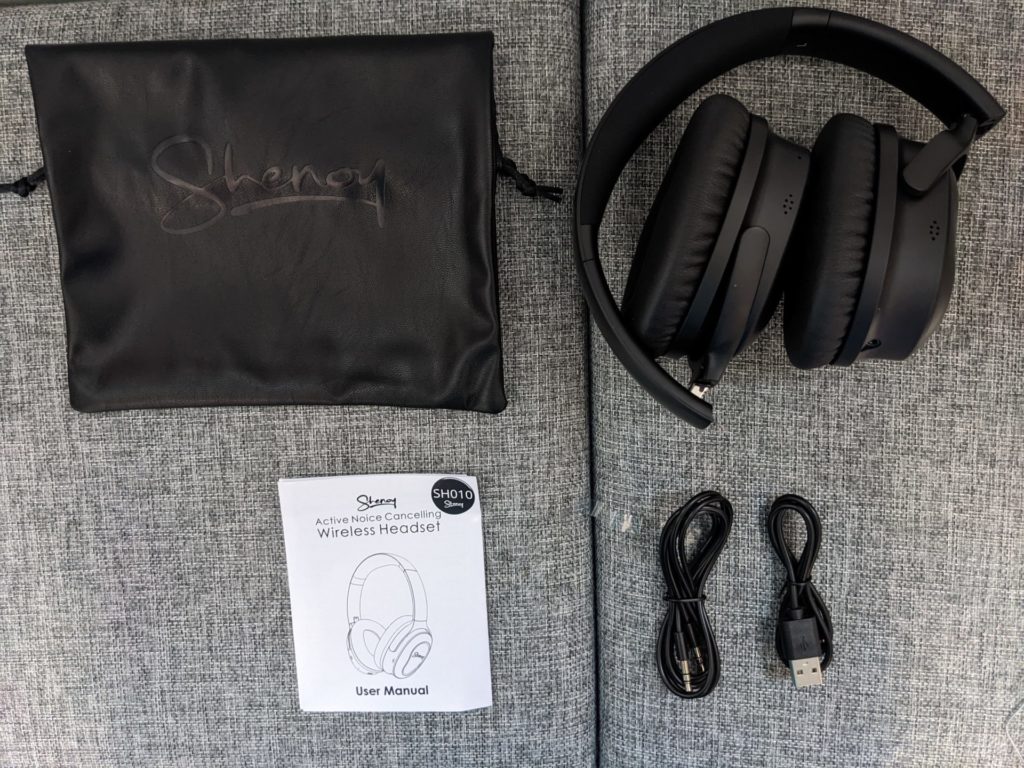 The headset itself
A user manual
A USB to Type-C charging cable
A 3.5 mm audio cable
A headphone stand (for orders from Singapore)
A carrying case
Look and feel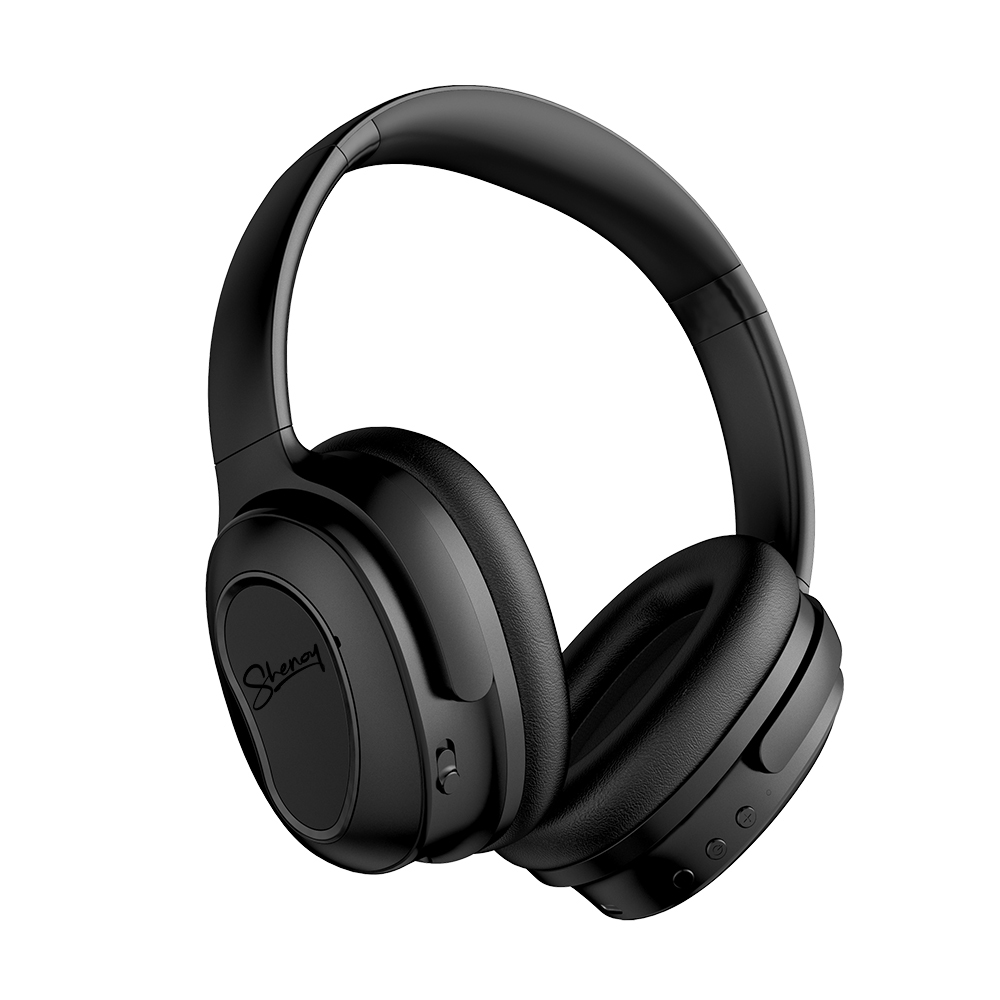 The Shenoy Audio SH010 sports an all-round black design that gives it a classy look that will sit well in any set-up. In addition, if you're not keen on becoming a walking advertisement, you'd love that the SH010 comes only with a very subtle logo etched onto each earcup. The logo is black, so unless you're really looking out for it, it's pretty unnoticeable.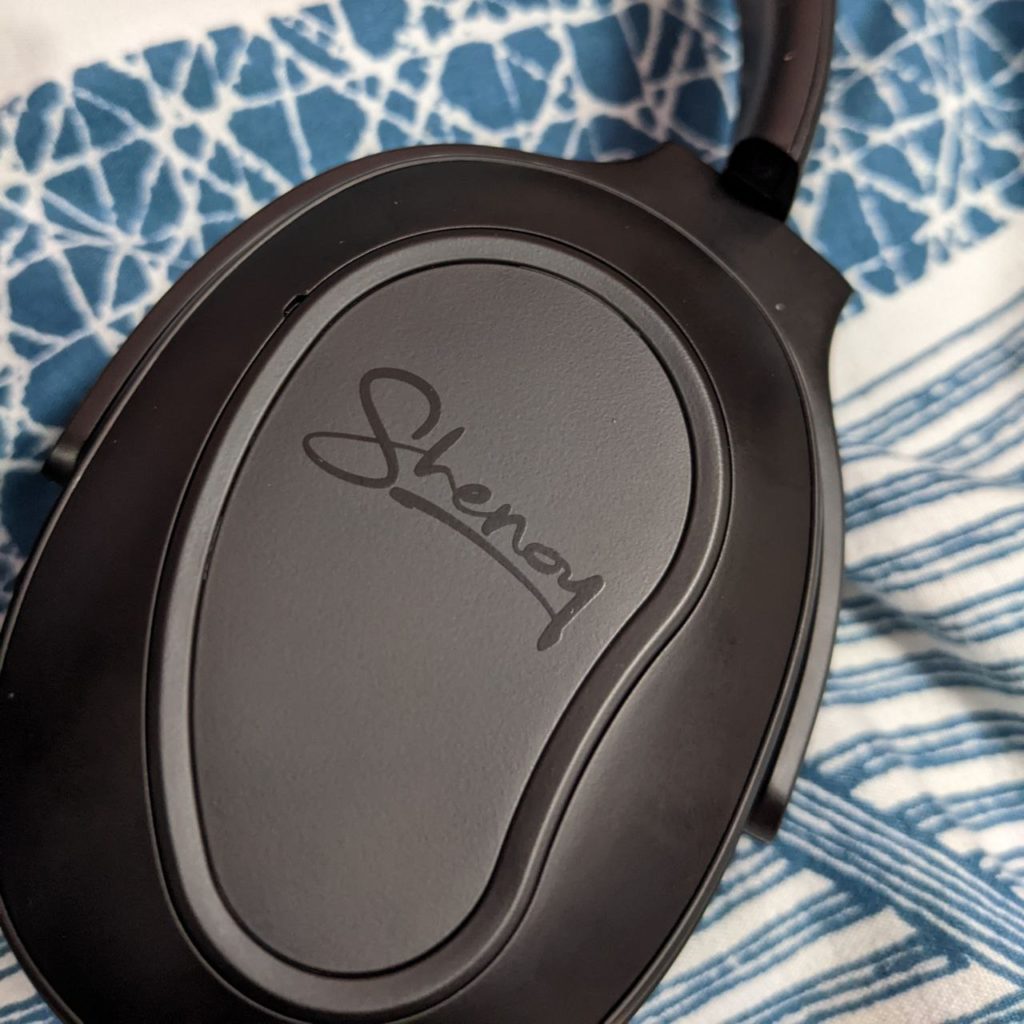 The left and right earmuffs are adorned with various buttons and switches with differing functionalities.
On the left earmuff, you'll find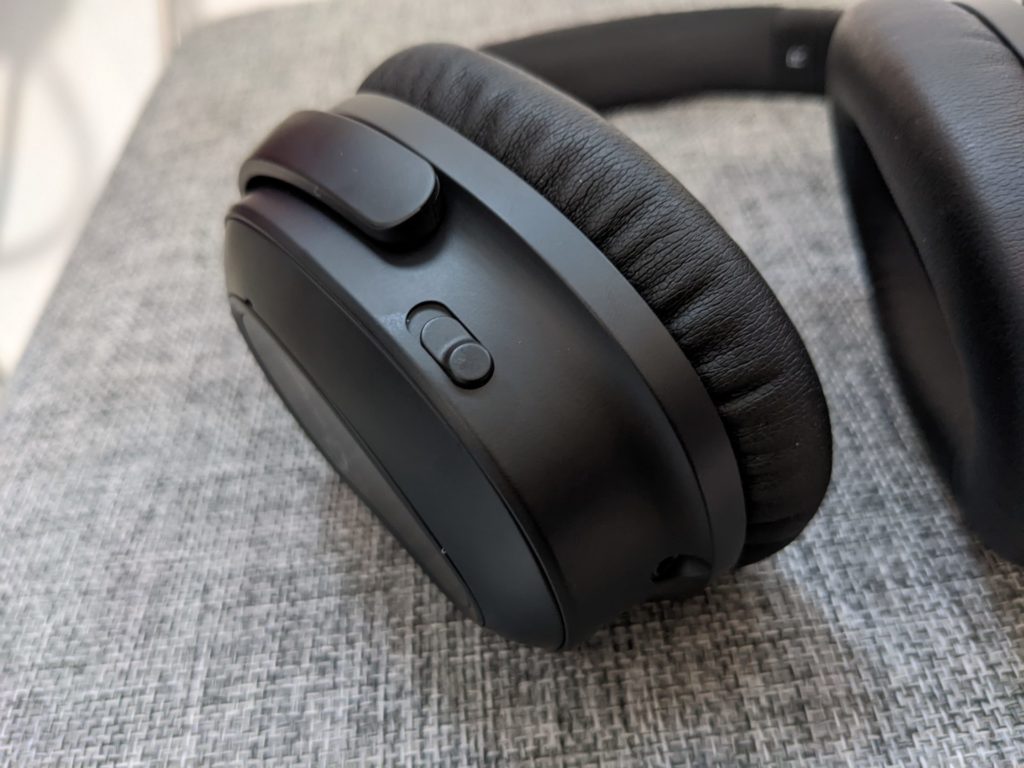 ANC On/Off toggle
ANC indicator
3.5 mm audio port
Type-C charging port
On the right earmuff, you'll find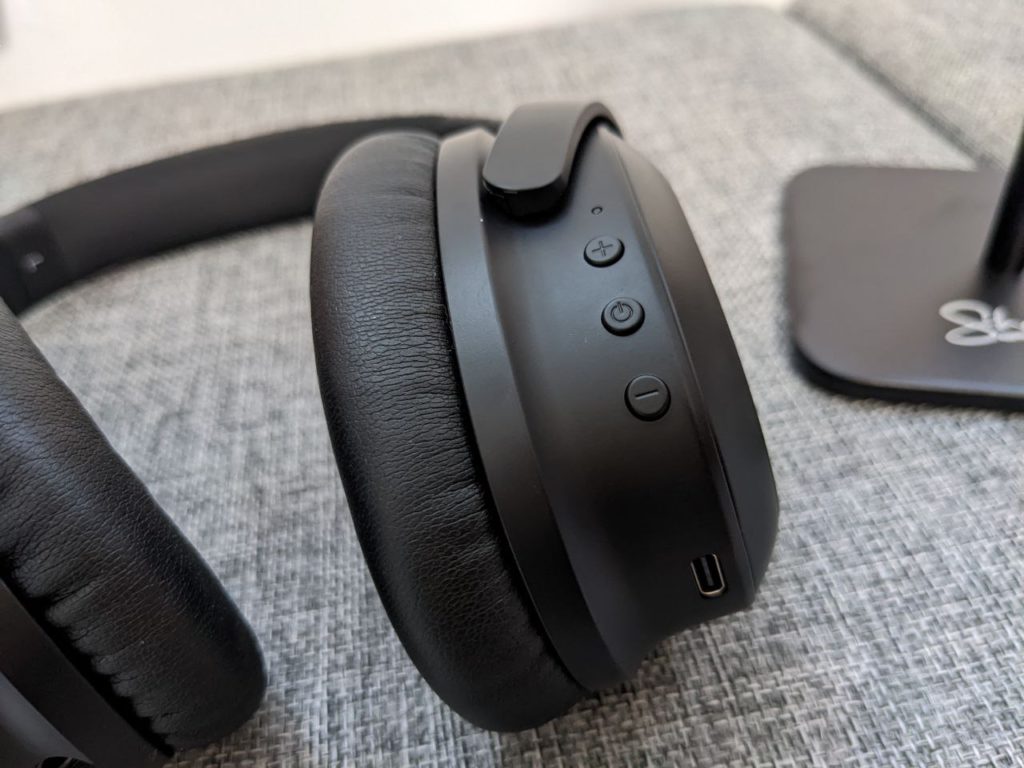 Volume up button (doubles as a next track button)
Power button (doubles as a pause button)
Volume down button (doubles as a previous track button)
Power indicator
All the buttons and switches feel tactile and good to press on. On the interior, the earmuffs are fitted with a soft protein leather cushion that's pretty springy. Similarly, the headband of the SH010 is lined with a cushion layer. On the headband, you'll also find "L" and "R" to help you tell left from right.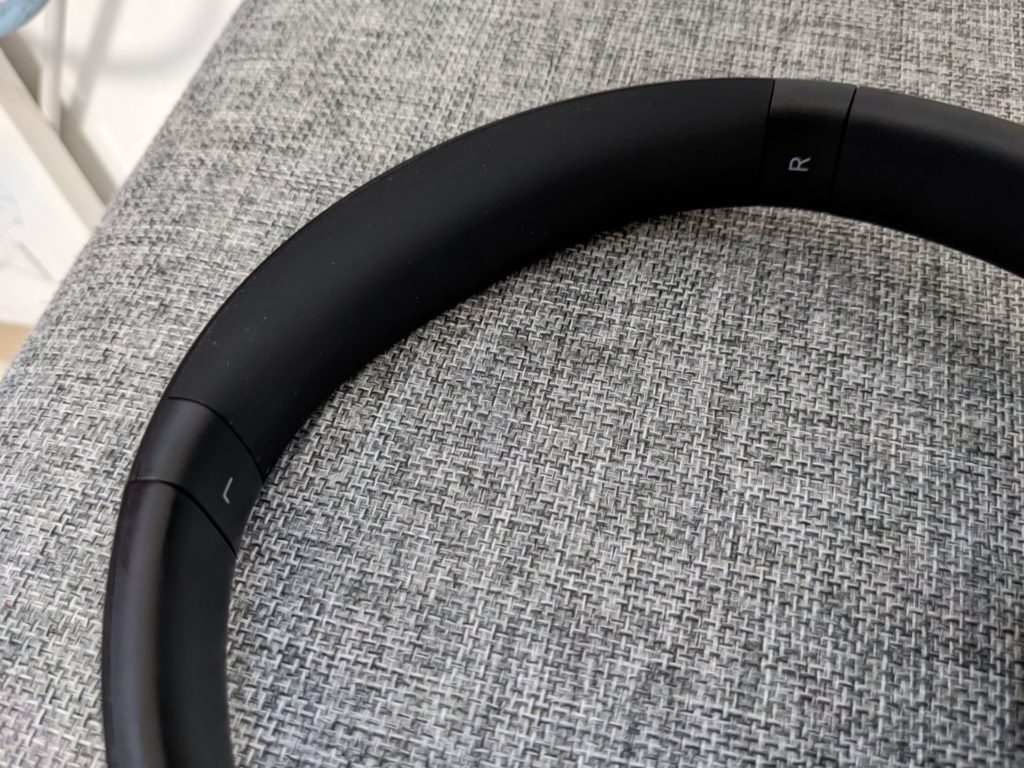 For those who often travel the SH010's collapsible form factor will be a plus. The earmuffs can be flipped left and right and folded up and down. While that isn't a feature unique to SH010, we appreciate that this form factor was well-executed.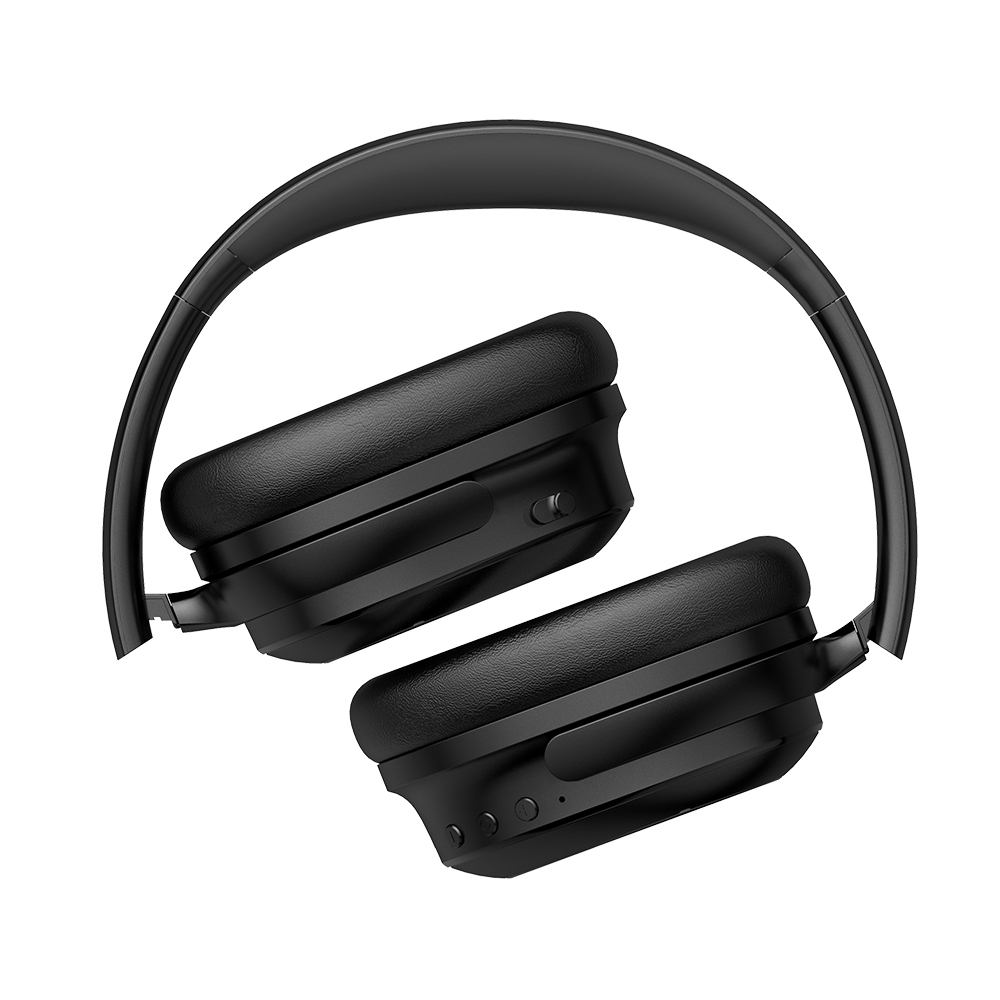 Folding up the earpiece was a breeze. It felt sturdy enough such that there wasn't a fear that we'd break the headphones. The only complaint that we have is that the shell of the headphones picks up fingerprints quite easily, as shown below. But if you're not one to nitpick on that, this isn't going to be a huge issue.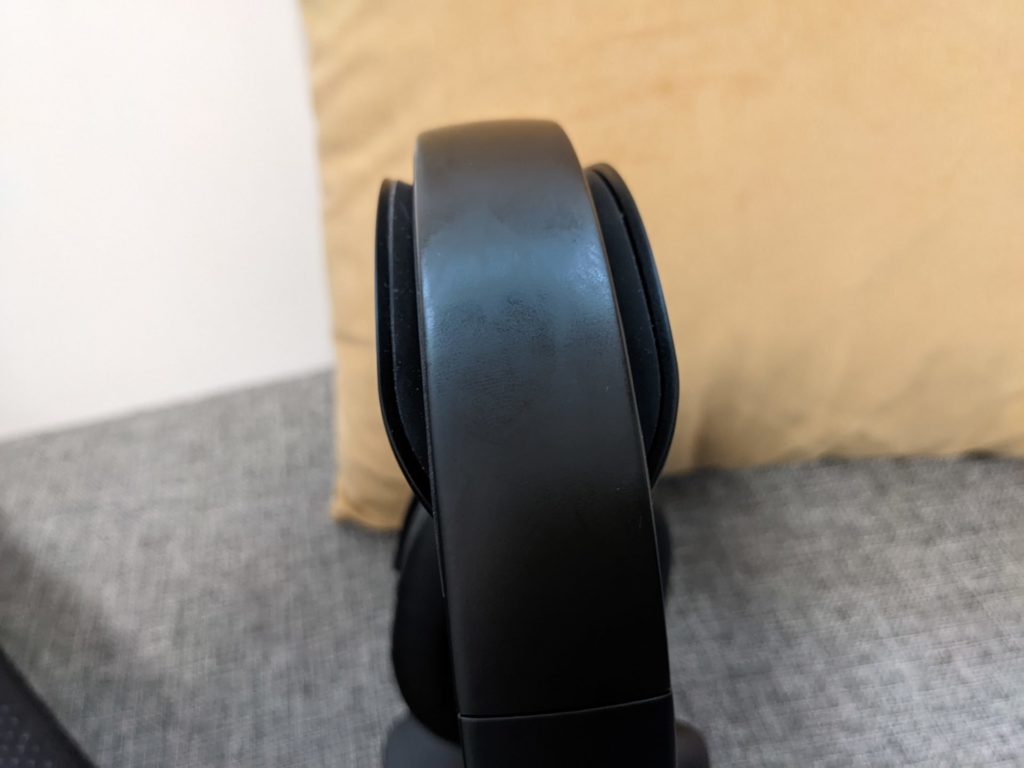 Along with the SH010, we were sent a set of Shenoy Audio's headphone stand. The stand is pretty heavy, which makes sense since you're not going to be moving it around much. In fact, its weight lends a hand to its stability – it could take a few hard knocks and the headphones stay firmly in place.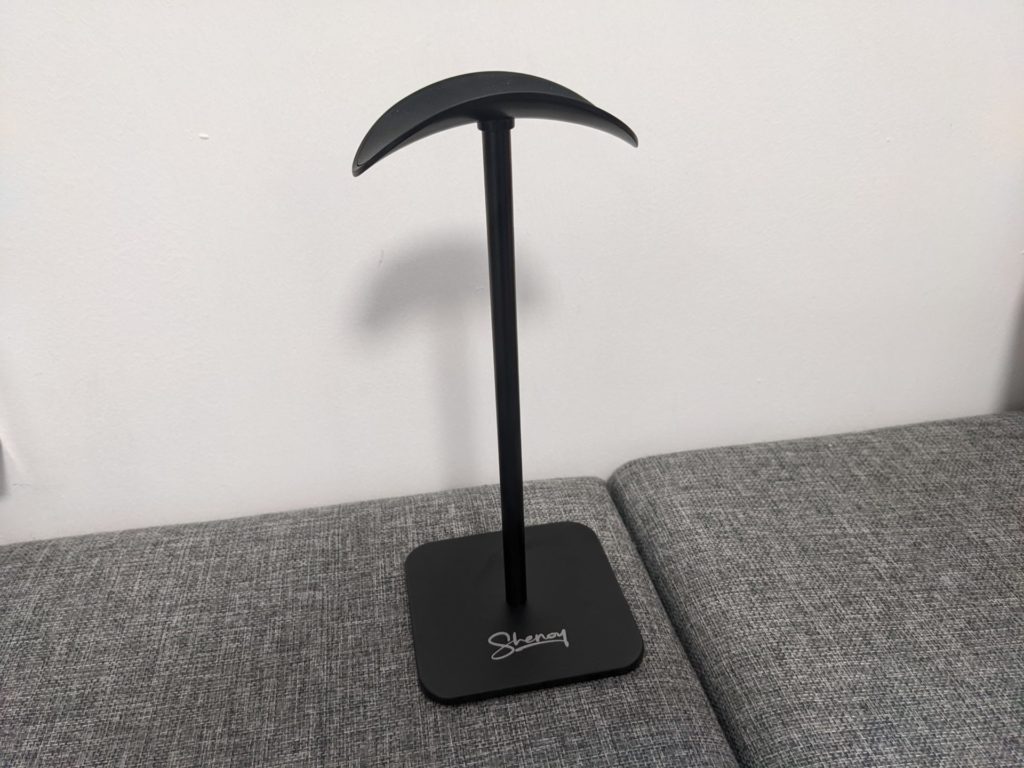 Comfort
As mentioned previously, the SH010's comes with a soft and springy cushion on each earmuff. Shenoy Audio claims that the soft memory ear cups were designed for optimal comfort.
The headband of the SH010 is equally designed for comfort – it sports a curved design that is supposed to fit the head for comfortable wear even after a long time. The headphones are also scalable to fit different types of heads. We liked that Shenoy Audio decided to place numbered markings on the extendable portion of the headband. You won't ever have to wonder if you extended each side of the headphone equally because the markings will indicate that for you.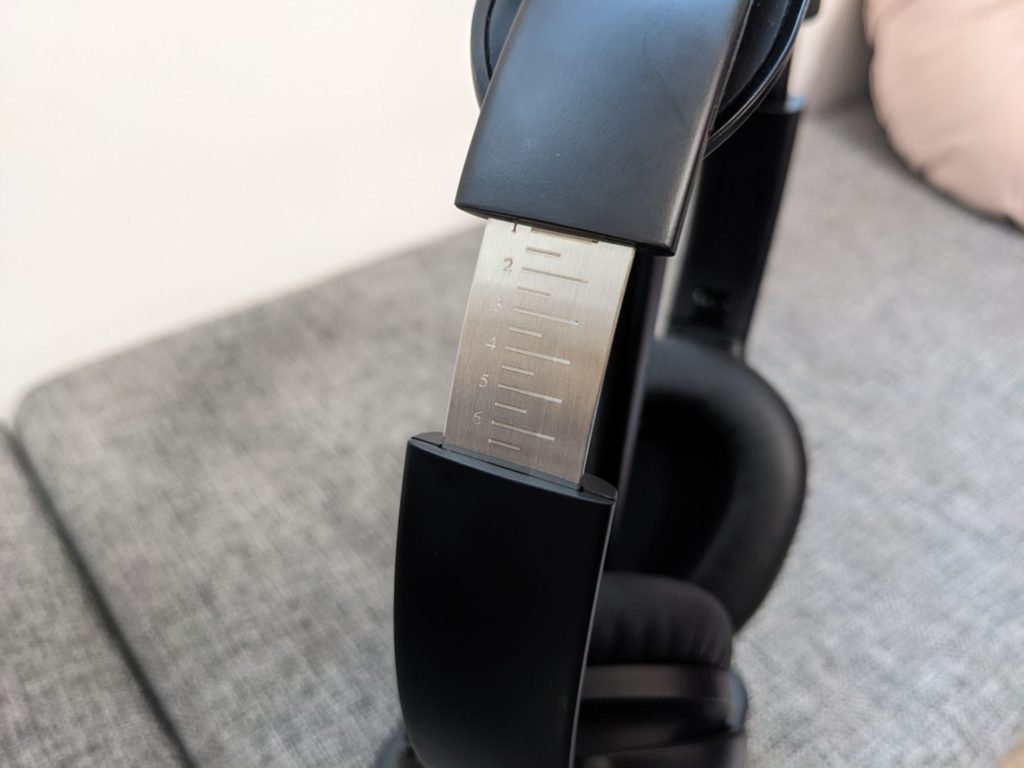 Overall, SH010 was able to fit around the head snuggly while providing enough padding to rest comfortably against your ears. The earmuffs and headband were also able to evenly distribute wearing pressure so that you won't feel that your head is being "squeezed", even after long hours of usage.
Audio quality
As the brand's flagship, the SH010 is a headset meant for professional musicians, performers, music enthusiasts, and people who wish to intimately enjoy their favorite music tracks without the obstructions of ambient noises.
In terms of hardware, the SH010 is equipped with 40mm graphene diaphragm dynamic drivers and Bluetooth 5.0 chipset by Airoha. On our test, sounds were accurate, clean, and full of detail. Sound stage was pretty wide, mid-range was rich, and lows were particularly deep and punchy. The connection was reliable too.
The SH010 is also crafted with Hybrid Active Noise Cancellation technology. This design combines feedforward and feedback ANC by placing a microphone on the inside and outside of each ear cup for deeper noise suppression of up to 30dB.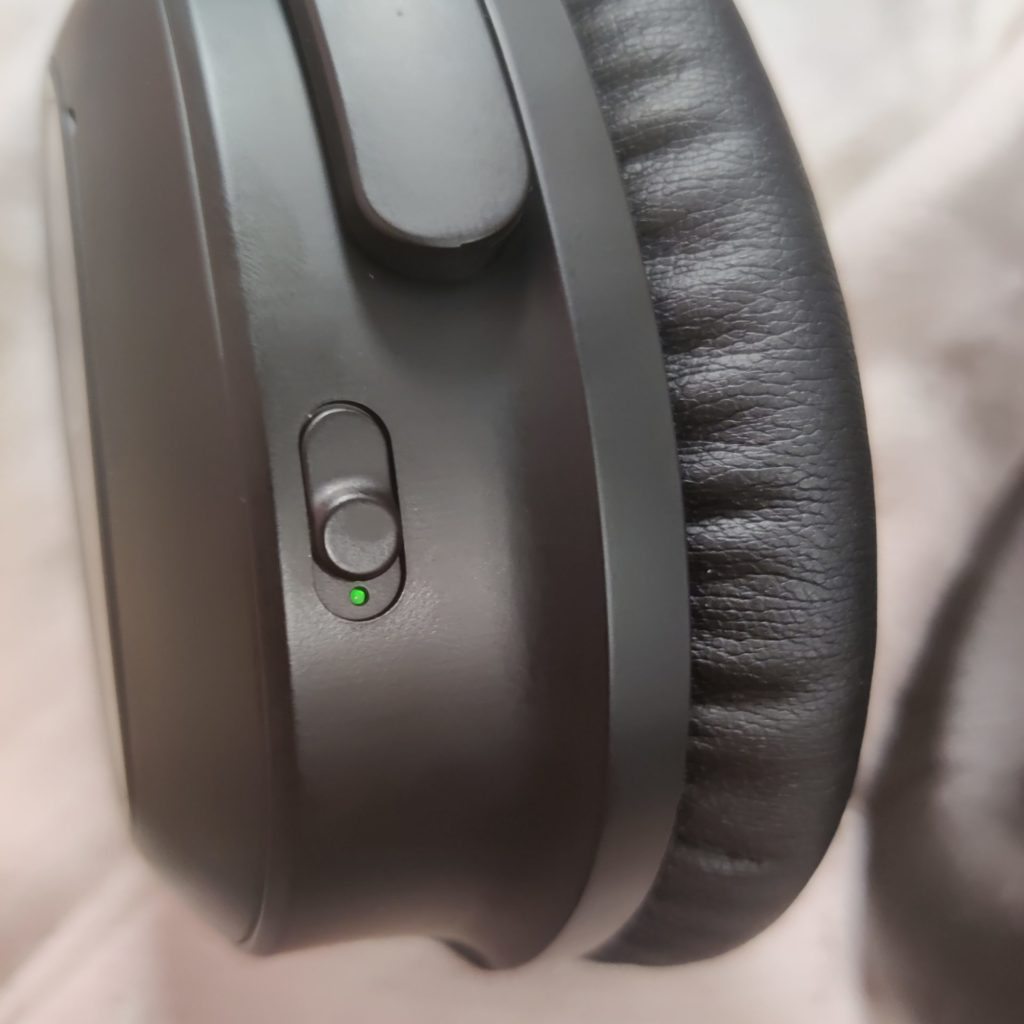 To turn ANC on or off, you'll have to toggle the switch on the left earmuff. The green light indicates that ANC is turned on. We'd prefer if we were told "ANC ON" or "ANC OFF" when ANC is turned on or off respectively because if you forget, you'll have to take the headphones off and take a look at the light indicator to figure out if ANC is turned on or off.
On our test, ANC works well. We liked that it was able to successfully block out ambient sounds without creating the uncomfortable feeling of pressure that some headphones are culprits of.
One thing we noticed is that the volume rockers increase and decrease the volumes "in bulk". In other words, you can't increase or decrease the volume by 1. On my laptop, for example, volume goes from 0 to 6 to 13 to 19, 25, 31, 38, 44.
Microphone quality
Most of us use our headphones to take calls while working from home. It would make more sense, economically and for convenience sake, to get a pair of headphones for both work and play. The SH010 offers that perk – in addition to the 4 mics mentioned previously, the headphones see an additional mic that ensures crystal clear microphone quality for phone and video calls.
Battery life
Shenoy Audio claims that the SH010 offers up to 25-30 hours of music playback and talk time (ANC off) and 12 hours (ANC on). On our test, these numbers are pretty accurate. Charging up the SH010 is also fuss-free thanks to rapid USB-C based charging. It took us about 1.5 hours to juice up the headphones, which is pretty much on par with most headphones we've tried.
Pricing and availability
The Shenoy Audio SH010 is available here at SGD $174 (U.P $199).
For those living in Singapore, Shenoy Audio will ship your purchase together with a complimentary headphone stand worth $42.
For international customers, Shenoy Audio offers free global shipping from Singapore using DHL Express Air Courier. The brand will absorb the full shipping cost. You may still add the headset stand to your cart as part of a discounted package deal though!
You can also find Shenoy Audio on Shopee SG, Lazada SG, Carousell SG, and Amazon SG.
Verdict
Taken together, Shenoy Audio SH010 is a well-crafted set of headphones. At $174, you get a sleek matte black pair of headphones with great audio quality, good call quality, and exciting features like hybrid ANC. These features do not come at the expense of battery life, comfort and form factor as well.
We also loved that Shenoy Audio paid attention to little details like having the measurement markers on the headband. At the end of the day, these are the things that set headphones in the saturated market apart from one another.
That said, the user experience of the SH010 would have been even more greatly enhanced with some tweaks. We already mentioned having an "ANC ON/OFF" prompt. We'd also love to see Shenoy create an app for its devices. Having the option to optimize sound profiles would really be the cherry on top of the cake. Fingers crossed that the Shenoy Audio team is working on this!