Building a new Desktop PC for the new year? Now that PC components are starting to come back in stock, it's perhaps finally time to conceptualize and complete that Desktop PC build that you've always wanted.
At the heart of every single Desktop PC build, other than the key components, is the PC Case. The PC case gives the whole system its character, and also tells a lot about you, as the system builder. For some, they prefer a flashy PC case with lots of RGB lighting and a tempered glass window, just so that they can easily show off their own creation. Others simply need a PC case that works and its design as simple as possible to be in line with their minimal setup at home.
Understanding the needs of system builders, the MasterBox MB600L V2 is designed for those who simply wants a highly practical, usable and simple PC case. It's designed for the minimalist and a more mature crowd, who has already been past the stage of needing RGB lights to lighten up their life. In this article, we are going to take a look at the various features of the MasterBox MB600L V2 and how it stands out when compared to any other competing products in the market.
The MasterBox MB600L V2 by Cooler Master
The MasterBox is a value-oriented series by Cooler Master. This product lineup is usually priced very affordably, but still retains all the intuitive features that are seen in higher end cases. The MasterBox MB600L V2 is a Mid-Tower ATX case that is created for those who wants things to be simple.
We have to emphasize that being simple does not mean that it is simplistic. On first look, it may seem that the MasterBox MB600L V2 is simply a black box with nothing interesting, but its design attracts a certain crowd. With the crazy obsession of RGB lights with everything in a PC, it's perhaps a good time for a change. The MasterBox MB600L V2 spearheads this design style, while still retaining a few minor accents to keep it special.
For a start, the MasterBox MB600L V2 comes with a brushed front panel which gives it a rather low-key sophisticated look. It has everything you need, including legacy support for a 5.25-inch drive. It also comes with the standard 2 x USB 3.0 ports, a reset button, power button and an audio input/output combo jack.
At the rear, we also spotted a 120mm exhaust fan outlet, 7 expansion slots and a bottom mounted power supply design. The MasterBox MB600L V2 also comes with a tool-less design, as it utilizes thumbscrews for all its side panels for quick and easy access to the internals of the PC.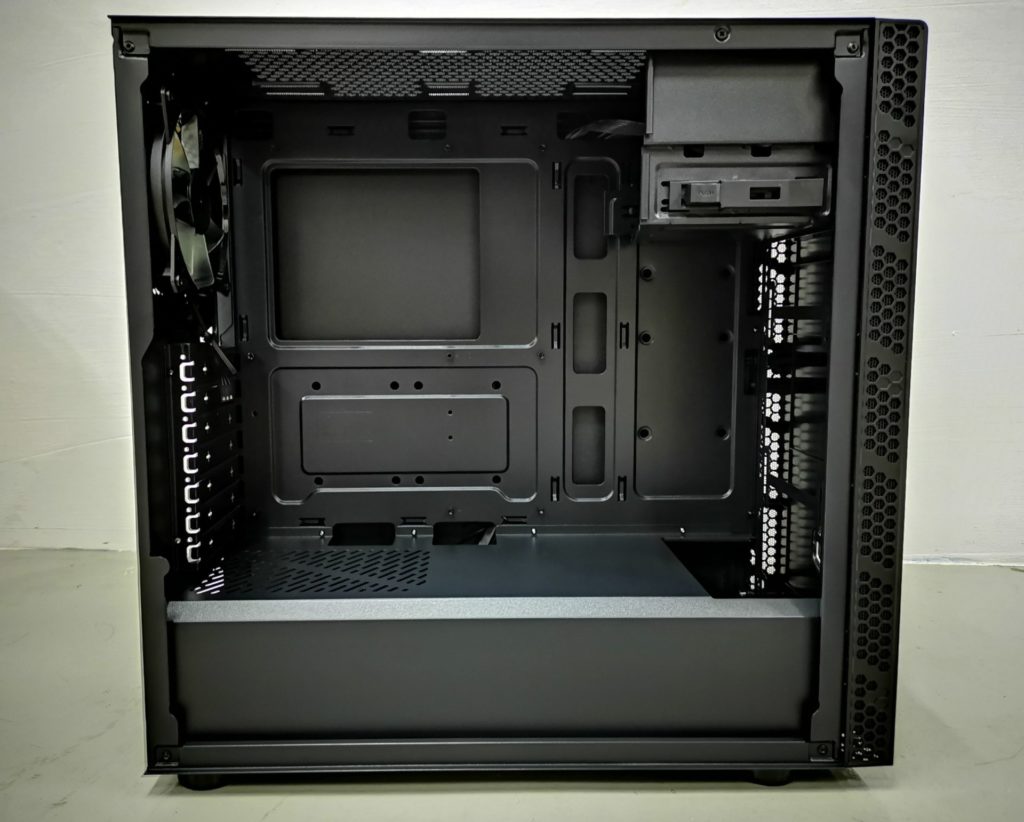 Inside, we can see that the MasterBox MB600L V2 case is separated into 3 key areas. The bottom portion of the case houses the power supply and also contains all the messy cables within. This makes it extremely easy to keep the cables away from the key components of the PC, which could disrupt the airflow and cooling capabilities. The main area where the PC components are placed also has everything we want –
(1) Large CPU Cooler access hole for easy installation/replacement of CPU cooler without the need to remove the motherboard
(2) Cable Management Access holes placed correctly at top, right side and bottom of the motherboard, allowing you to easily route cables to their respective ports
(3) Support for 280mm radiator – If you are thinking of water cooling your PC with a decent 280mm radiator setup, you can do it on this value oriented case too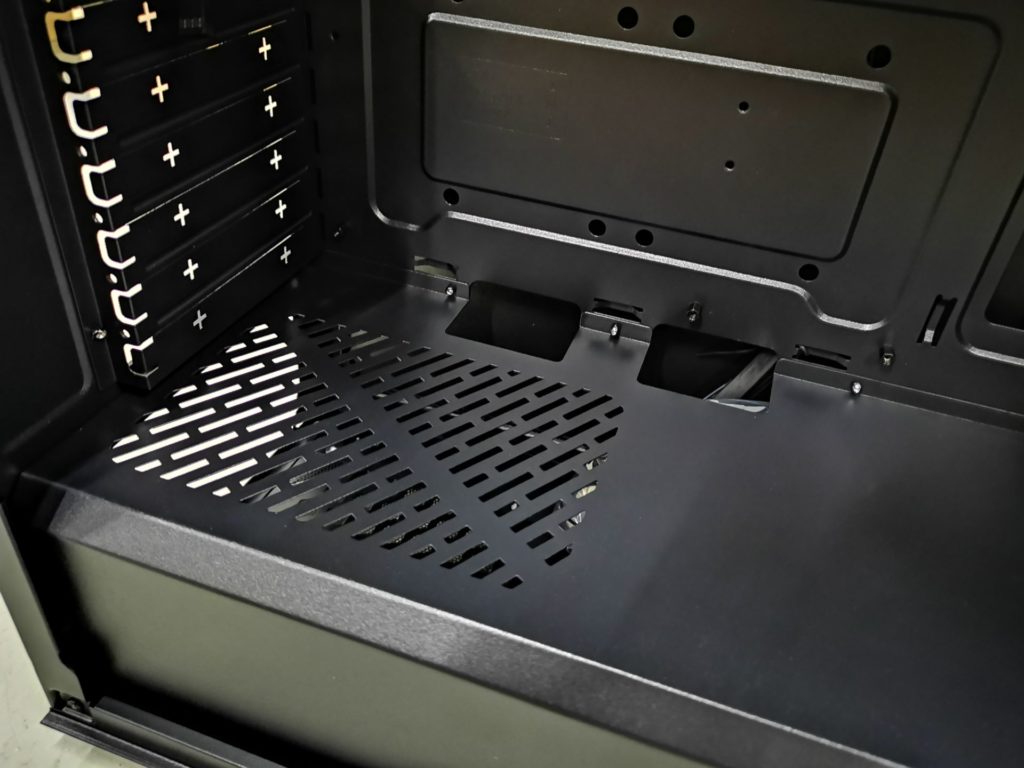 Most PC cases require you to place your power supply in a certain position, so that the power supply's fan faces a location that's breathable. For the MasterBox MB600L V2, you will have the choice to place the power supply in either direction to better aid your overall airflow design of your system. Technically, with the breathable holes created on the PSU shroud, you can technically treat your power supply as an exhaust fan for your system, or even illumination to the PC if your power supply comes with RGB fans.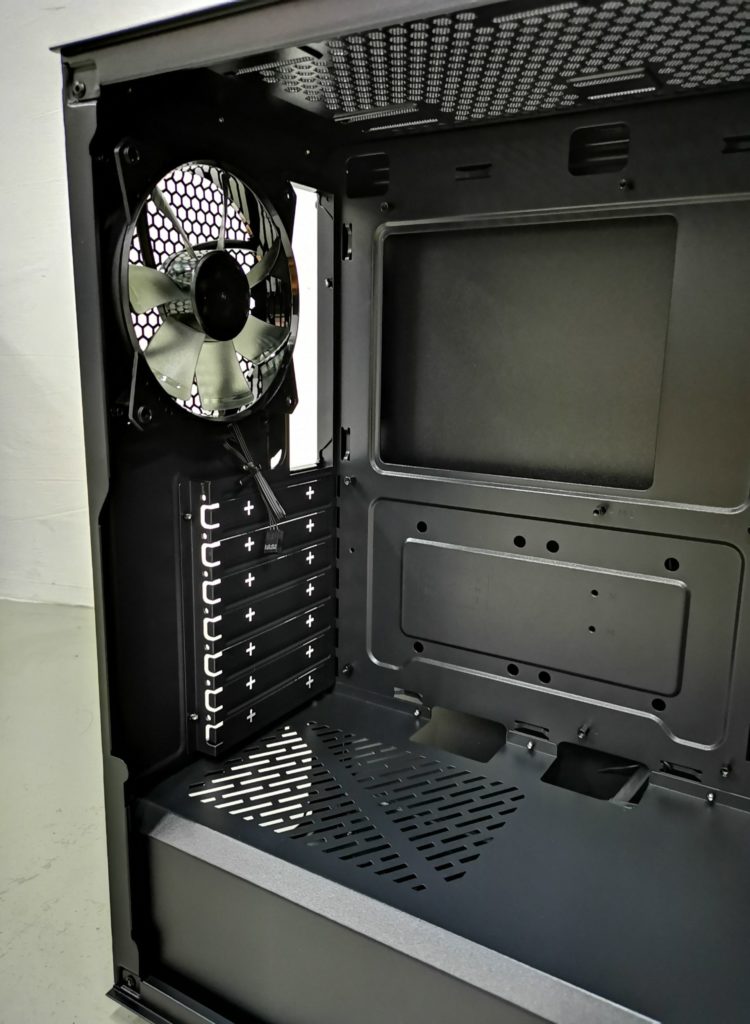 The MasterBox MB600L V2 also comes bundled with a 120mm fan placed at the rear of the case.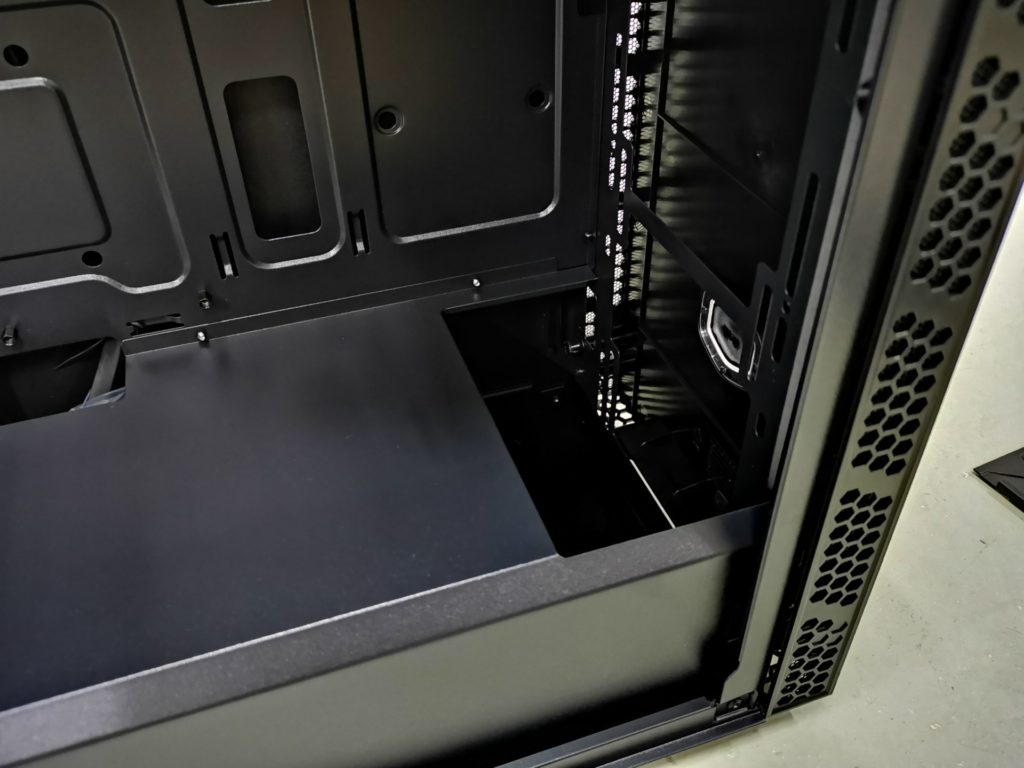 At the front of the case, you can also place up to 3 x 140mm fans for your air intake configuration. You may realize that there aren't any holes at the front panel. The air will be pulled from the sides of the front panel through the hexagonal holes into the case. Of course, with such a design, we definitely can expect a buildup of dusts at that fan intake area after a prolonged use of the system.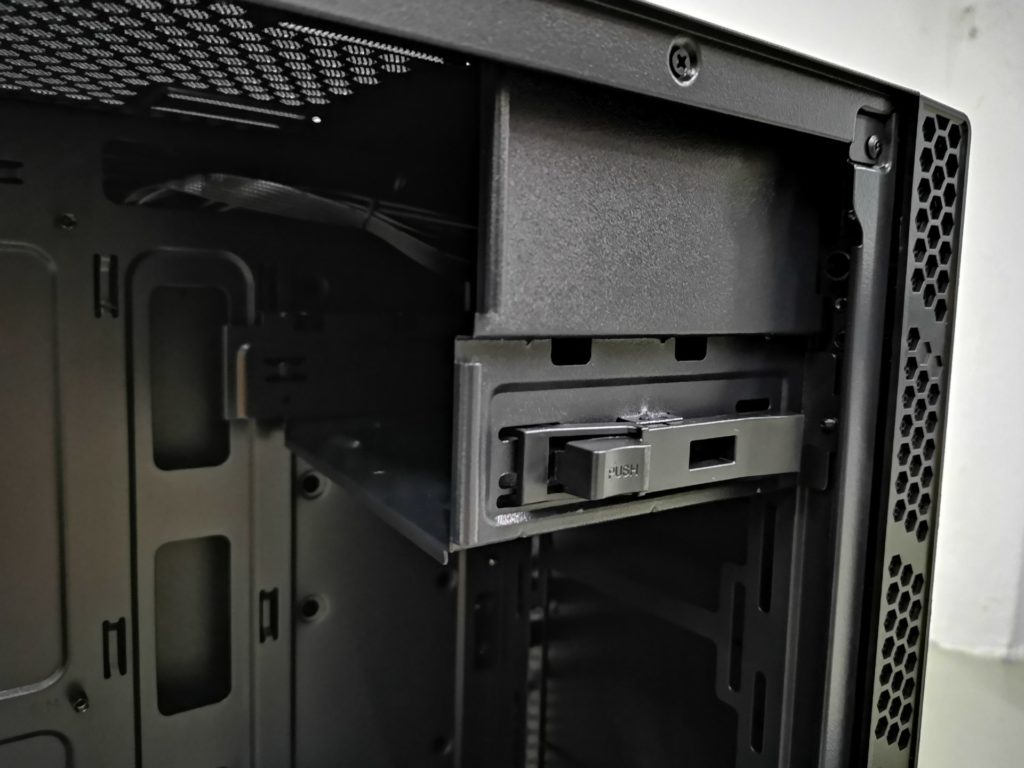 You can also fit in a 5.25-inch drive in the MasterBox MB600L V2. It comes with a fully tool-less installation design, making the installation of a new drive a breeze.
At the top of the case, you can add two more 120mm fan or even a 240mm radiator. There is also a magnetic dust cover to help you with dust management within the case.
At the rear of the case, we spotted two 3.5-inch hard drive bays. It also comes with a tool-less design, and installing our hard drive to the case was straightforward and done within a few seconds.
Routing of cables within the MasterBox MB600L V2 was also extremely straightforward. There was ample space at the back to allow us to hide our cables. For the lazy bunch, we can simply just cover up this side of the case with the cover and act that it's properly cable managed – its other side will still look very neat because of all the cable routing holes which were placed in the locations where they are supposed to be.
The Result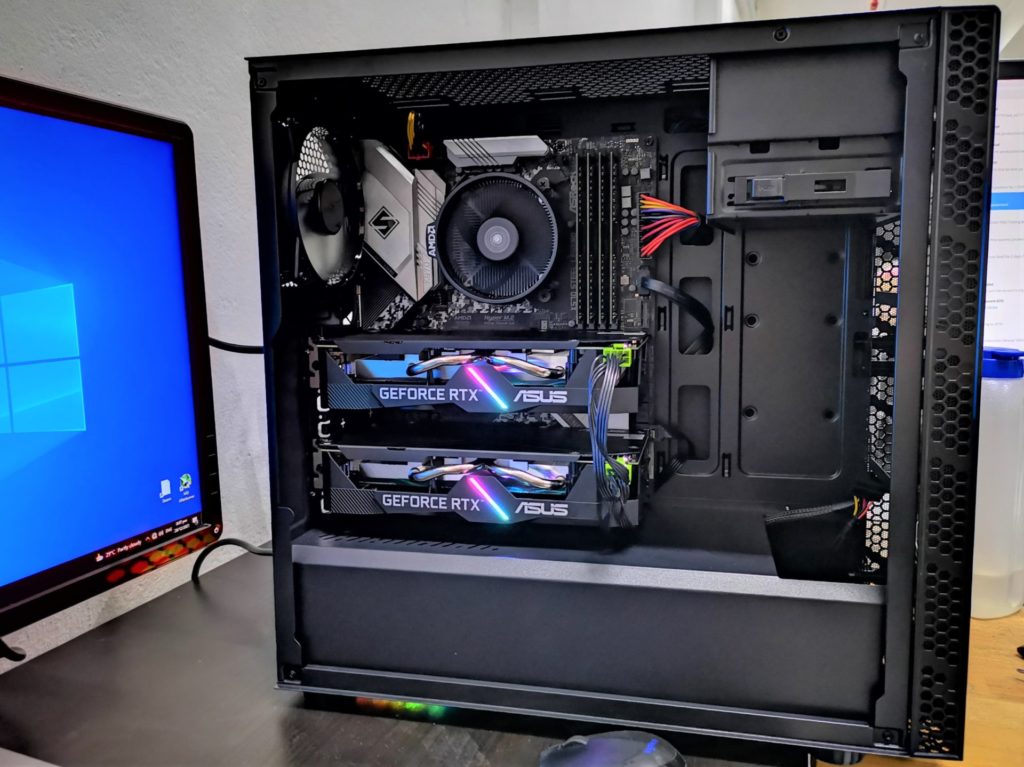 In less than 30 minutes, we were able to quickly assemble a full desktop computer and make it to work. This was all thanks to the design of the MasterBox MB600L V2 which was already optimized for the DIYers. There simply isn't anything which we had to work around or figure out, because the case made PC building so much more intuitive and straightforward.
Moreover, as you can see, you can definitely fit graphics card of any size within this case. After fitting our 2 x RTX 2060 within the case, there's still so much space remaining for you to work with!
Conclusion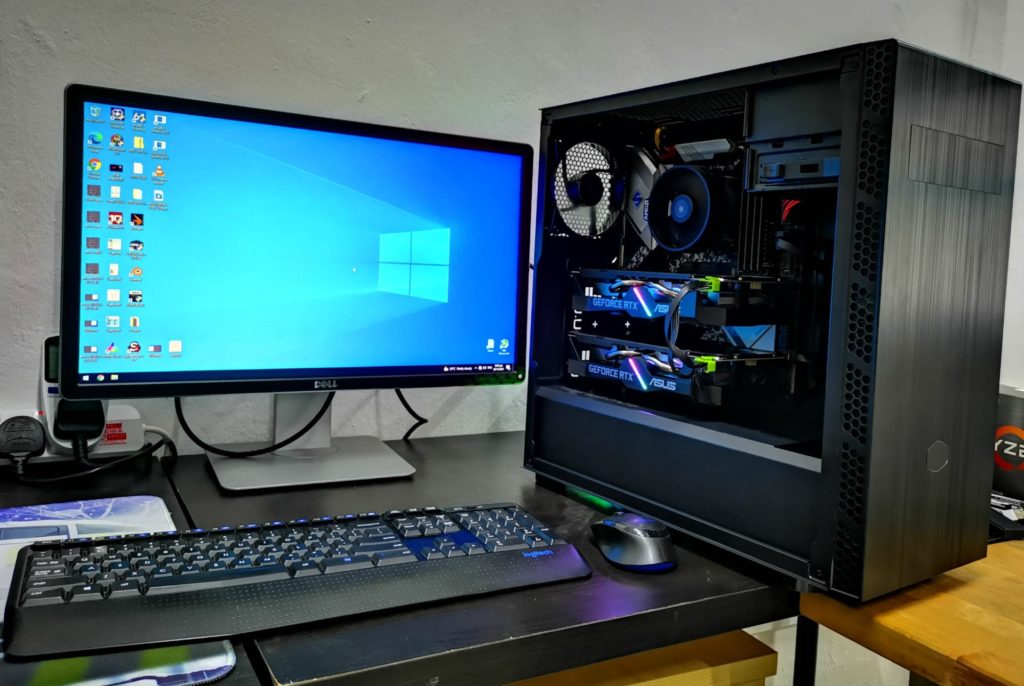 We've got to say that at a price tag of SGD79, the MasterBox MB600L V2 by Cooler Master had blown my mind away as it's certainly worth more than what it's priced at. It's a highly usable and practical PC case that had made PC building so much easier because of its intuitive design. We also really loved its minimal and simple design, straying away from the norm of unnecessary RGB lights that is "supposed" to be popular today.
The MasterBox MB600L V2 also comes with a version with a side tempered glass, which could be more popular with builders. What's more, it costs the same price as the non-tempered glass version. What else could you ask for?