Sony's unique 360 Spatial Sound Personalizer creates Dolby Atmos® cinematic surround sound with the SRS-NS7, supplied wireless transmitter and BRAVIA XR™[i] models
Experience crystal clear acoustics and powerful sound pressure with X-Balanced Speaker Unit and a passive radiator
Enjoy the comfortable and flexible fit
Up to 12 hours battery life for non-stop entertainment
(Singapore, 19 October 2021) – Sony has today announced a new wireless neckband speaker, the SRS-NS7, for enjoying an immersive personal cinema sound experience, along with the WLA-NS7 wireless transmitter[ii] – which works with selected Sony headphones to realise the same experience as with SRS-NS7.
Lose yourself in your favourite movie or song
The SRS-NS7 is the world's first Dolby Atmos® compatible wireless neckband speaker with Sony's BRAVIA XR1 models. It delivers Sony's unique 360 Spatial Sound experience that provides a perfectly optimised cinematic experience with the 360 Spatial Sound Personalizer app.
The SRS-NS7 works with the supplied wireless transmitter, and BRAVIA XR TVs1, to create the ideal arrangement of virtual Dolby Atmos® speakers around you[iii] – immersing you in the scene as if you were there in the action. To use it, connect the supplied wireless transmitter to the TV with an optical cable and USB cable, then pair the SRS-NS7 with the transmitter via Bluetooth® connection – simple!
For a truly personalised experience, use the 360 Spatial Sound Personalizer smartphone app to take photos of your ears, to analyse your unique hearing characteristics as a result, and to integrate these characteristics into your SRS-NS7 audio experience.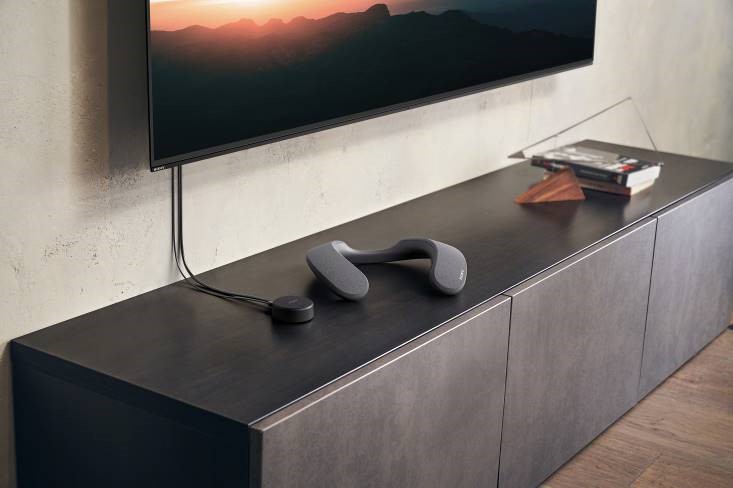 Aside from enjoying Dolby Atmos® content on your TV, on the music side the SRS-NS7 also supports 360 Reality Audio[iv] when used with a smartphone – so you can enjoy the atmosphere of a gig. Available via your smartphone from compatible music services such as Deezer, nugs.net and TIDAL, you can immerse yourself in music all around you.
In addition to being the perfect partner to BRAVIA XR TVs, the SRS-NS7 also pairs with devices such as laptops, tablets and smartphones[v]. This personal wireless neckband speaker lets you enjoy your favourite entertainment with 2-channel stereo, even on palm-sized devices.
Thrilling sound, only around you
Using Sony's renowned audio technologies, the SRS-NS7 delivers crystal clear acoustics and powerful sound pressure for richer, deeper sounds for the ultimate personal cinema experience. This is thanks to an X-Balanced Speaker Unit that provides the optimum speaker size in a compact body and increases sound pressure and reduces distortion for clear music and vocals. Alongside this, the upward facing speaker delivers clear sound directly at you without disturbing others, so you can be fully immersed in your movies and music even at midnight. Plus, the passive radiator increases low frequency response for clear bass sound delivering thumping music sound effects and deep beats.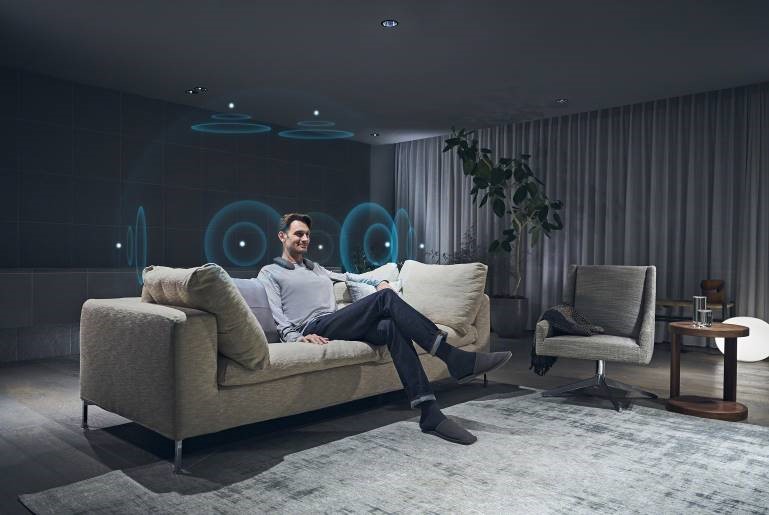 Pictures and sound, perfectly in sync
The supplied wireless transmitter helps minimise audio delay for SRS-NS7 when connected with BRAVIA XR TVs so you can be fully immersed in Dolby Atmos® movies with sound and pictures precisely matched[vi].
Comfortable fit for non-stop entertainment
If all-night movie marathons or binge-watching your favourite TV shows is your thing, the SRS-NS7 has your non-stop entertainment needs covered.
The SRS-NS7 provides hours of comfortable viewing of your favourite movies, TV shows or concerts thanks to its flexible and ergonomic design that fits securely around your neck. The flexible band on the back of the speaker helps you find the perfect fit for total comfort while enjoying your entertainment.
Plus, there's no need to worry about battery life. The SRS-NS7 provides up to 12 hours[vii] of power and up to 5 hours[viii] at maximum volume so even the longest movies and TV shows just keep on playing.  If you do run low, quick charging with USD type-C® for 10-minutes gives you up to an extra 60 minutes of extra play time[ix].
It's not just TV, movies and music where the SRS-NS7 excels, the wireless neckband speaker is also great for home working with easy hands-free calling. Optimal microphone placement allows the SRS-NS7 to capture and deliver your voice in excellent quality, while the X-Balanced Speakers Unit reproduces colleague's voices clearly. Plus, with echo cancelling minimising feedback, everyone on the call can hear and be heard clearly.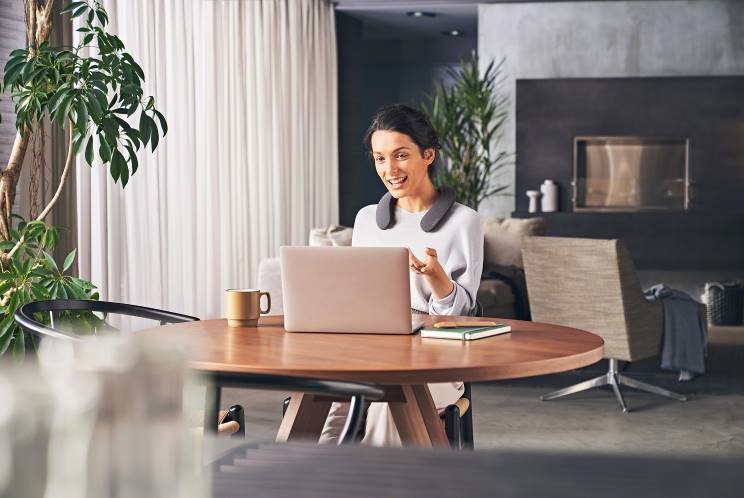 Designed with total convenience in mind, the SRS-NS7 also features Multipoint Connection[x]. This lets you connect two devices at the same time, such as your laptop and smartphone[xi]. So, if a business call comes in on your laptop while you're listening to music on your smartphone, you can take the call with just one click of the Play/Call button on the left side of the neckband. Once the call is over, you're automatically reconnected back to your favourite playlist.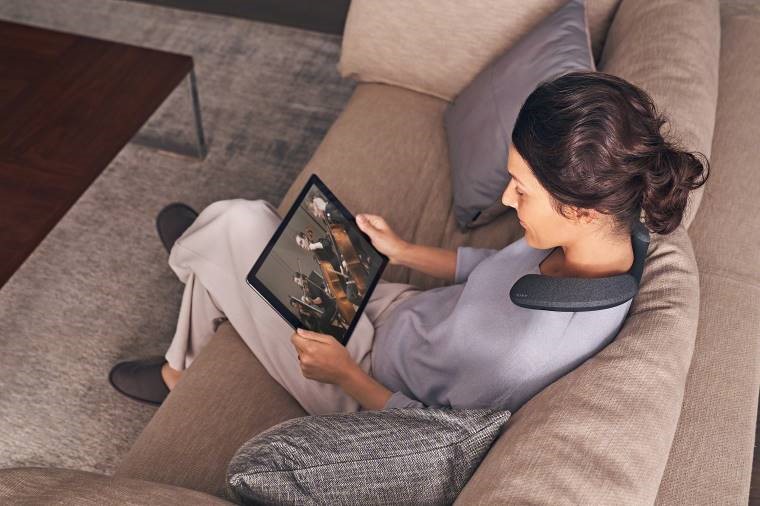 The IPX4[xii] splash-proof design of the SRS-NS7 lets you enjoy your favourite shows and tunes anywhere in the house without worry, even while doing your daily chores like washing up. Plus, the open-ear style allows you to watch and listen away from your device while still being aware of what's going on around you.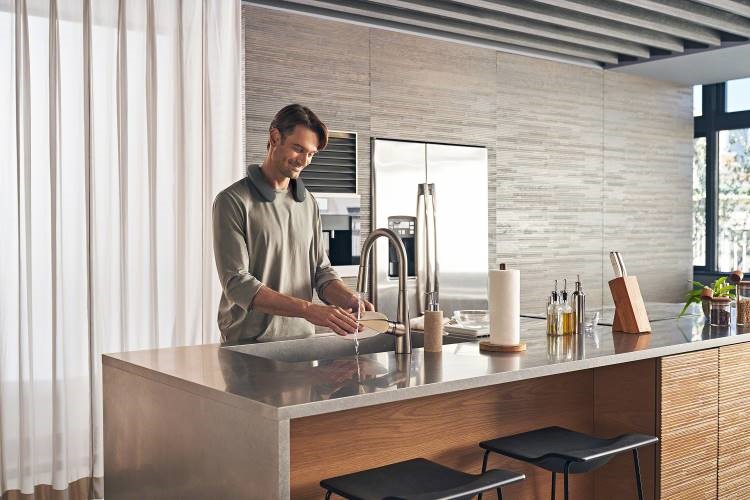 Premium yet practical design
The SRS-NS7 features a fabric surface finish offering a comfortable feel that's a pleasure to wear and own. With a silicone finish neckband and soft-feel rear coating, the SRS-NS7 is perfect for everyday use and easy to clean.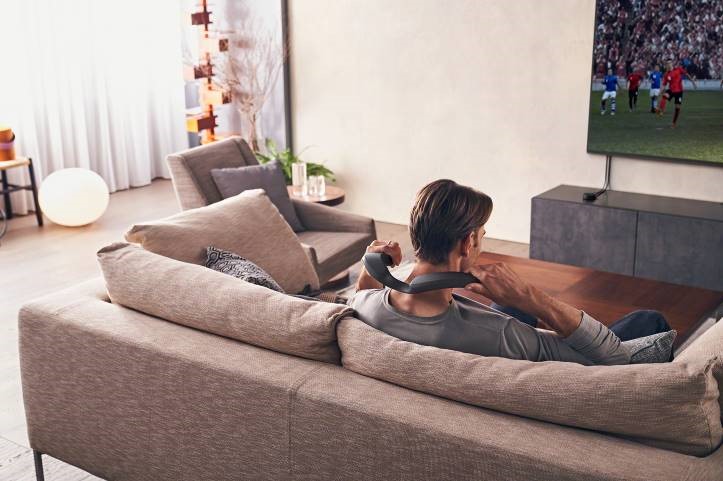 The SRS-NS7 is not only designed to be stylish, but also with the environment in mind. Less than 5% of the SRS-NS7 packaging is plastic, reflecting Sony's commitment to reducing the environmental impact of its products and practices.
Enjoy 360 spatial sound experience on your headphones
Sony's 360 Spatial Sound experience on BRAVIA XR TVs5 will also be available on selected Sony headphones[xiii] when paired with the WLA-NS7 wireless transmitter[xiv].
Availability
The SRS-NS7 and WLA-NS7 will be available for pre-sales at Sony Stores, and Sony Store Online in Singapore from November 2021 at a recommended retail price of S$ 399.00. For a full list of specs and information, please visit https://www.sony.com.sg/electronics/wireless-speakers/srs-ns7.
###
About Sony Electronics (Singapore)
Sony Electronics (Singapore) is responsible for the marketing and sales of consumer products, as well as professional products and solutions in Singapore. It also handles export business for Sony products from Singapore to various parts of Asia. Since establishing our presence in Singapore in 1973, we have grown steadily over the years to become a leader in the consumer electronics and broadcast markets. For more information on Sony's products and services in Singapore, please visit http://www.sony.com.sg/
About Sony Corporation
Sony Corporation is responsible for the Electronics Products & Solutions (EP&S) business in the Sony Group. With the vision of "continuing to deliver Kando and Anshin to people and society across the world through the pursuit of technology and new challenges," Sony will create products and services in areas such as home entertainment & sound, imaging, and mobile communications. For more information, visit: www.sony.net.
[i] Firmware update available by Jan 2022 and is required to enjoy 360 Spatial Sound on BRAVIA XRTM. Network connection required for firmware update of BRAVIA XRTM.
[ii] Included and sold separately for selected Sony headphones
[iii]  To enjoy the personalised Dolby Atmos® experience, the connection with supplied wireless transmitter and BRAVIA XRTM is needed
[v] Personalized Dolby Atmos experience is not available when connecting to devices except BRAVIA XRTM TVs.
[vii] When volume is set to approximately 16 level. Actual performance may vary from the listed time due to the volume, songs played, surrounding temperature, and usage conditions.
[viii] When volume is set to approximately 31 level. Actual performance may vary from the listed time due to the volume, songs played, surrounding temperature, and usage conditions.
[x] One device for music playback using A2DP protocol, another device for communication using HFP profile. Requires device corresponded to Bluetooth connection. Combination of Mac OS computer and iPhone is not available.
[xi] Function availability may differ depending on OS of computer and smartphone.
[xii] Water resistance is only effective when cap is closed. Not guaranteed for all situations. The included Wireless Transmitter is not IPX4 compliant.
[xiii] Compatible headphones models: WH-1000XM3, WF-1000XM3, WI-1000XM2, WH-1000XM4, WF-1000XM4, WH-XB900N, WH-XB700, WH-H910N, WH-H810, WF-C500, WH-XB910N. To enjoy Personalised Dolby Atmos® experience, the connection with wireless transmitter WLA-NS7 and BRAVIA XRTM is needed.
[xiv] WLA-NS7 wireless transmitter sold separately.