Unless you've not been paying your internet bills, you've probably seen a surge in popularity of mechanical keyboards in recent years. Just Google "Aesthetic Desk Setup" and you'll probably see tons of images featuring stylish mechanical keyboards that look more like a fashion statement. These keyboards can be expensive – mechanical keyboards can cost up to five times more than regular keyboards due to the additional components and work required. That's why we were thrilled to test out the Armaggeddon MKA-61C Pyschstarling.
At $49.90, this mechanical keyboard is a pretty affordable option. We've been using the keyboard for a while now – here's our review of the Armaggeddon MKA-61C Pyschstarling.
Armaggeddon MKA-61C Pyschstarling: Unboxing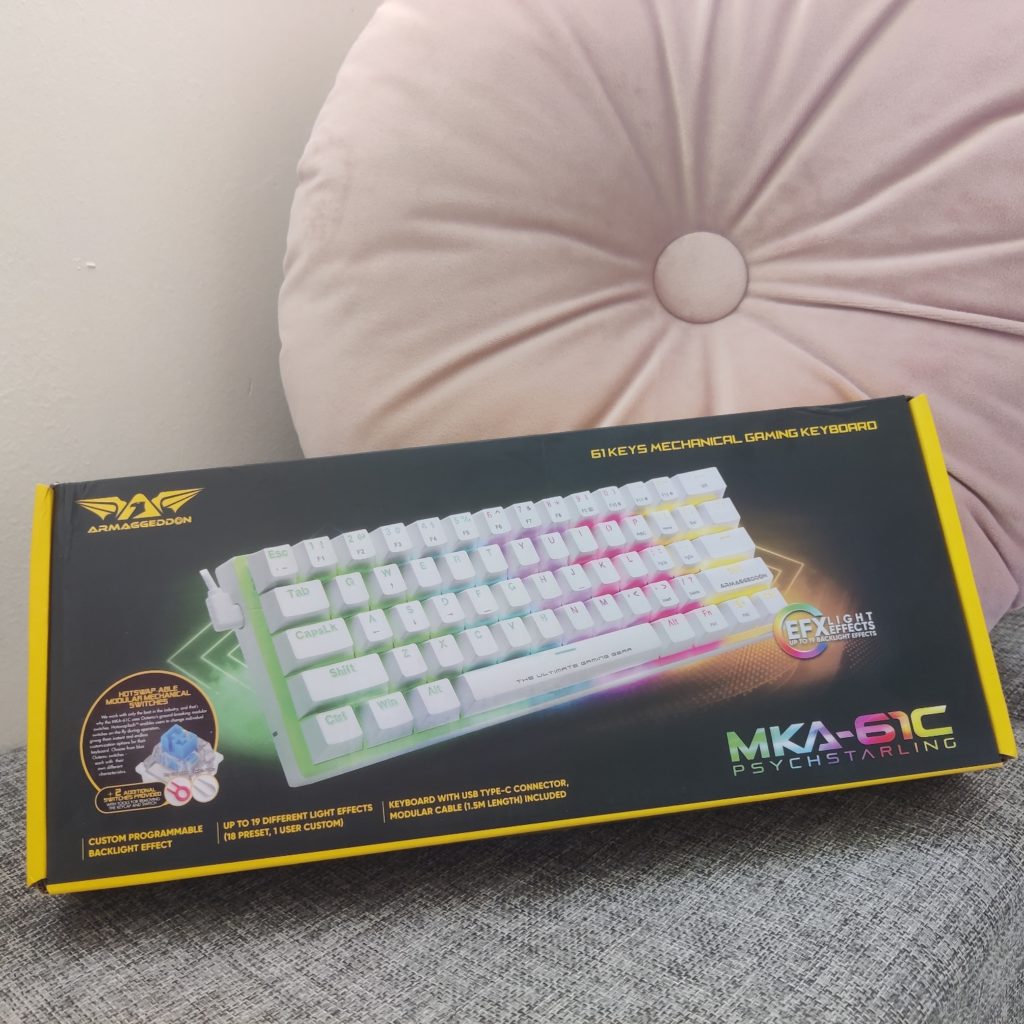 The keyboard comes in a compact box and is well-protected. In addition to the keyboard itself, you'll find two Outemu modular blue mechanical switches, a 1.5m USB-C to USB-A cable, a key cap puller, a switch puller as well as a user manual.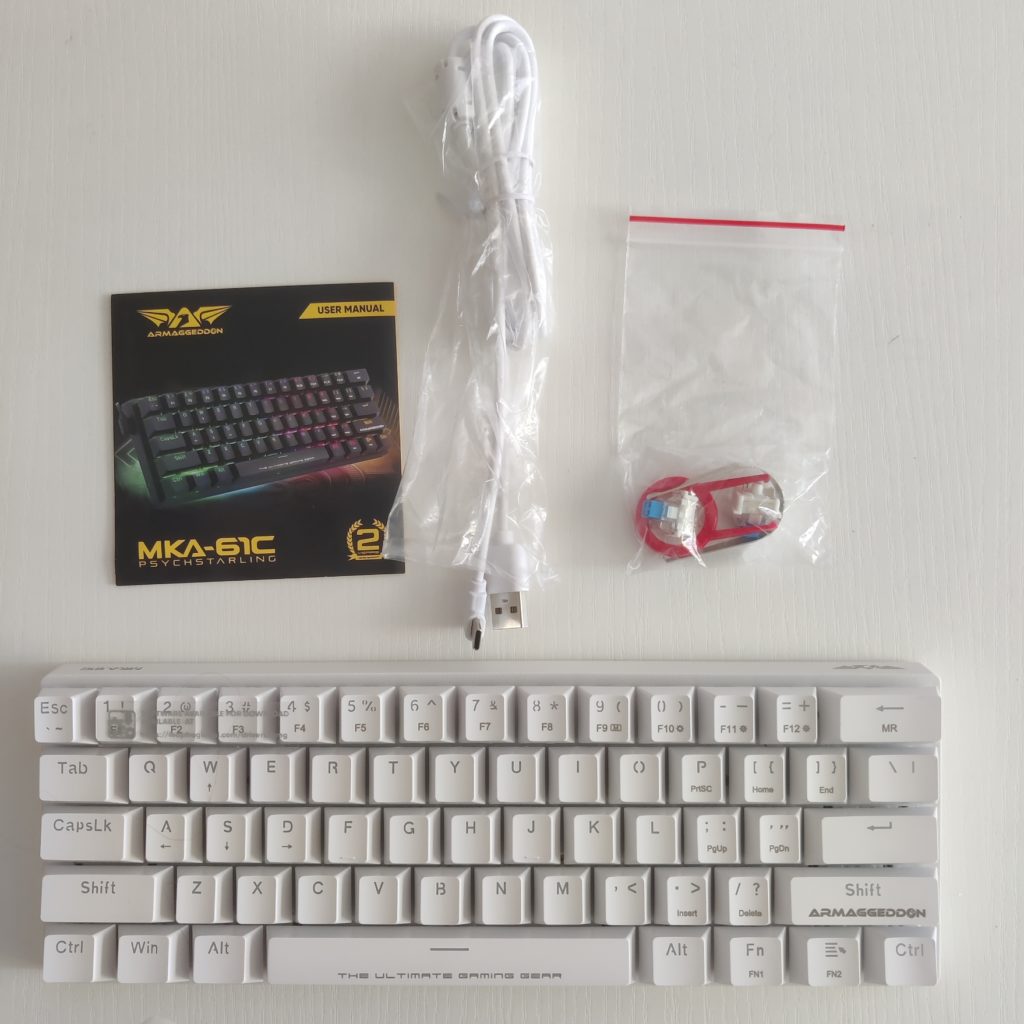 Don't be too quick to shove the user manual aside – you're going to need it to know what keys to press on to toggle between settings and instructions on how to replace keys.
Armaggeddon MKA-61C Pyschstarling: Design & Build Quality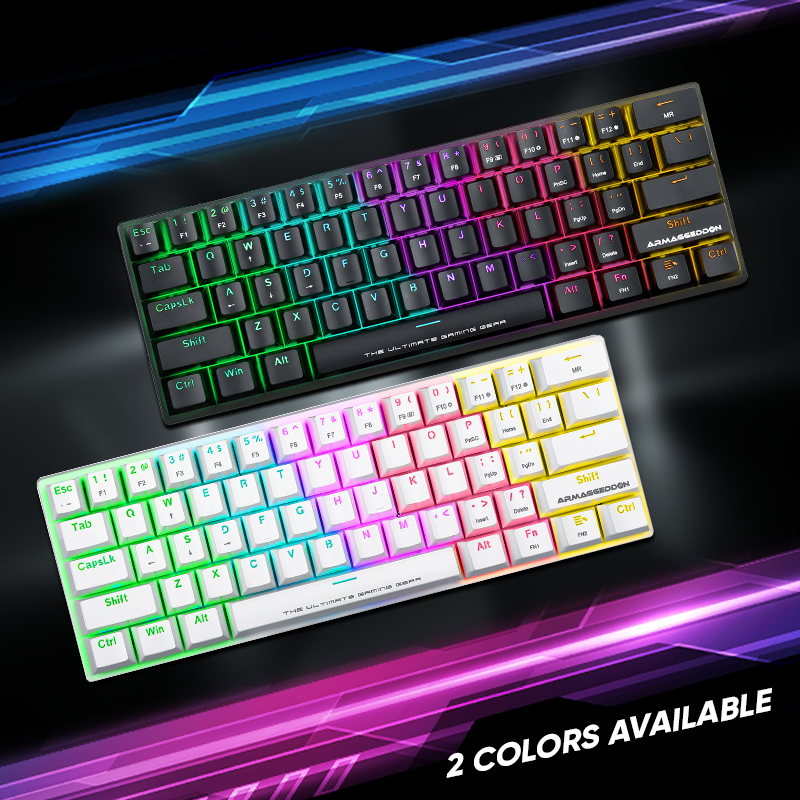 The Armaggeddon MKA-61C Pyschstarling comes in two colors: black and white. We were sent the white one (yay!). For its price, the keyboard feels good in the hands and relatively sturdy. It's compact (L293.8mm x W103.3mm x H34.5mm) and light enough for you to carry it around in your bag.
On the left of the keyboard is a USB-C port and a caps lock light indicator. Turn it over and you'll find four anti-skid pads for stability.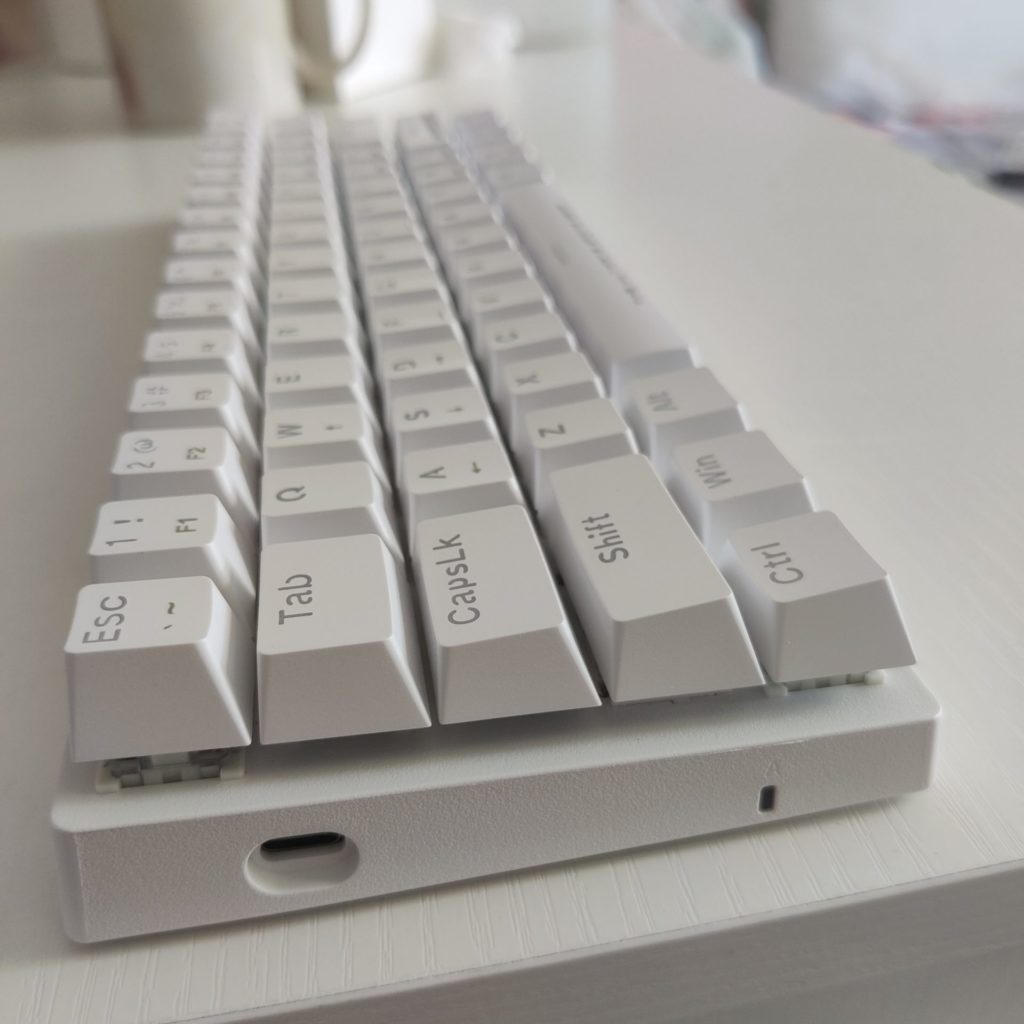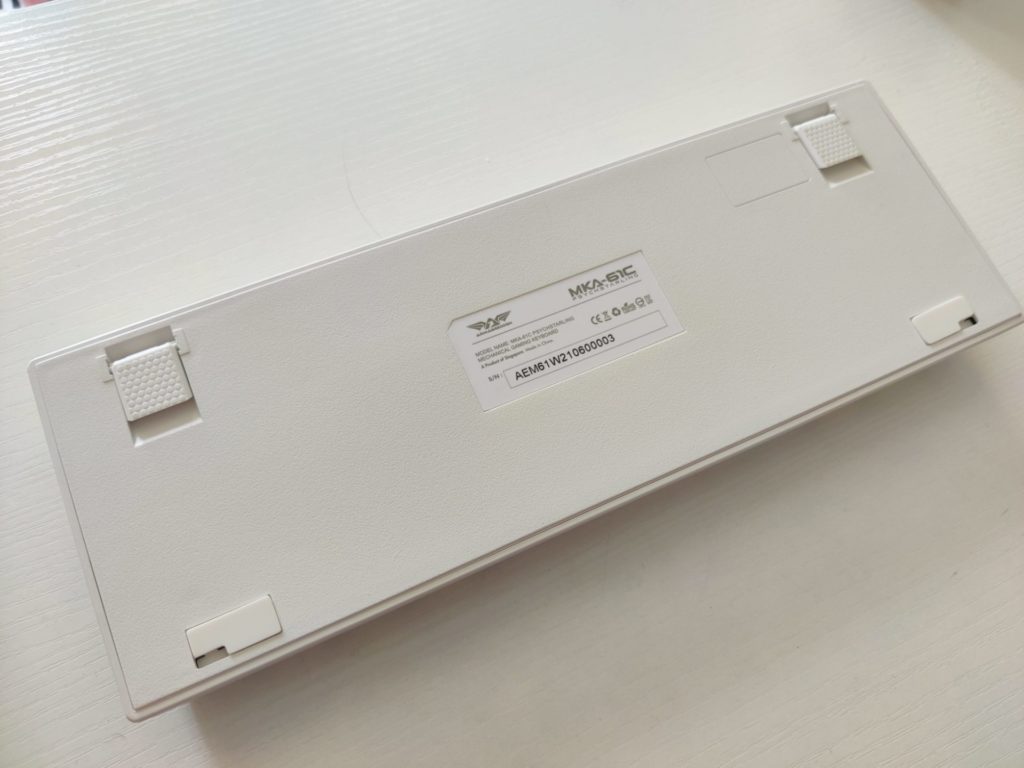 Two of the four anti-skid pads are extendable so that you can angle the keyboard to create a natural typing position for longer, more comfortable work. Do note, however, that the anti-skid pads work less effectively when the legs are extended.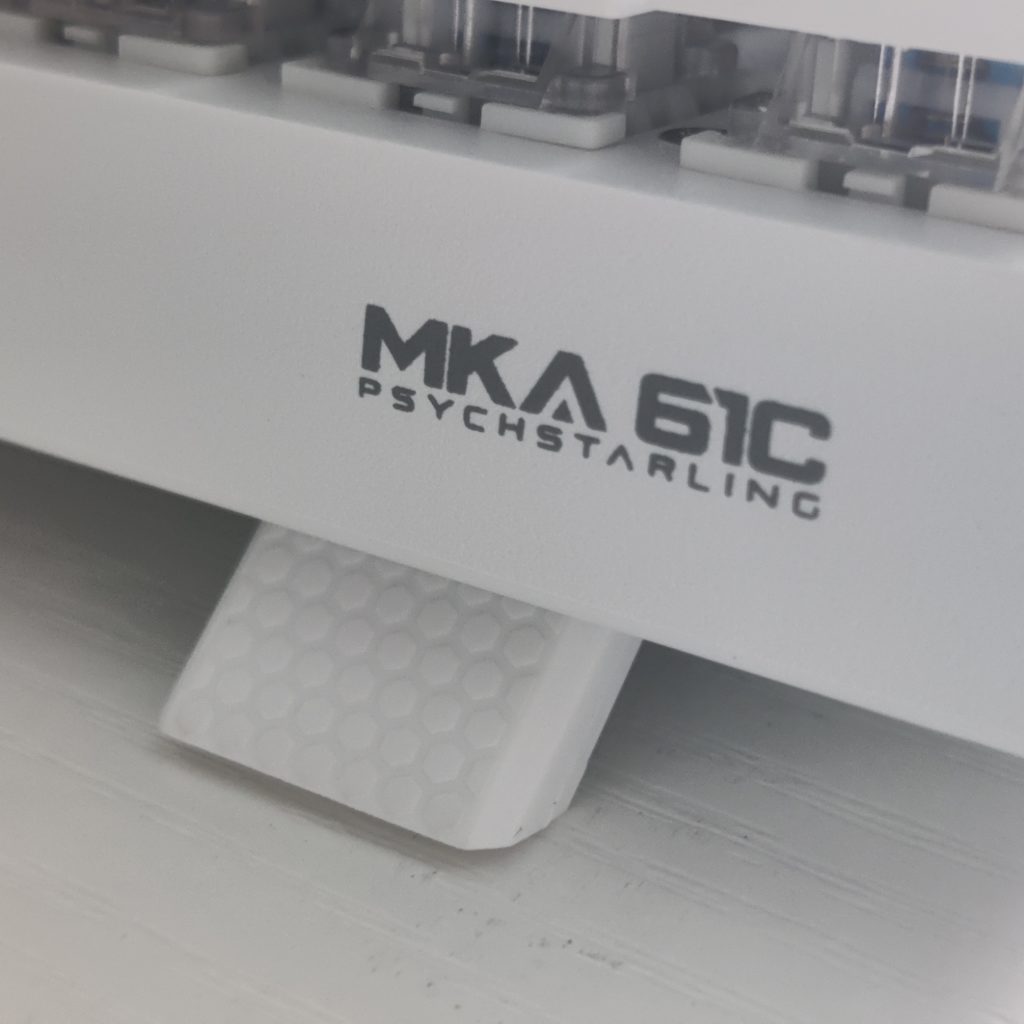 Armaggeddon claims that this keyboard employs the KevlarTech keypads – high-quality concave keycaps with lifetime fade proof warranty.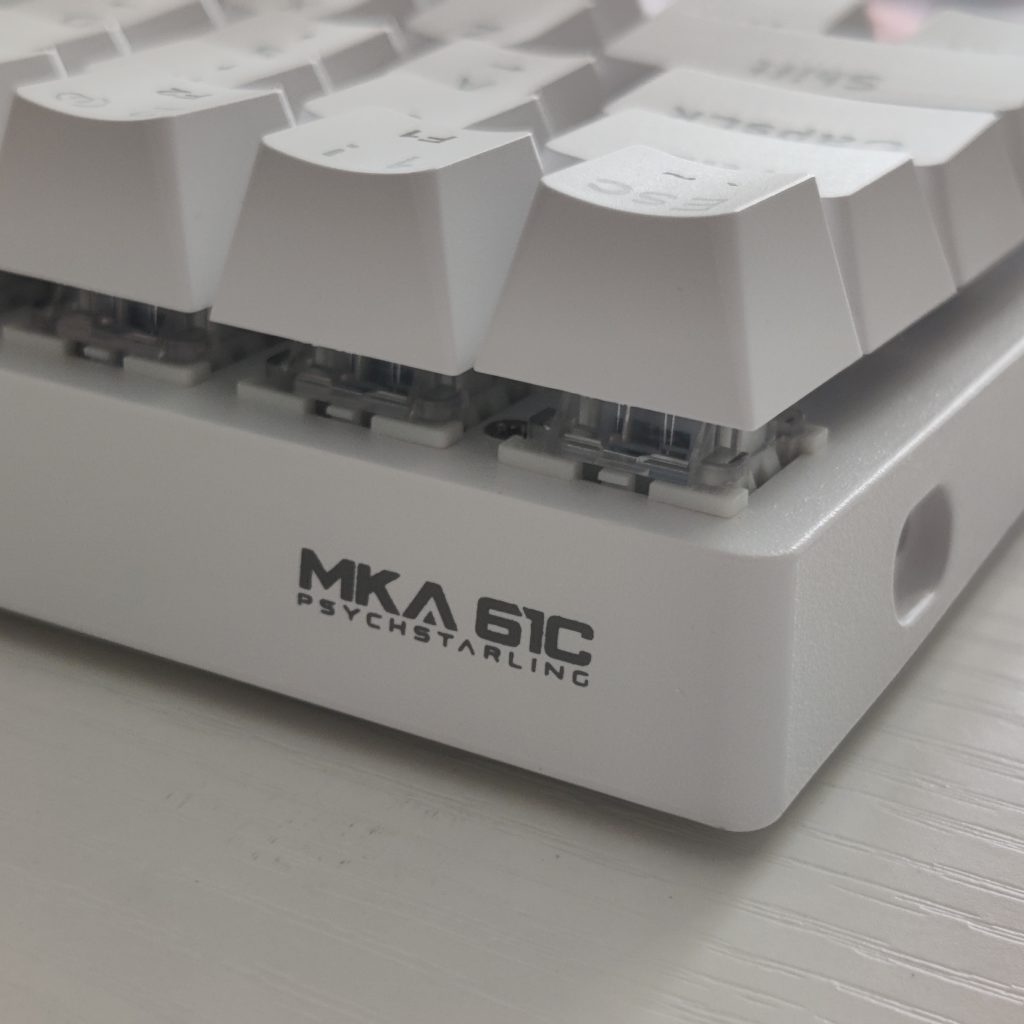 Armaggeddon MKA-61C Psychstarling: Features
Despite it's small and compact build. the Armaggeddon MKA-61C Psychstarling is packed with several features that make it punch above its weight. Let's check them out.
Anti-ghosting/N-Key Rollover Support
The MKA-61C offers full N-Key Rollover Support. What does that mean? Well, put simply, it means that you can press each and every key on the keyboard and they'll all be registered accurately. That's because each key is scanned completely independently by the keyboard hardware, so that each keypress is correctly detected regardless of how many other keys are being pressed or held down at the time.
We tested this feature out with an online key rollover test and it worked perfectly. With a friend, we managed to hit 25 keys at once (because we only had 20 fingers) but that's already great compared to our LG Gram's keyboard with a maximum of 7 keys.
Gaming Mode
The Armaggeddon MKA-61C includes a gaming mode that enables users to lock the Windows key to avoid disruptions and accidents while playing games. Additionally, there are plenty of FN shortcut keys for you to play around with. If you happened to have thrown your user manual away, here are the shortcuts you can play around with.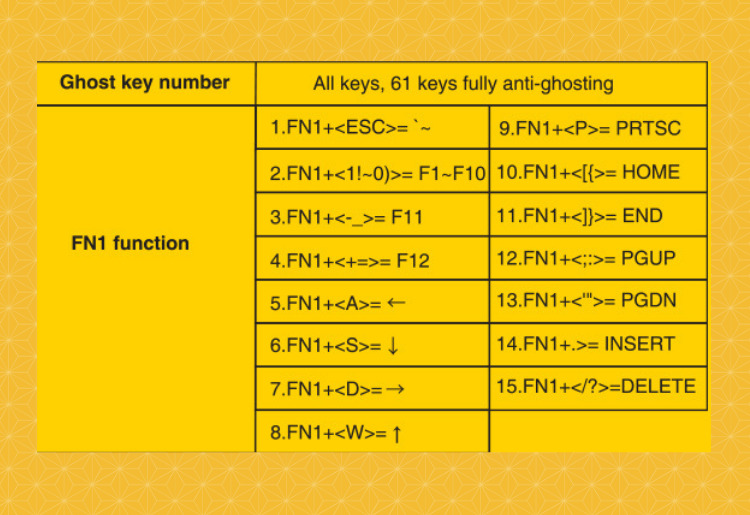 EFX Light Effects
The Armaggeddon MKA-61C does not offer RGB lighting. In other words, each key will feature one single color permanently. You'll still be able to enjoy the keyboard's EFX light effects, though.
You can cycle through 18 backlight movement effects at four different brightness levels. If you're not a fan of the lights, you can choose to turn it off as well.
The FN2 key can be used to change the light effects on the keyboard, as shown in the guide below. Alternatively, you could change the light settings on Armaggeddon's software, but more on that later.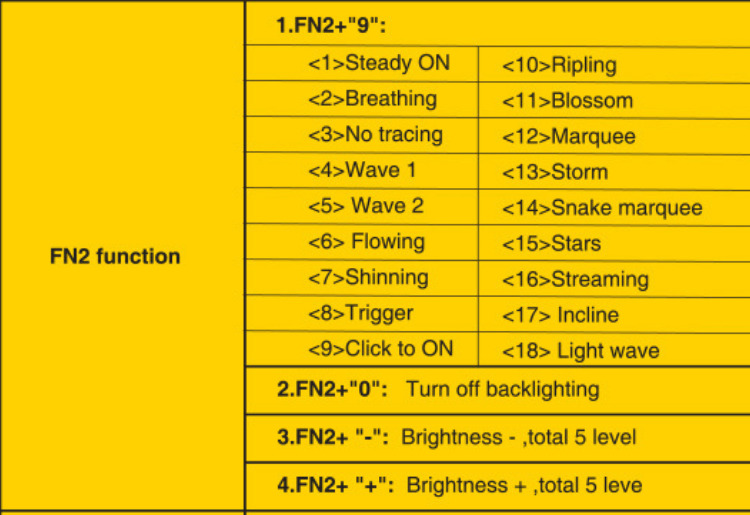 Outemu Blue Switch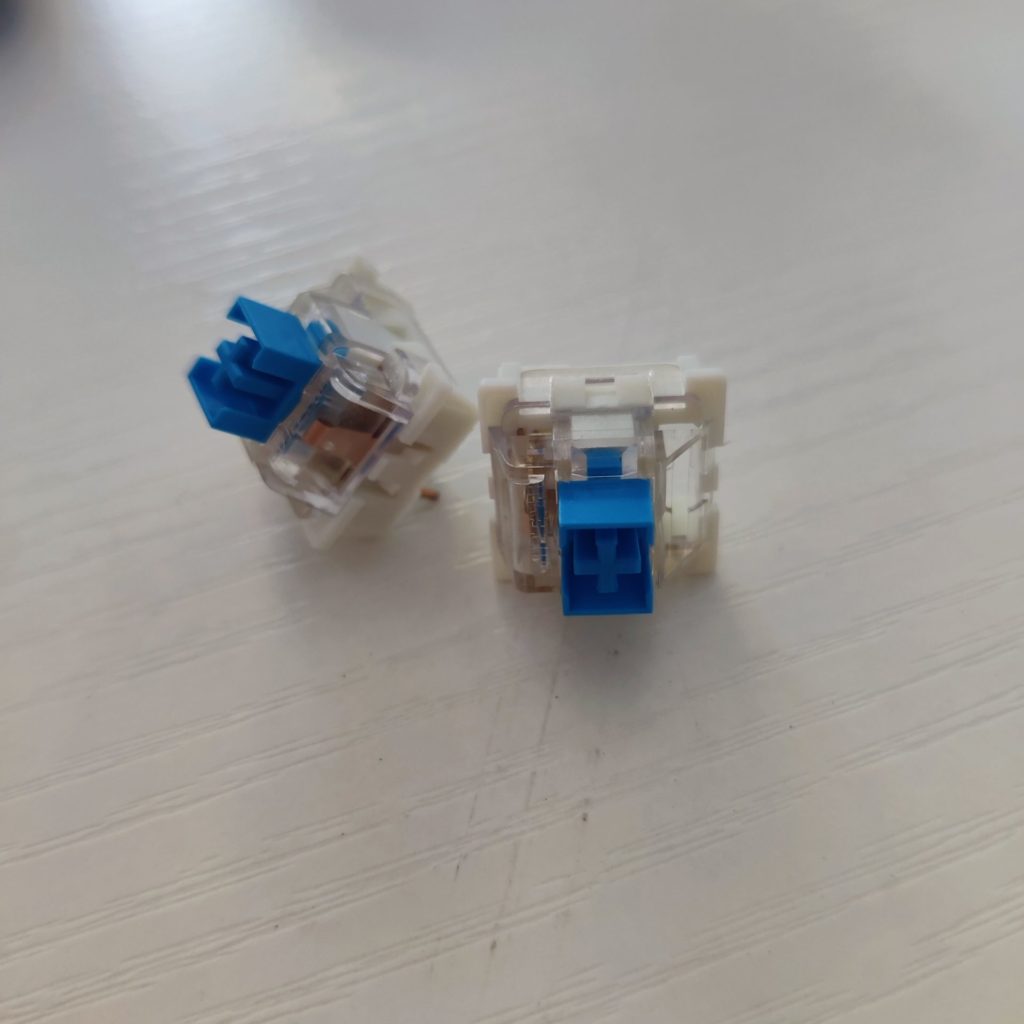 The Armaggeddon MKA-61C Psychstarling features Outemu's blue modular switches. You can change individual switches on-the-fly, paving the way for endless customization. Keyboard enthusiasts will know that Outemu's blue switches are common in budget-friendly keyboards. They are extremely tactile, clicky and have a decent spring resistance. They can, however, get annoyingly loud.
Armaggeddon Software
The keyboard can be used right out of the box without any software download. But if you'd like to explore cool features and functionalities, you can download the keyboard-specific software here.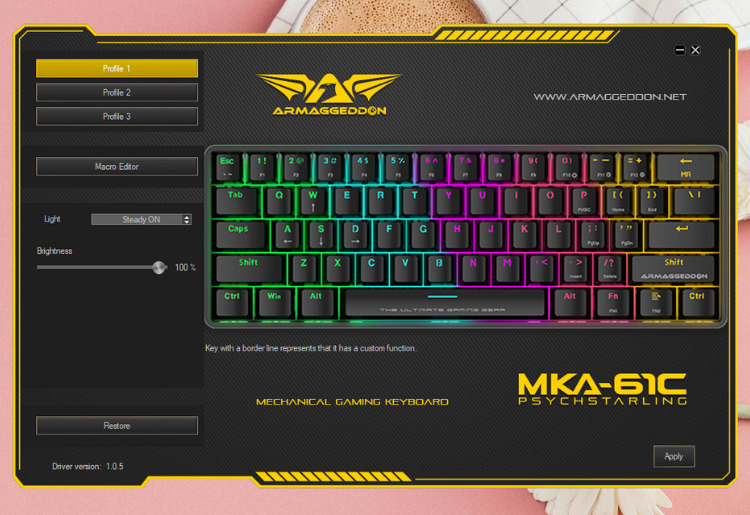 You'll be able to create up to three user profiles and assign key, macro and shortcuts on the software. You can even select the light effect that you want and toggle the brightness of the lighting on the software itself and click "apply" for changes to be made immediately.
Overall the software was straightforward and easy to use. Our only gripe was that the pop-up window and fonts were a little small for our ageing eyes. We're not sure why Armaggeddon couldn't allow for the pop-up to be maximised in full-screen.
Armaggeddon MKA-61C Psychstarling: Pricing & Availability
If you like what you're seeing, the MKA-61C is available here at $49.90.
We managed to get a discount code specially for TheTechRevolutionist readers, simply apply the code REVO61C to enjoy 5% off your purchase along with free shipping. Hurry though, the offer ends Dec 31 2021! 
Armaggeddon MKA-61C Psychstarling: Should I buy it?
Over the years, we've reviewed a couple of mechanical keyboards. So where does the Armaggeddon MKA-61C Psychstarling stand?
Well, if you are looking for a simple mechanical keyboard at a wallet-friendly price, the Armaggeddon MKA-61C Psychstarling is worth considering. With N-Key rollover support, hot-swap modular switches, cool EFX lighting effects, a dedicated software, and tons of useful features, the keyboard punches above its weight.
But the affordable $49.90 price tag comes with some noticeable tradeoffs. Specifically, if you're after a mechanical keyboard with RGB lighting, a solid non-plastic build, built-in wrist rests, or other more advanced features and functionalities, you might want to look elsewhere.