18 May 2021, SINGAPORE – Committed to expanding the 5G smartphone landscape, realme today released their latest realme 8 5G, offering a new generation 5G processor with the Dimensity 700 5G Processor – a first for a smartphone in the realme 8 5G's price segment to do so. Coupled with the smartphone's sleek 8.5mm body, its 90Hz Ultra Smooth Display and 5000mAh massive battery, the realme 8 5G is set to impress users and elevate their smartphone experience.
New Generation 5G Processor – Dimensity 700 5G Processor
The realme 8 5G adopts the latest 5G processor – the Dimensity 700 5G Processor.
As a new-generation 5G processor, the Dimensity 700 mixes two highly-capable Arm Cortex-A76 'Big' cores in its octa-core CPU operating up to a speedy 2.2GHz, and mainstream 5G smartphones benefit from a leading 7nm production process. The leading 7nm production processor, which is up to 28% more power-efficient than an equivalent 8nm process, allows the Dimensity 700 to be used at high performance while barely using up battery power. This means that the smartphone's battery life can be extended, and users can be kept connected for a longer period of time.
The Dimensity 700 also brings a powerful GPU – the Arm Mali-G57 MC2 with 950MHz clock speed, as well as supports a 90Hz high refresh rate screen technology. With this refresh rate screen technology, scrolling through websites and the gaming experience will be much more seamless.
Thanks to the Dimensity 700, the realme 8 5G is able to adopt the latest 5G network. Not only does the processor support Dual 5G SIM, it also supports the SA/NSA mode and covers the mainstream 5G frequency band.
5000mAh Massive Battery and Smart 5G Power Saving
To work around the issue of low battery power, realme has included the 5000mAh massive battery for the realme 8 5G to support daily use. Seeing the use of the 5G network can result in more power consumption of the phone, which then leads to shortening the phone's battery life, realme has introduced the Smart 5G Power in the realme 8 5G.
What is Smart 5G Power Saving?
Smart 5G technology – this allows the phone to intelligently sense the surrounding signal environment and "senselessly" switch between 4G and 5G.
Super Power Saving Mode – with CPU tuning, backlight adjustment, as well as other strategies and targeted power-saving measures for specific applications, the system power consumption is reduced, and the phone's battery life is extended.
Sleep Standby Optimization – with this feature, users can leave the phone running at low power during sleep to save power.
App Quick Freeze – this feature will automatically freeze idle applications, and after the application enters the quick-freeze state, it will not consume power backstage.
8.5mm Super Slim with Dynamic Speed Light Design
The realme 8 5G is the thinnest 5G smartphone in its segment. With an 8.5mm super slim body and at 185g in weight, the realme 8 5G delivers a comfortable experience to users at every grip.
The realme 8 5G comes in the colourway of Supersonic Blue, and takes inspiration from speeding headlights, projecting them on the back of the phone to create a dynamic change of light when the phone is shaken – which we call Dynamic Speed Light.
To achieve this design concept, realme used a high-gloss indium plating process for the Supersonic Blue to restore a glossy sense of light.
90Hz Ultra Smooth Display
The realme 8 5G comes with a 90Hz Ultra Smooth Display for incredible visual quality. With its 16.5cm (6.5") FHD+ full screen with 180Hz touch sampling rate and 600nit brightness peak, it promises to bring immersive experience to users. The phone's refresh rate will ensure no phone lags, especially during gaming.
48MP Nightscape Camera
The camera has marked a critical role in the 4G era. With the increase in network speeds, livestreams are expected to be done anytime, anywhere. Not only that, demand for greater photography technologies has also become prevalent and to keep up with this, realme has introduced the 48MP nightscape camera in the realme 8 5G.
The realme 8 5G features the 48MP triple camera – the 48MP high-definition primary camera, the B&W portrait lens, and the 4cm macro lens.
The nightscape mode performance is one realme can boast about. Thanks to a large F1.8 aperture and a multi-frame synthesis algorithm, it is now possible for users to capture expert-looking images. Furthermore, the realme 8 5G also has five nightscape filters, specially created to enhance nightscape photos.
The realme 8 5G's portrait photography prowess is also of note. The front 16MP camera is equipped with a large f/2.1 aperture that supports AI beauty as well as portrait mode.
With the realme 8 5G, the classic triple card slot feature has returned in a new and upgraded version, with internal expansion capabilities increasing from 256GB to 1TB. According to realme's product testing, with 1TB of memory, users can store more than 262,000 photos, more than 209,000 songs, or download more than 4190 TV series.
Additionally, the realme 8 5G RAM storage is also expandable with realme's newly developed RAM Expansion Technology (DRE) which can convert ROM into virtual RAM.
realme's Commitment to 5G Development
With the realme 8 5G, realme is solidifying its efforts to become a "populariser of 5G". realme is committed towards its vision to scale up its 5G roll-out across a full line-up of high-performance and affordable 5G products with trendsetting designs, that will make up 70% of its global portfolio, within two years. Targeting Southeast Asia including Singapore, India and Europe as priority markets, realme will further expand its slate of 5G products to additional regions, bringing more users an enhanced experience powered by the high speed and low latency typical of 5G technology.
Beyond this, realme will establish seven dedicated 5G R&D teams across the globe, and allocate 90% of its R&D resources plus USD 30 million exclusively for the development of 5G technology, products and application scenarios based on the unique needs and usage habits of the younger generation.
Leveraging the high-speed and low latency typical of 5G technology, realme will help this group of individuals to unlock their imaginations as well as bring fulfilling additions to their lifestyles. With the support of realme's 5G products, they will be able to enjoy better interactive experiences in application scenarios, including gaming, live broadcasting, and video streaming.
The 5G smartphone experience has evidently become accessible to more consumers. The Dimensity 700 5G Processor offers excellent 5G performance, a 90Hz Ultra Smooth Display for better screen quality, and comes with a massive 5000mAh battery to ensure users have sufficient battery power on their smartphones to keep connected. The phone's tech-art hyper slim design is a testament to realme's leading design language and trendsetting attitude.
Market Availability
The realme 8 5G (8+128GB) is officially available for purchase on 29 May 2021 in the colourway Supersonic Blue, at a retail price of S$399, across all channels including realme's concept store, online flagship stores on Shopee and Lazada, as well as authorised resellers islandwide.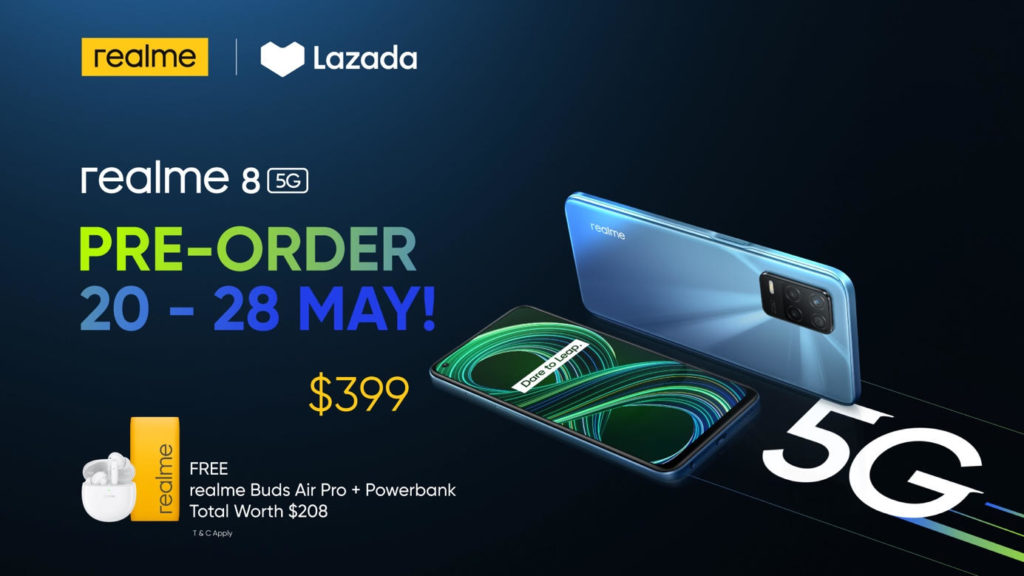 Pre-order begins from 20 May and ends on 28 May – only on realme's flagship store on Lazada – with the realme Buds Air Pro and realme Powerbank (worth SGD208) free with every pre-order (while stocks last).
For more information, please visit https://www.realme.com