19 January 2021, SINGAPORE — OPPO Singapore today announced the launch of its first 5G-ready OPPO Reno5 series consisting of the Reno5 and Reno5 Pro that aims to empower users to capture memories with people who matter, and inspire them to #PictureLifeTogether.
As the brand's first 5G-ready OPPO Reno series to be released in Singapore, both smartphones boast outstanding video and photo capabilities thanks to its industry-leading AI Highlight Video, Portrait Beautification Video as well as a new Dual-view mode and all-new camera system.
Reno5 Pro also features MediaTek's latest flagship 5G-integrated SoC, the Dimensity 1000+, for top-of-class 5G capabilities.
Rounding off the series' powerful capabilities are a 65W SuperVOOC 2.0 Flash Charge, 90Hz refresh rate, Image-clear Engine and a sleek, light design available in stunning colour finishes. This makes the Reno5 series ideal for trendsetters in Singapore looking to #PictureLifeTogether with their loved ones by capturing the moments that matter.
"Today's smartphone is not just a tool to record our memories. It empowers us to tell stories in our own unique ways and archives the unforgettable stories we share with our friends and family," said Mr Dylan Yu, Marketing Director, OPPO Singapore.
"With revolutionary camera technology spanning both hardware and software, the Reno5 series gives users the power to bring to life the colour and light of the world in their own distinct style." Mr Yu added.
Capture Your Best Self with Top-Class Camera System
With the Reno5 series, users are treated to an all-new camera system featuring a 64MP quadcam matrix rear camera and a 32MP ultra-clear front camera. These are further enhanced by the OPPO Full Dimension Fusion (FDF) Portrait Video System, an imaging system designed for superior portrait video effects comprising of the Quality Enhancement Engine and the Portrait Perception Engine.
The Reno5 series also brings with it a new Dual-view Video function that enables videos to be captured from the front and rear cameras simultaneously. This double-perspective recording function allows users and the person or object they are shooting to be in the same video frame at once, enabling them to document special moments with loved ones that they treasure.
Powered by the Full Dimensional Fusion (FDF) Portrait Video System, the Reno5 series takes portrait video quality to a whole new level thanks to the AI Highlight Video feature. An industry-first, the AI Highlight Video feature automatically detects the ambient light in a scene and improves the video's quality by applying OPPO's industry-leading Ultra Night Video Algorithms and Live HDR Algorithms with just one click of the "AI" button while in video mode.
The Quality Enhancement Engine captures clear video under any conditions, be it night or backlit scenes, in motion or standing still. The Portrait Perception Engine, on the other hand, defines fine-grained criteria for portrait effects to help deliver naturally-processed human subjects and background videos. Together, the highly-intuitive system delivers an unmatched experience that not only captures portrait videos in perfect quality but also in a way that retains the unique colours of the human subjects and background.
On top of this, the Portrait Beautification Video, a feature capable of detecting as many as 194 key facial feature points, provides tailored optimisation based on each individual's unique face. Within the feature, there are eight customisable tools, offering greater freedom to refine portrait details. Users also have access to differentiated beauty effects for group images to embrace their true beauty and bring out the best of each individual.
Furthermore, OPPO's powerful and user-friendly video editing app, SOLOOP, is now accessible from both Reno5 and Reno5 Pro's camera interface directly, giving users the option to edit high-quality videos easily with professional-quality video templates and editing tools.
Users who make capturing high-quality photos an utmost priority will not be disappointed with the Reno5 series' 108MP photo resolution from the rear camera, ensuring unprecedented image quality and details. OPPO's Image-clear Engine also ensures that crystal-clear shots are captured in any condition including moving subjects or snapshots taken in motion.
Other features like the Night Flare Portrait also help users capture and create more clear and atmospheric photos at night with the accentuated night-lit scenes that have a natural bokeh effect. Coupled with AI Scene Enhancement that provides tailored optimisation for colour, saturation and brightness in 22 different scenes, users can capture key moments be it fireworks, sunrise or even sunset.
Live at Your Pace with Reno5's 65W SuperVOOC 2.0 and 5G
Among the Reno5's many outstanding performance features, the ultra-fast 65W SuperVOOC2.0 Flash Charge is one that continues to change users' smartphone habits and improve their day-to-day lives. Reno5 can be fully charged in 35 minutes[i] , and it has a large 4300mAh battery[ii] that allows for all-day use, even for the most demanding users.
Reno5 offers users 8GB of RAM and 128GB of storage as default configurations. Together with the Qualcomm Snapdragon 765G 5G mobile platform, the smartphone delivers a speedy performance with balanced power consumption.
Connect the Infinite with Reno5 Pro's Rapid 5G and Longer Battery Performance
The Reno5 Pro, on the other hand, features MediaTek's latest flagship 5G-integrated SoC and the Dimensity 1000+ for top-of-class 5G capabilities. Reno5 Pro is built on the 7nm processor, octa-core SoC and four 'Big Core' Arm Cortex-A77 cores operating up to 2.6GHz. This allows Reno5 Pro to offer industry-leading performance and lower power consumption, achieving an outstanding AnTuTu benchmark score that is 79% higher than the previous generation. The Arm Mali-G77 GPU also delivers 181% improvement in GPU performance for the most demanding games[iii].
Powered by the Dimensity 1000+, the Reno5 Pro can achieve up to 3.54Gbps theoretical peak download speeds. Meanwhile, the latest Wi-Fi 6 standard is supported for reliable, ultra-fast and comprehensive connectivity. To ensure a consistent and stable 5G experience, OPPO has also designed the Reno5 Pro with a 360-degree surround antenna which connects to the best signal available automatically.
Packed with a series of battery, charging, and power management features, the Reno5 Pro provides a 5G experience that can keep up with any lifestyle. With a larger 4350mAh[iv] battery and 65W SuperVOOC 2.0 Flash Charge, Reno5 Pro goes from 0 to 70% battery in just 15 minutes, and up to 100% in as little as 30 minutes[v]. Turn on Super Power Saving Mode, and the Reno5 Pro can support WhatsApp text chatting for more than 1.5 hours with only 5% battery life[vi].
Iconic Reno5 Series Design for Trendsetters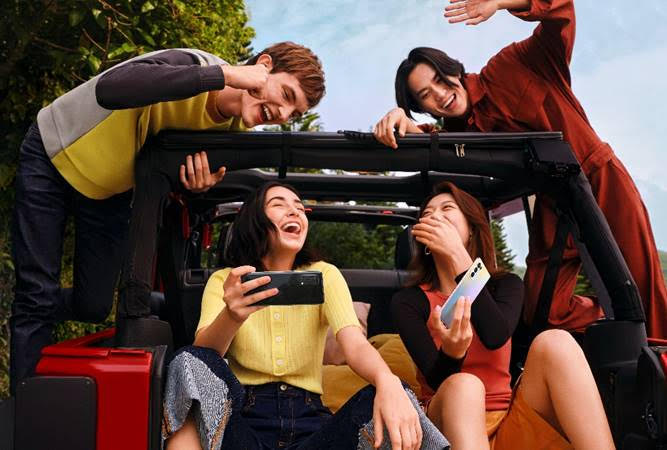 The new, refined design of the Reno5 series is set to be an icon for trendsetters and trailblazers. Both Reno5 and Reno5 Pro come in two colours, Galactic Silver and Starry Black.
Created using the brand-new Diamond Spectrum process, Reno5 and Reno5 Pro's Galactic Silver colour variant features a new visual effect that showcases thousands of colours from different angles and lighting. Galactic Silver is also finished with the Reno Glow process, a unique Anti-Glare (AG) glass process designed by OPPO, that makes it fingerprint-resistant while leaving a subtle glittery detail on the back cover, resembling a surface embedded by millions of diamonds.
Aside from two attractive colourways, Reno5 is exquisitely designed to be compact and sleek. Weighing just 172g (Galactic Silver weighs 180g) and only 7.9mm thick, the phone leverages advanced Coefficient of Friction (COF) packaging to further shrink the bottom edge of the display to just 3.98mm, 28% smaller than that of Reno4.
A 91.7% screen-to-body ratio also delivers a more immersive edge-to-edge display experience when compared to Reno4's 90.7%.
By optimising the inner space of the phone, Reno5 Pro is slimmer and lighter than most 5G phones on the market, with a thickness of 7.6mm and a weight of only 173g. Hidden Fingerprint Unlock is also integrated underneath the display in both Reno5 and Reno5 Pro to ensure instant unlocking while keeping data secure.
To deliver the best and smoothest screen experience, Reno5 comes with a 6.4-inch 90Hz AMOLED screen. Combining a crisp FHD+ (2400×1080) resolution and silky smooth 90Hz refresh rate, Reno5 is set to provide a vivid entertainment experience.
Reno5 Pro, on the other hand, has a 6.5-inch 3D curved Super AMOLED display, providing a smooth, rounded touch with borderless immersion. The 90Hz refresh rate and up to 180Hz touch sampling rate also ensures a seamless experience for gaming or switching between apps.
Both Reno5 and Reno5 Pro come with Netflix HD and Amazon Prime Video HD Certification, allowing users to stream content in greater detail. Both are also equipped with a low-blue light screen that is thoroughly tested, verified and certified by SGS, the world's leading inspection, verification, testing and certification company, designed to protect users' vision even during prolonged usage.
Speedy, Fully Customisable ColorOS 11.1
The brand-new ColorOS11.1 empowers Reno5 series users with more creativity. It maintains the beloved stock Android 11 features while also providing the rich UI customisation, greater efficiency, unparalleled smoothness and enhanced privacy sought by OPPO users.
Supporting all aspects of customisation, Reno5 series users can design their Always-on Display, colour scheme, and dark-mode to truly personalise their phone. Further innovative features such as Flexdrop and Three-finger Translate with Google Lens significantly increase productivity. At the same time, Gaming Shortcut Mode, Gamer Mode, Bullet Screen Messages, and Adjustable Gaming Touch create the environment for users to be immersed in their entertainment. Security is also enhanced at the operating system level with Private System, allowing users to create multiple accounts on the phone with partitioned app and data. The phone's data protection has also been certified by third-party organisations, including ISO, ePrivacy, and TrsustArc.
Join the OPPO Family with My OPPO Club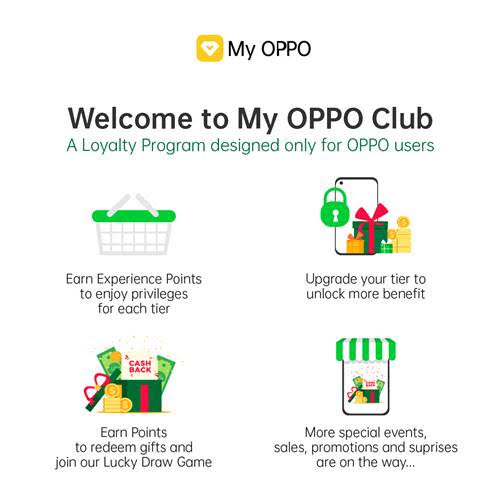 Together with the launch of the Reno5 series, OPPO also introduced its loyalty program called "My OPPO Club" designed to reward OPPO users and provide more exclusive services and membership benefits. OPPO users can activate their membership via My OPPO app and earn "experience points" by purchasing an OPPO phone or participating in various interaction activities in the app. My OPPO app will be live from 20 January and new users who download and activate their membership on the app will receive 200 experience points as reward. Experience points accumulated can then be used to redeem gifts or services.
Sales Information
Phones purchased between 20 January to 15 February on OPPO's Shopee flagship store and OPPO concept stores will receive exclusive gifts valued at $179 that include a Limited Edition OPPO Reno5 Series Tote Bag, OPPO Enco W11 True Wireless Headphones and an OPPO 18W VOOC Powerbank. The same promotion applies to OPPO's Lazada flagship store between 28 January to 15 February.
To celebrate the Chinese New Year festivities, purchase two phones from the Reno5 series on OPPO's Shopee flagship store or OPPO concept stores between 20 January to 15 February to receive an additional pair of Reno5 Series Red Phone Cases valued at $78 on top of the exclusive gifts. The same promotion applies to OPPO's Lazada flagship store between 28 January to 15 February.
Phones purchased between 23 January to 15 February from M1, Singtel or StarHub will come with one free OPPO Enco W11 True Wireless Headphones valued at $79 while stock lasts.
Reno5 will be available in Singapore with 8GB of RAM and 128GB of storage as default configurations starting from 20 January at OPPO Concept Stores, OPPO's Shopee and Lazada Flagship Stores, Challenger stores as well as our authorised retailers, and will be available from 23 January at M1, Singtel and StarHub stores. Reno5 comes in Galactic Silver and Starry Black for purchase at a retail price of $699.
Reno5 Pro will be available with 12GB of RAM and 256GB of storage in Galactic Silver and Starry Black for purchase at a retail price of $899. Customers will be able to get Reno5 Pro in Singapore starting from 20 January at OPPO Concept Stores, OPPO's Shopee and Lazada Flagship Stores as well as our authorised retailers, and will be available from 23 January at M1, Singtel and StarHub stores.