SINGAPORE, November 2020 – SuperSolid releases their first mechanical keyboard – the​ DREAMTYPE 001 – the perfect essential mechanical keyboard for everyone. Built upon a tenkeyless layout, the DREAMTYPE pares down unnecessary features and doubles down on core functionality, resulting in a perfect balance of both function and form.
Introducing The SuperSolid DREAMTYPE
The DREAMTYPE line of mechanical keyboards are created with the user in mind. The first iteration, DT-001, aims to commoditize the mechanical keyboard experience and allow all users to enjoy a high quality typing experience. The DREAMTYPE prefix guarantees an exceptionally built mechanical keyboard product to accompany you through your most important gaming or work tasks.
"There are many mechanical keyboards in the market today, but most are either too expensive, or of poor quality" said Eugene Lim, co-founder of SuperSolid​ . "This is where the DREAMTYPE​comes in. We've gone back to the drawing board to create a mechanical keyboard offering that incorporates the best features from today's technology while removing unnecessary costs, resulting in a brilliant mechanical keyboard that provides a well balanced, affordable and most importantly, high quality typing experience."

SuperSolid DREAMTYPE 001 – Standing out in the crowd
The SuperSolid DREAMTYPE 001 ​  may seem like just another mechanical keyboard, but take​  a closer look and you'll immediately feel the difference. The DT-001 is built upon a durable
ZeroWarp steel frame that provides a stable and reliable typing surface for the most demanding​ tasks. It comes in a compact, tenkeyless 87 key layout, with a detachable USB Type C braided cable, making it ultra portable for working or gaming on the go.
Engineered for Durability
All DREAMTYPE 001 Mechanical Keyboards come preloaded with premium Kailh BOX Switches in either BOX White, BOX Brown or BOX Red as standard. Kailh BOX switches are​      rated at 80 million keystrokes, ensuring a long lasting product. BOX Whites are a clicky type switch – with 50g of actuation force, 3.6mm of travel distance and a 1.8mm actuation point. BOX Browns are tactile type switches with 50g of actuation force, 3.6mm of travel distance and a
1.8mm actuation point. Finally, BOX Reds are linear type switches with 50g of actuation force, 3.6mm of travel distance and also a 1.8mm actuation point. All the switches are hot swappable, meaning that users can purchase any of Kailh's large selection of switches they may grow into in the future and still be able to use the DREAMTYPE 001 platform.
BOX switches are unique due to its additional rectangular stem. This sturdy construction reduces key wobble found in almost all traditional switches, even Cherry MX keys. It is also IP56 rated to keep dust and moisture out, ensuring a perfectly working keyboard through tough environments.
Keycaps play an important part of the typing experience, and no expense was spared here. The DREAMTYPE 001 comes with proprietary sandblasted charcoal black, double shot PBT keycaps that elevate the tactile feel of each key. It has shine through caps to allow the LED lighting to cleanly shine through each key, illuminating your keyboard beautifully in the dark. PBT keycaps will never fade even after years of use, so you can expect your DREAMTYPE keyboard to retain it's look and feel for many years.
Tailor Made with Per Key RGB & Media Keys
All DREAMTYPE 001 mechanical keyboards come standard with full, per-key RGB that can be controlled directly from the keyboard. It sports 16.8 million colors and has pre-loaded RGB modes that users can customize to suit individual preferences, including speed and brightness control. Paired with premium shine-through keycaps, DREAMTYPE users can go full on rainbow RGB or keep things minimalist with single colored RGBs that will match any setup.
All DREAMTYPE 001 mechanical keyboards also come pre-loaded with useful media keys to improve efficiency at work. Easily call up email, or toggle volume settings without having to go into any software. The media key functions are laser etched into each PBT key, instead of the usual print, ensuring pristine keys over time.
True Customizability with Hot Swappable Switches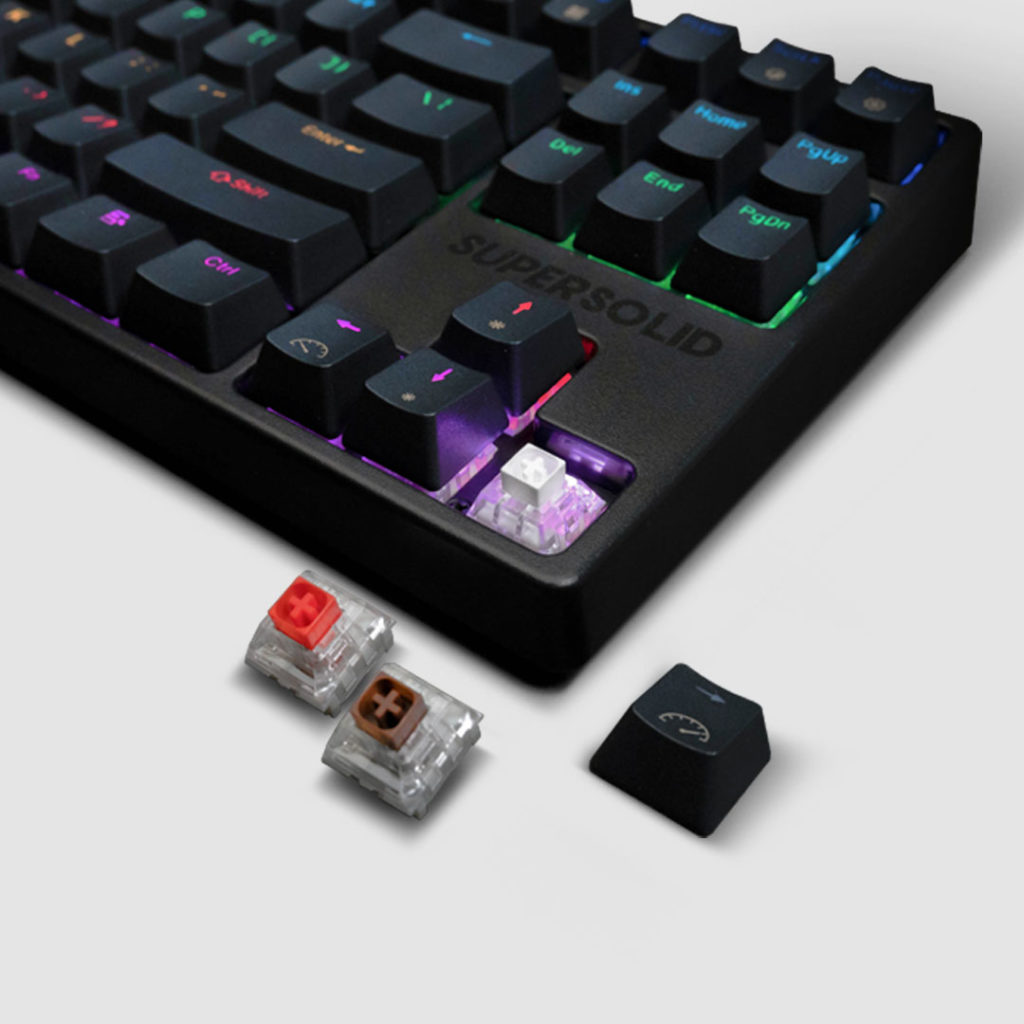 While the DREAMTYPE 001 mechanical keyboard is considered just an "essential" keyboard, it was engineered to have advanced customisable features not found in boards within this price range. The DT-001 allows hot swappable switches, meaning users will be able to customize their keyboard to have a variety of different switches for different uses. For example, users can swap out just their WASD keys to use red switches over white switches, to get the best gaming experience while still retaining a traditional typing experience. Buying the DT-001 also provides a platform for your future typing needs. If you outgrow a particular type of switch, simply replace the switches with the new color of your choice without having to purchase another keyboard altogether. Whether you stick to traditional MX stems, game hard with speed switches or go ham with Box Jades, experience true customizability with the DT-001.
Engineered for "Thock"
After many months of prototypes, the DREAMTYPE 001 Mechanical keyboard is born. Each DREAMTYPE 001 Mechanical Keyboard has been painstakingly put together to create that coveted and satisfying "thock" sound. We have worked hard to select components that compliment each other to ensure you get the best out-of-box typing experience there is, and more importantly to last you a lifetime.
SuperSolid DREAMTYPE 001 Features
TKL, 87 keys
Premium Kailh BOX Switches, hot swappable
IP56 rated to keep dust and moisture out
ZeroWarp Steel plate for close to no flex
Proprietary sandblasted keycap finish for exquisite tactile feel
Doubleshot PBT shine-through keycaps
Detachable USB-C connector
N-key rollover
Comes with 5 additional switches and keycap puller
Dimensions (including feet): 36 x 14 x 3.8 cm
Weight: 0.93 kg
Warranty: 12 months carry-in
Availability
The Supersolid DREAMTYPE 001 Mechanical Keyboards are now available at Lazada on the​ Dreamcore Official Store)​ , for S$129.00​ for all switch versions. SuperSolid will also release limited quantities at an exclusive Flash Sale launch price via Lazada's ecommerce platforms on 11.11, making this November the perfect month to join the SuperSolid family.
About SuperSolid
SuperSolid was founded in August 2018. Our mission is to develop the best tech products at affordable prices.