NVIDIA has just announced their latest generation of graphics card that will power gaming PCs of tomorrow. Riding on the success of Shader, Ray Tracing and AI technology from Turing, the new Ampere architecture brings about two times improvements in performance and energy efficiency.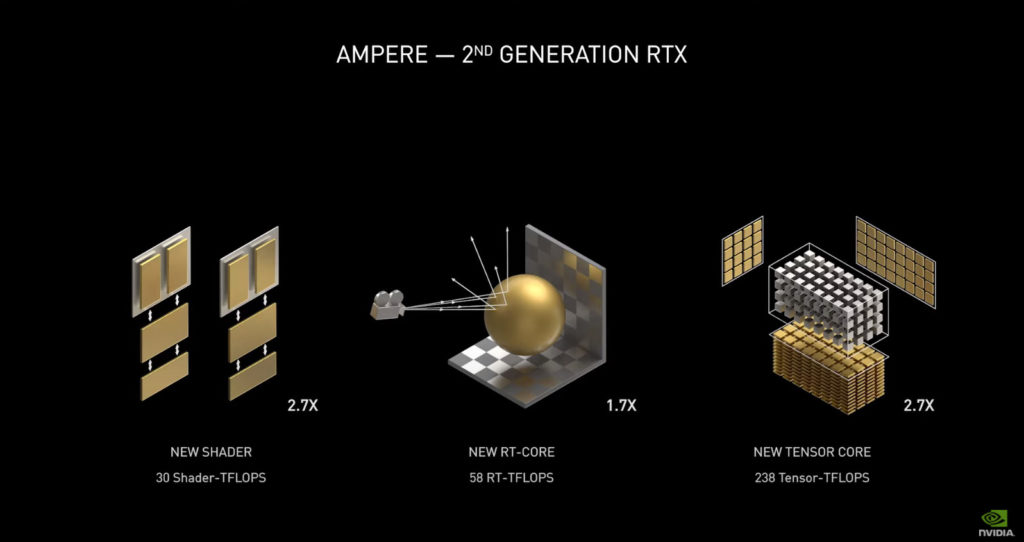 The NVIDIA Ampere GPU architecture also introduces the 3rd Generation Tensor cores and 2nd generation RT cores for enhanced graphics processing. While it was rather computational intensive to run real-time Ray Tracing on games in the past, the 2nd Generation of RT cores are made to perform about two times faster. Together with AI processing capabilities with the new tensor cores, as well as unique graphics creation techniques such as DLSS 2.0, NVIDIA is able to allow Ray Tracing to run very well in games now.
Of course, this means both smooth gameplay and great graphics for gamers while playing their favourite games.
Moreover, NVIDIA is also announcing that more popular games, such as Fortnite, will be supporting RTX Ray Tracing very soon.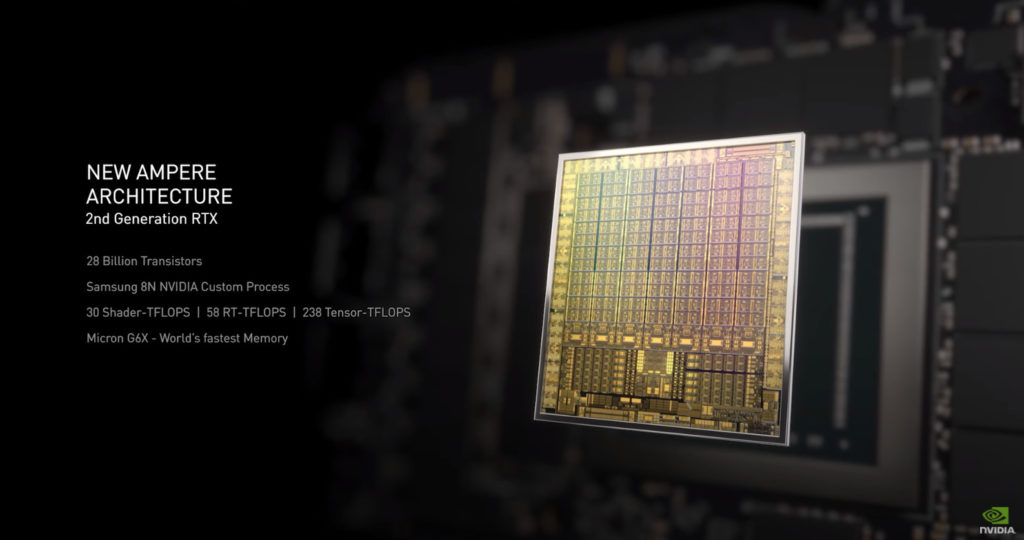 The new Ampere architecture based graphics card utilizes the best-in-class technologies to enable its superb performance. It is based on the Samsung 8nm process node, and uses Micron's GDDR6X memory.
Of course, the star of the show was the three new Ampere graphics cards.
NVIDIA GeForce RTX 3090
At the top of the line is the GeForce RTX 3090. This series is going to replace the TITAN series of graphics card. Instead of making them only available with reference design, NVIDIA has also made RTX 3090 series to be made available with AIB partners as well.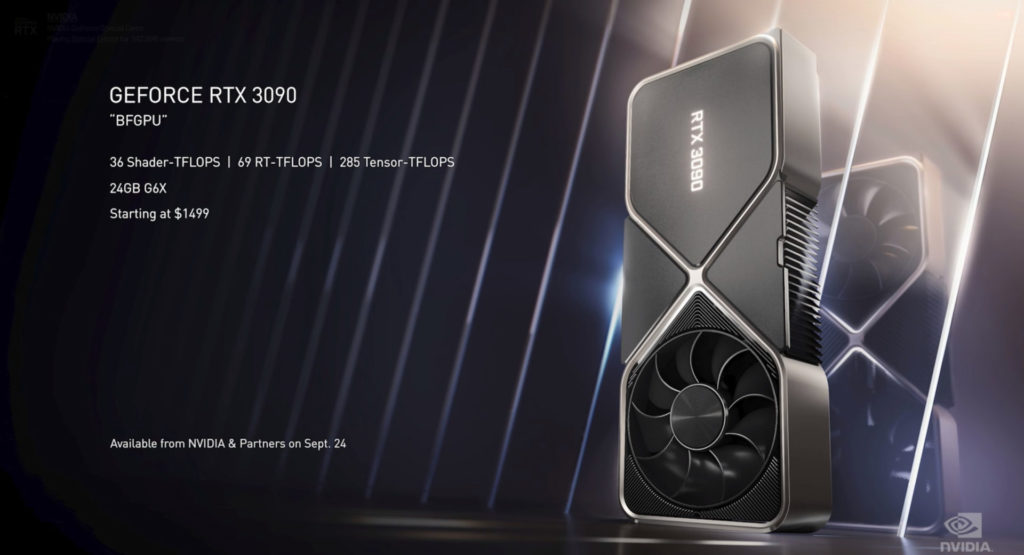 The GeForce RTX 3090 is massive both physically and in performance. It uses a triple slot design in order to appropriate house its thermal dissipation solution. It's also the first graphics card to allow RTX On with DLSS, running on 8K resolution.
The GeForce RTX 3090 starts at USD1499, and will be available from NVIDIA and partners starting from 24th September
NVIDIA GeForce RTX 3080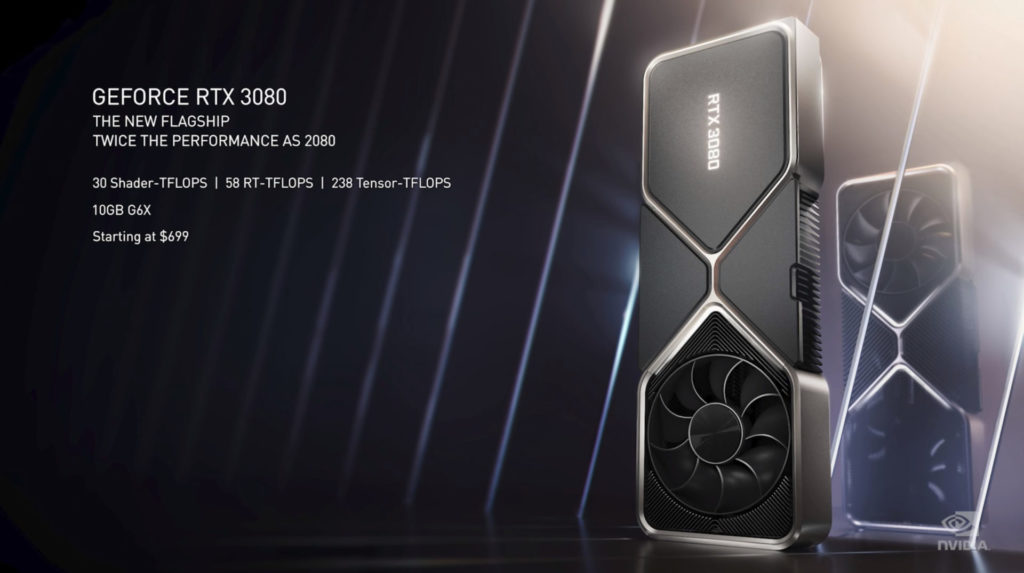 Known as the flagship of the series, the GeForce RTX 3080 is expected to perform two times faster than the RTX 2080. NVIDIA has decided to retain the USD699 price for this new graphics card, which is the same for the RTX 2080. It also comes with the new Dual Axial Flow through design, which is said to provide 55% more airflow, 3 x quieter and is 30% more efficient.
NVIDIA GeForce RTX 3070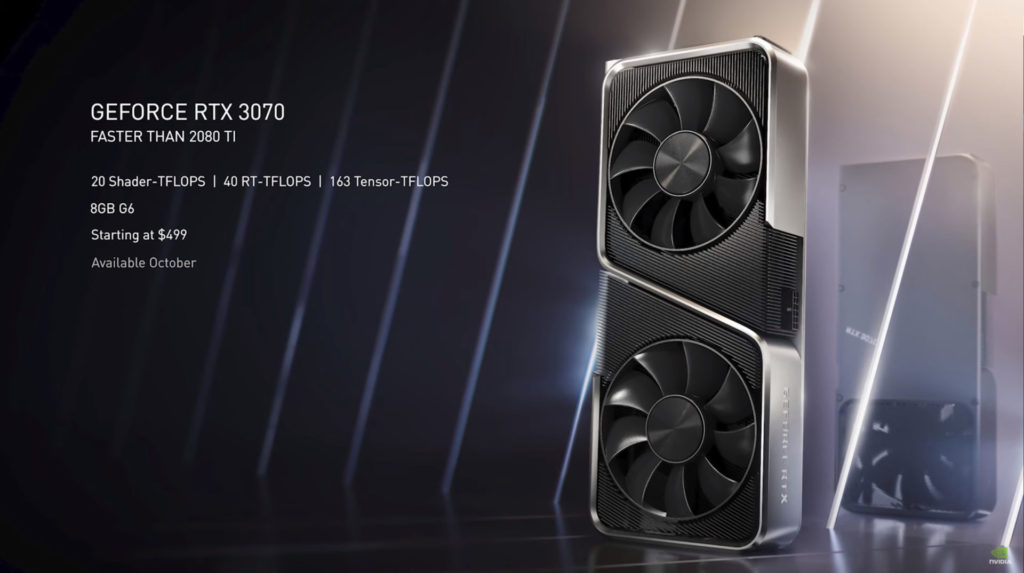 Unlike the higher end RTX 3090 and RTX 3080, the RTX 3070 only comes with GDDR6 memory instead of GDDR6X. However, don't belittle this card, which only comes in at USD499, as its performance is even higher than the RTX 2080Ti. This graphics card is coming to the market in October at a price starting from USD$499.
Summary
| | | | |
| --- | --- | --- | --- |
|   | GeForce RTX 3090 | GeForce RTX 3080 | GeForce RTX 3070 |
| Key Point | Big Ferocious GPU – Enables 8K Gaming w DLSS | 2 x Performance of 2080 | Faster than 2080Ti |
| Shader Performance | 36 Shader-TFLOPS | 30 Shader-TFLOPS | 20 Shader-TFLOPS |
| RT Performance | 69 RT-TFLOPS | 58 RT-TFLOPS | 40 RT-TFLOPS |
| Tensor Performance | 285 Tensor-TFLOPS | 238 Tensor-TFLOPS | 163 Tensor-TFLOPS |
| Memory | 24GB GDDR6X | 10GB GDDR6X | 8GB GDDR6 |
| Price | USD 1499 | USD 699 | USD 499 |
| Availability | 24 September 2020 | 17 September 2020 | October 2020 |