The Xiaomi Mi Note series has always been popular with consumers who high-end smartphone features at an affordable price. To bring even more value to this series, Xiaomi has just introduced the Mi Note 10, which strives to be the best camera smartphone in the market.
No doubt, with hardwork and dedicated, they have successfully landed the Mi Note 10 one of the top spots in popular DxOMark. Topping the charts in Video, Camera and Zoom features, the Mi Note 10 is equipped with an excellent camera system – so much so that they had to equip it with 5 cameras to suit every scenario. It's the smartphone with the most number of rear facing camera thus far.
The Mi Note 10 joins the ranks of other popular camera smartphones in the market, such as the Apple iPhone 11 Pro Max, Huawei Mate 30 Pro, Samsung Galaxy Note 10+ and Google Pixel 4.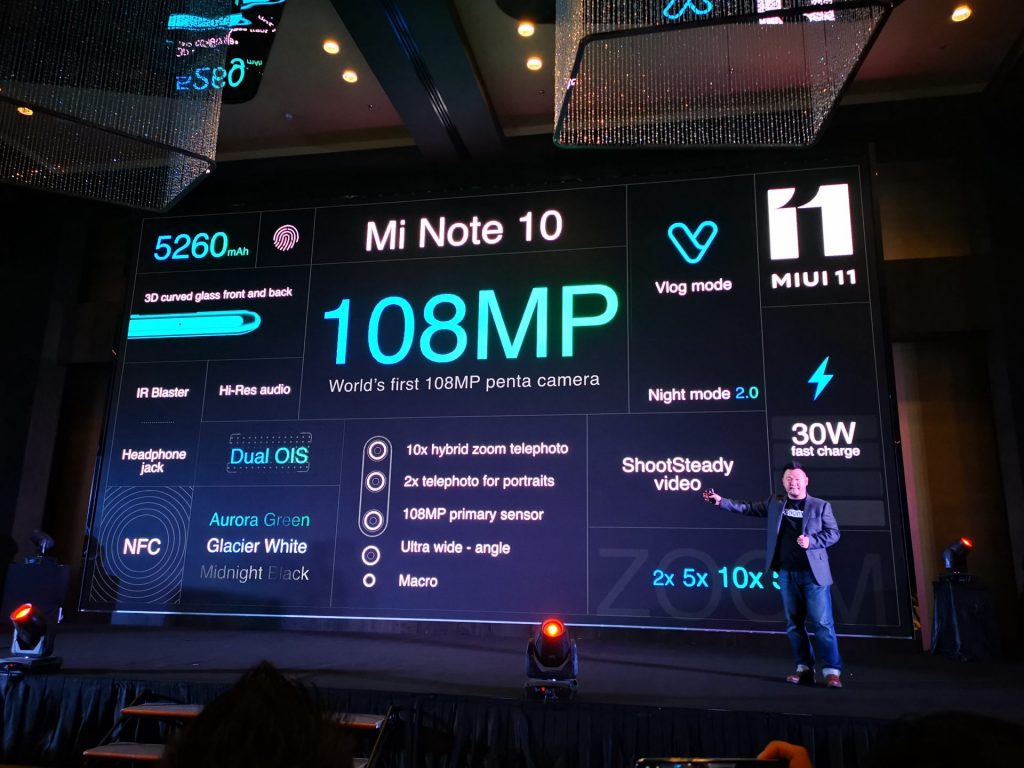 Multi-Scenario Camera System
The Xiaomi Mi Note 10 consist of 5 different rear facing cameras. Each camera will be used specifically for different scenarios. At the heart of the whole camera system is a single 108MP primary sensor, which has the ability to capture very fine details of different subjects. Together with the 10x hybrid zoom telephoto camera, the primary sensor also comes with Optical Image Stabilization. It is no wonder that this smartphone excels in all Video, Photography and Zoom tests in DxOMark.
Furthermore, its ultra-wide and macro sensors will cover all the other camera usage scenarios of the Mi Note 10. Instead of having a digital camera that requires you to change different lens to fit the right usage, you've got everything right in one smartphone.
Large Battery Capacity and Fast Charge
The Mi Note series is also known for its large battery capacity. Challenging the size limitations, Xiaomi has still managed to squeeze in a 5260mAh battery into the 6.47″ size of the Mi Note 10. The Xiaomi spokesperson even mentioned that the Mi Note 10 can last more than two days per charge, depending on usage scenario.
While you could expect that charging will take quite some time on this device, Xiaomi has also included a 30W fast charging system on the Mi Note 10. It is said that you can fully charge the phone from 0 to 100% in slightly more than an hour. That's impressive.
They have also included the fast charger in the official package as well.
Pricing and Availability
Starting from December 7, Mi Note 10 will retail for 699 SGD whereas starting from December 14, Mi Note 10 Pro will retail for 799 SGD. Mi Note 10 Pro will also be available as part of operator Singtel's mobile plans.
Both devices will be available in three colors (Aurora Green, Glacier White, Midnight Black) online through Lazada, Shopee and available at all Mi Stores in Singapore.
Two limited time deals will be available in Singapore for Mi Note 10 (From December 7 to 8) and Mi Note 10 Pro (From December 14 to 15) at Mi Stores. For every purchase of Mi Note 10 and for every purchase of Mi Note 10 Pro, each customer is entitled to a Purchase-with-Purchase discount of 50 SGD for any in-store Xiaomi product (Not applicable to promotional items).