SINGAPORE – Cooler Master, an award-winning PC components company, launches the NR Series with two new cases: the MasterBox NR400 and the MasterBox NR600. The NR Series streamlines form and function with a minimalistic design and bold performance.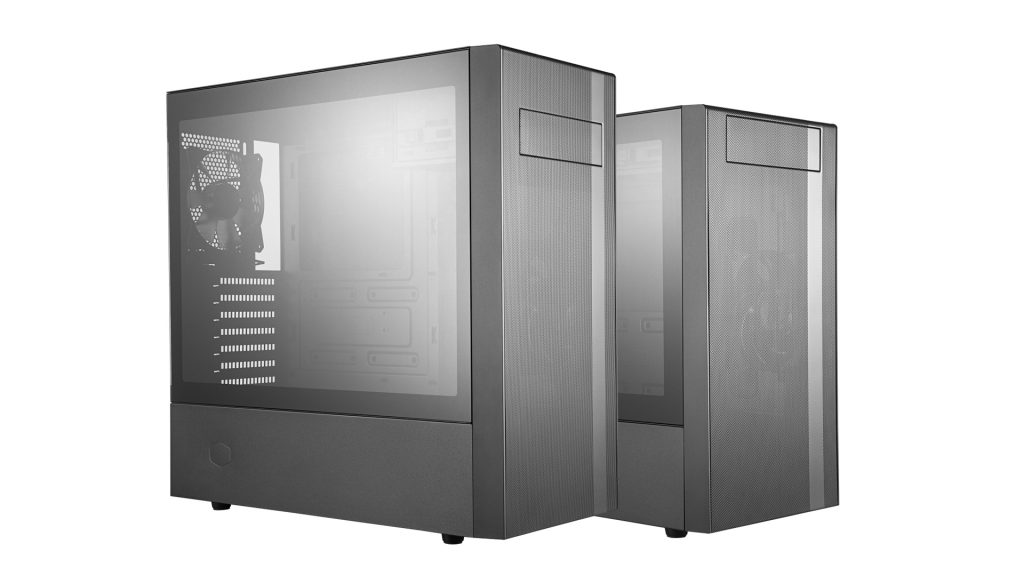 Two models launch alongside each other, each supporting a different form factor. The smaller MasterBox NR400 supports up to mATX motherboards, while the larger MasterBox NR600 supports up to standard ATX motherboards. NR Series cases signify airflow performance in its purest, simplest form. Marked only by the iconic stripe from the original N Series, the new NR Series applies modern technology to a timeless design.
Minimalistic Mesh Design – Elegant design elements are applied to mesh for optimal thermal performance.
Optimal Thermal Performance – The full mesh front panel and ventilated top panel provide a high potential for thermal performance.
Flush Tempered Glass Side Panel Design – The tempered glass side panel, fastened by thumbscrews on the rear panel, keeps the surface completely flush.
Headset Jack – The single 4 pole headset jack features both audio and microphone capabilities simultaneously so separate jacks are not needed.
Graphics Card Support Up To 346mm (NR400) / 410mm (NR600) – Generous clearance space is provided to support the latest graphics cards.
Cable Management – High quality, longer length rubber grommets paired with generous clearance behind the motherboard offers ample room for cable management.
ODD Support
Keeping the NR Series minimal on the outside means paying a keen attention to detail to its structure. Two examples, in particular, are the mesh used in the front panel and the structure of the two-part side panel. A single-layer, fine mesh makes up the entire front panel, achieving efficient airflow while also acting as a dust filter. A similar type of mesh debuted with the MasterBox K500L and K500, sharing its characteristics. The tempered glass side panel sits completely flush against the chassis and the PSU shroud for a two-part showcase of tempered glass and steel.
Thermal performance is at the core of the NR Series, approached in a purist art form and applied to enthusiast functionality. Generous support for radiator mounting and unrestricted ventilation on the top and front panel ensure that even the most demanding components are efficiently cooled. The NR Series challenges the stereotype of minimal cases by introducing bold performance to a pure and simple design.
Pricing & Availability
Both the MasterBox NR400 and NR600 are now available in Singapore, priced at SGD 89 and SGD 109 respectively.