At GDC last month, NVIDIA delighted old school gamers by showing off the world's first fully ray traced game, a ray traced version of the Vulkan game Quake II known as Quake II RTX. In our previous driver we increased Strange Brigade performance by up to 13%.
Their latest Game Ready Driver is perfect for RAGE 2  and Total War: Three Kingdoms. It continues our mission of providing GeForce Gamers next generation features and performance in titles that utilise the Vulkan API.  For example, with today's driver, World War Zperformance jumps up to 18%, depending on the GPU and configuration you are testing.
Our driver teams continue to optimise and tune Game Ready Drivers driver even after a game launches. Today, that hard work pays off with significant performance improvements in the hit title World War Z. Check out the examples below: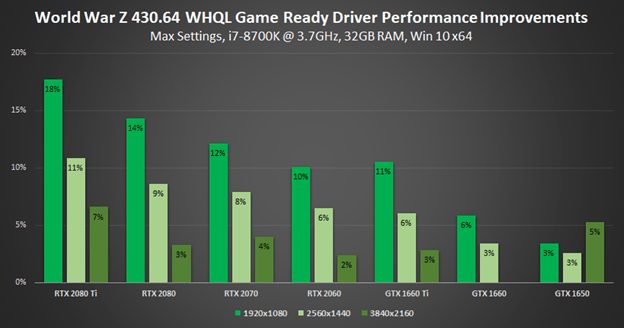 All NVIDIA Game Ready Drivers are Microsoft WHQL-certified. They are available on or before launch day for most major titles and are recommended for gamers who want the best performance and flawless gameplay.
Related Links