Merchants can generate their own NETS QR code via the NETSBiz app to accept payments on-the-spot
Hawkers and retailers accepting QR code payments will be notified of successful NETS payments in real-time via the new NETSBiz app on their mobile phone
Infrastructure-light solution is ideal for small businesses
NETSBiz supports both SGQR and the unified e-payments for food businesses solution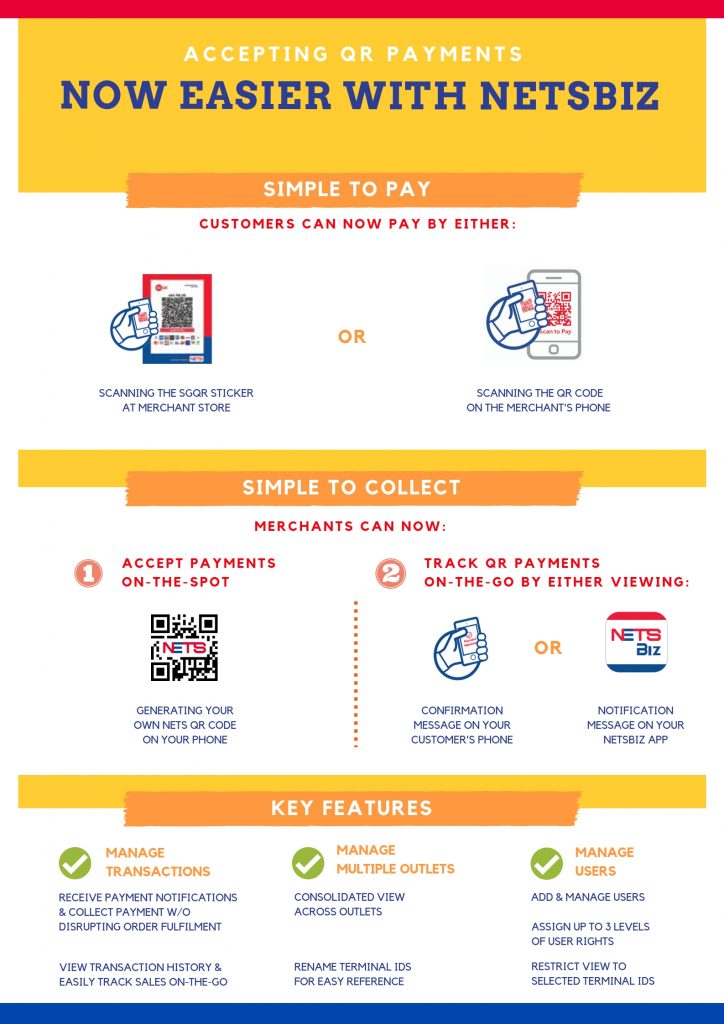 Singapore, 1 October  2018 — NETS merchants can now generate their own NETS QR codes to accept payments on-the-spot thanks to a new mobile app, NETSBiz, launched today by Singapore's largest payments network NETS.
Specially designed for smaller merchants such as hawkers, delivery and personal services merchants (such as handymen), the NETSBiz app enables them to generate a NETS QR code on their phone upon delivery of goods and services, allowing for instant payment without having to generate an invoice.
NETSBiz also notifies merchants of successful QR code payment transactions in real-time via their mobile phone so that managers can track payments made by their servicemen. Store owners can also add users to their NETSBiz account so that staff at individual outlets are also notified of successful payments without having to check with their managers.
Mr Eddie Ong, Cadence Transport Services, said, "The NETSBiz app takes away all my payment headaches! In the past, my drivers had to do double duty – collect the fare from passengers while ensurng that the bus is not too full. And sometimes they lose track of how many passengers they had that day so it's hard for them to reconcile the payments at the end of their shifts. With the NETSBiz app, my drivers can generate the NETS QR code on their phone so customers pay instantly and not have to worry about collecting cash or providing change for big notes. I too will be notified immediately on my phone so my drivers don't have to report back to me at the end of the day. It's so much easier now."
Mr Alvin Seck, Head, Merchant Services & Solutions, NETS, said, "The NETSBiz app is a great complement to our QR code payment service. Particularly for smaller merchants, all they need to do business is a mobile phone and they are ready to go!"
The NETSBiz app supports SGQR (which NETS QR is a part of) code payments as well as the upcoming unified e-payments for coffee shops, hawker centres and industrial canteens. The app is free and available for download on both Google Play (Android) or App Store (iOS).