For the 1st Time Ever, WhizComms Partners Zero Mobile to Benefit All its Subscribers with the Lowest Priced Unlimited Calls, SMS & 4G Data Mobile Plans!
At only $59.95 (Usual Price $69.95), WhizComms subscribers can enjoy unlimited perks for their mobile plans with Zero Mobile!
Save up to 87% for all International Direct Dialling (IDD) calls with Whiz 1516 IDD service today
SINGAPORE, 2 August 2018 – This August, WhizComms collaborates with a mobile partner for the first time to offer unlimited perks for their subscribers. Zero Mobile provides the best value; best network and best rewards mobile telco in Singapore.  Instead of the usual $69.95/month, WhizComms subscribers pay only $59.95/month for ZERO X unlimited plan with unlimited calls, SMS, and 4G data coverage, using this referral code WHIZ1516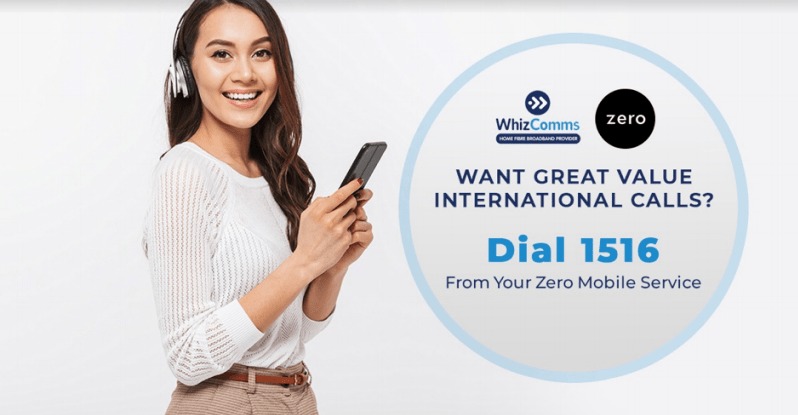 Upon signing up for Zero X plan, customers can make international direct dialling (by dialling 1516) at a cheaper rate with Whiz 1516 IDD service, savings at up to 87% compared to other mobile telcos.
In short, WhizComms subscribers who sign up for ZERO X plan will get:
Unlimited Superfast 4G data
Unlimited Calls
Unlimited SMS
Free number porting
Free caller ID
No lock-in contract
Save up to 87% for all International Direct Dialling (IDD) calls with Whiz 1516 IDD service
Register now at https://www.zeromobile.com.sg/register–now and enter Referral Code <WHIZ1516> to enjoy the promotion by 31 August 2018.
*Terms and conditions apply
About WhizComms
Whiz Communications Pte Ltd is established as a service provider with an objective of providing communications services at the lowest price, highest quality and shortest contract. Effective communications have become synonymous in every consumer's lifestyle. Knowledge and wisdom relies on constant and productive communications. This company understands the importance of communications to benefit productivity. Its philosophy is to provide best of breed and reliable communications services at an affordable price that is easy to subscribe, fast to implement and simple to use.
About Zero Mobile
Zero Mobile is an innovative and digital mobile service operator in Singapore with an aim to drive mobile bills down while providing unrestricted allowances for personal mobile devices.
Licensed by IMDA to provide mobile services in Singapore at end of September 2017, Zero Mobile have worked very hard to bring to mobile users the best value possible.
Zero Mobile appreciates loyalty and attempts to reflect that in all its product offering.
Zero Mobile only work with the best network and service providers offer mobile users the best there is.