GALAX is known in Singapore for their range of NVIDIA graphics cards. With the initial success in the GPU market, they have recently ventured into designing and producing DRAM and SSDs as well. Since there isn't much news on new GPUs at COMPUTEX 2018 this year, let's focus our attention on GALAX's DRAM and SSD products.
GALAX HOF DDR4 DRAM
With the name of Hall of Fame, the GALAX HOF DRAM series is targeted specifically for overclockers. These DRAMs are specifically binned to reach the speeds and capabilities which they promise. This is why, GALAX was also confident enough to show us their HOF EXTREME Limited Edition DRAM, which is clocked at 5,000MHz! GALAX also told us that it is likely that only a few hundreds of these cherry-picked 16GB memory kits are available in the market, because it just simply isn't easy to find good enough Samsung B-die memory chips that can reach such high speeds! This pair of 8GB sticks has a rated memory timing of 21-26-26-46 at 1.5V.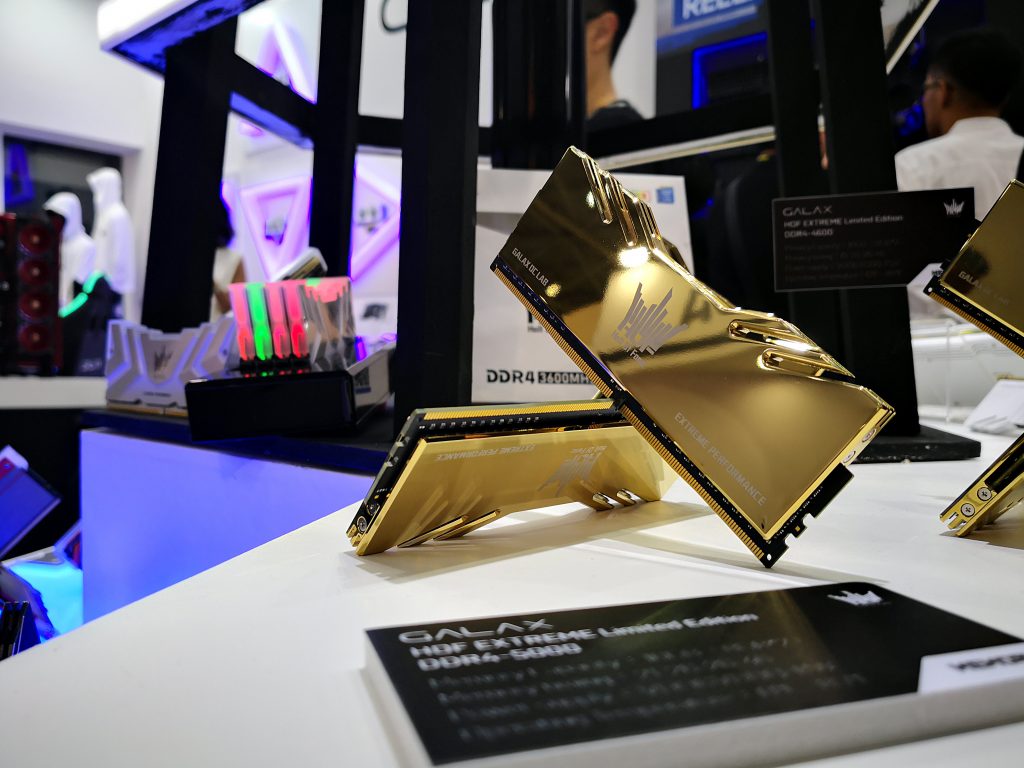 Next up in line, the HOF EXTREME DDR4-4500 isn't too far back from the Limited Edition as well. It is rated to perform at 4500MHz, at a timing of 19-19-19-39 at 1.4V. Of course, GALAX also have more mainstream but performance focused DRAM that are part of the HOF lineup as well, such as the DDR4-3500.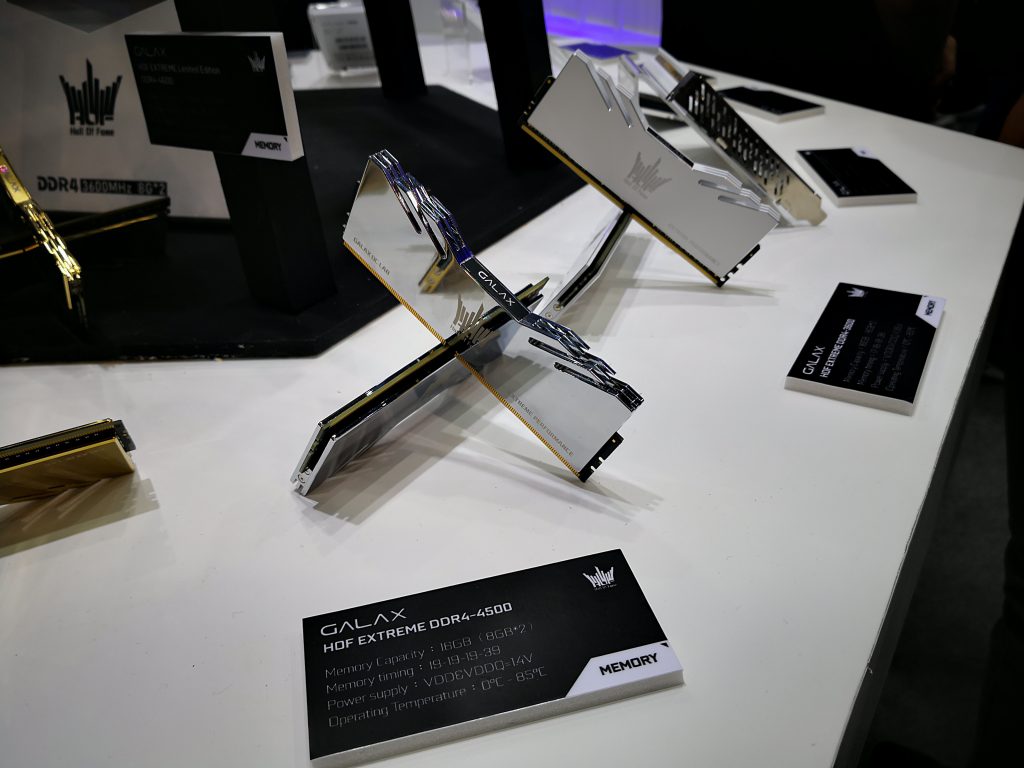 Those seeking for RGB DRAM can also look out for other various HOF modules. They also come in different speeds and timings, and you can make the decision comparing between performance and cost.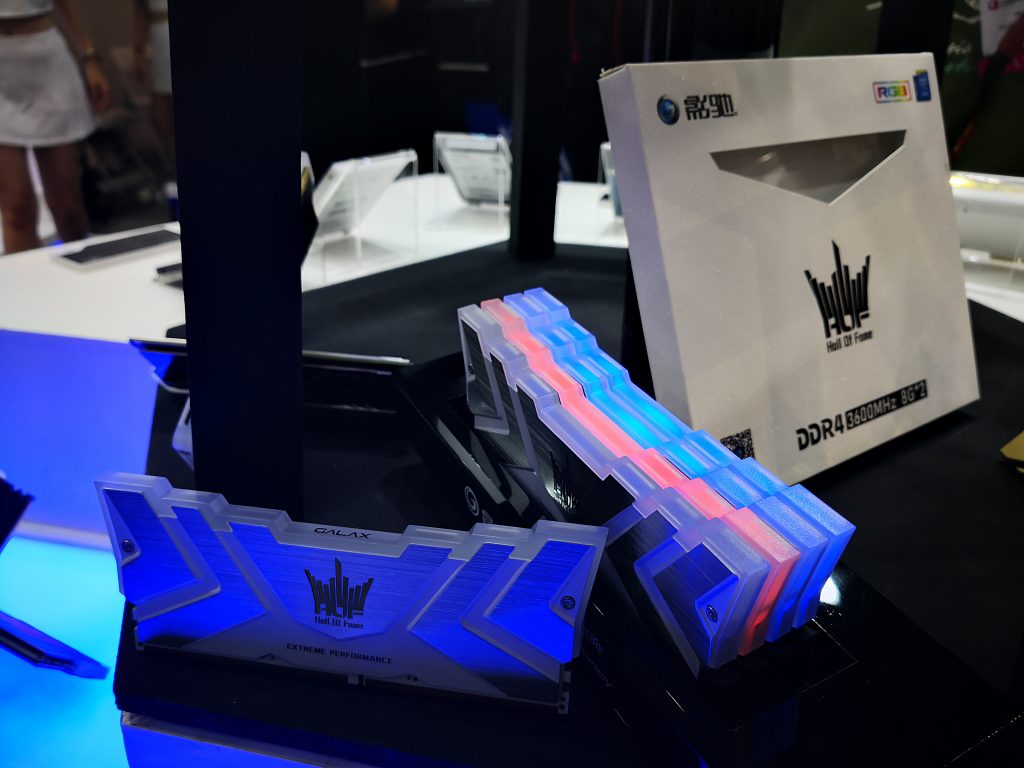 GALAX SSDs
Riding on the name that they have built for themselves, GALAX recently released a slew of SSD products for gamers.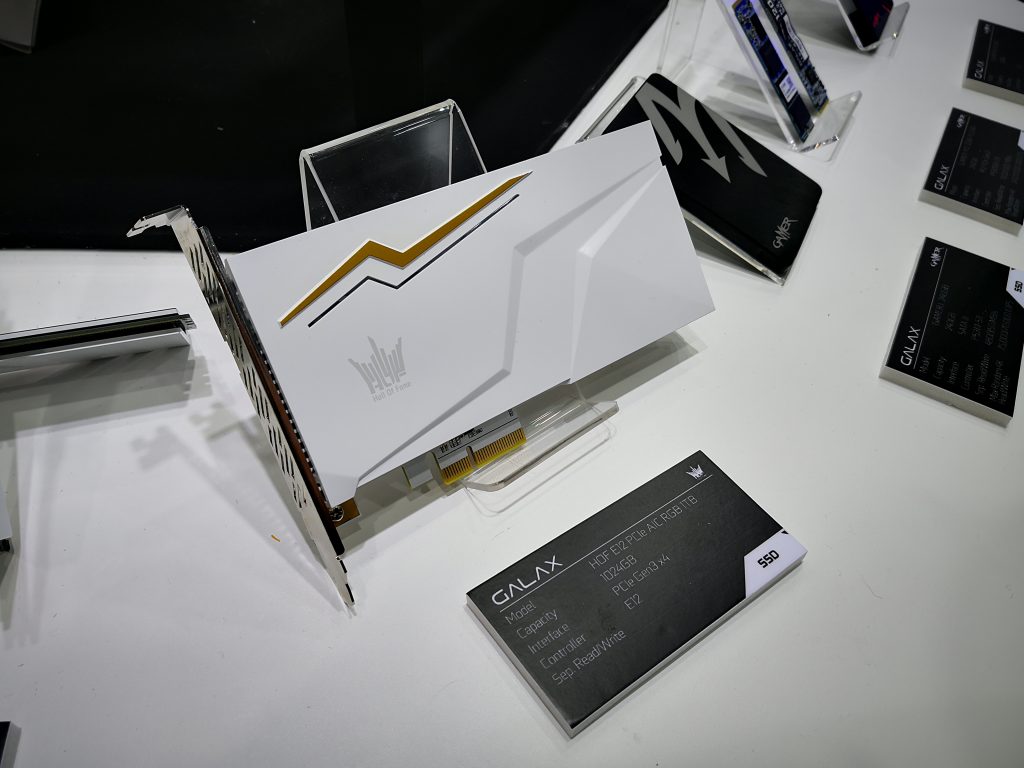 At the top of the line, the HOF PCIe based SSD is said to provide high performance storage capabilities for gamers. This 1TB SSD drive is powered by the new Phison E12 NVMe SSD Controller, which has shown some very impressive results as tested by Tom's Hardware. Oh, since the SSD also has a RGB model name to it, we can also expect GALAX placing some "bling bling" properties to this SSD drive.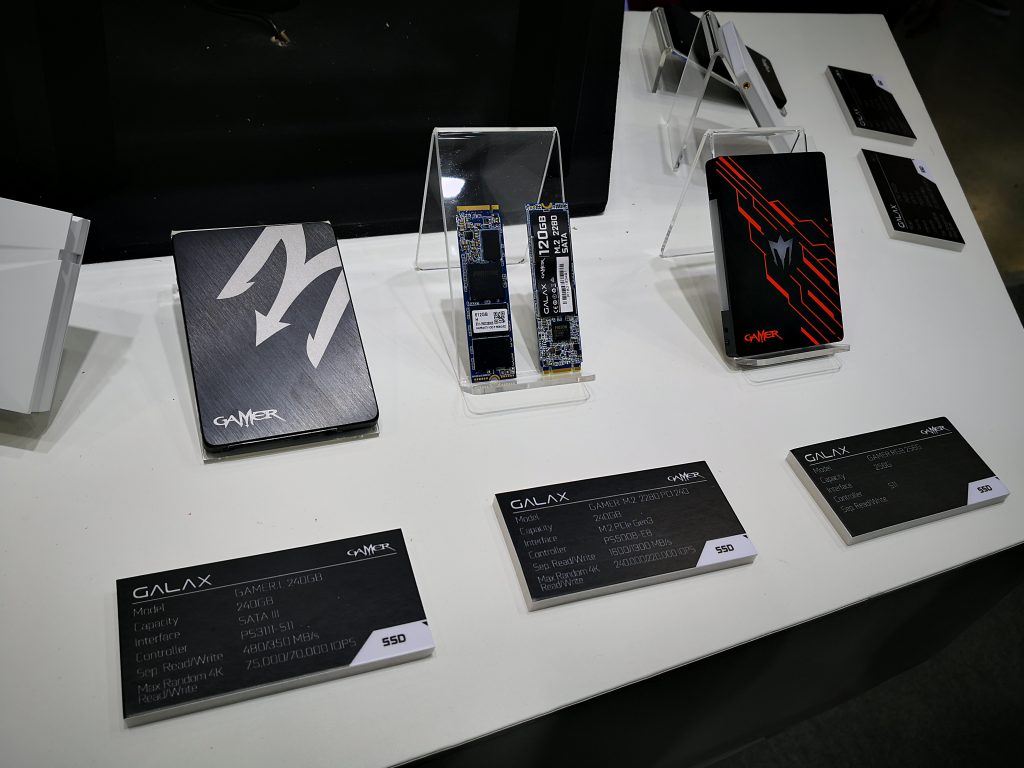 The Gamer series of SSD from GALAX are more for the mainstream system builders. The Gamer.L models are made for those who are just simply looking for a new SSD to upgrade their system. There isn't much of a differentiating factor for these SSDs. They are using the Phison PS3111-S11 controller, and have a rated Sequential Read/Write speed of 480/350 MB/s respectively.
The M.2 based SSDs could be slightly more interesting, as these drives generally performs better than the 2.5inch drives due to their connection interface. Since the M.2 version uses the NVMe PCIe protocol, it is able to reach speeds of over 1GB/s, and generally have higher IOPs. GALAX also showed an RGB version of the Gamer 2.5-inch SSD.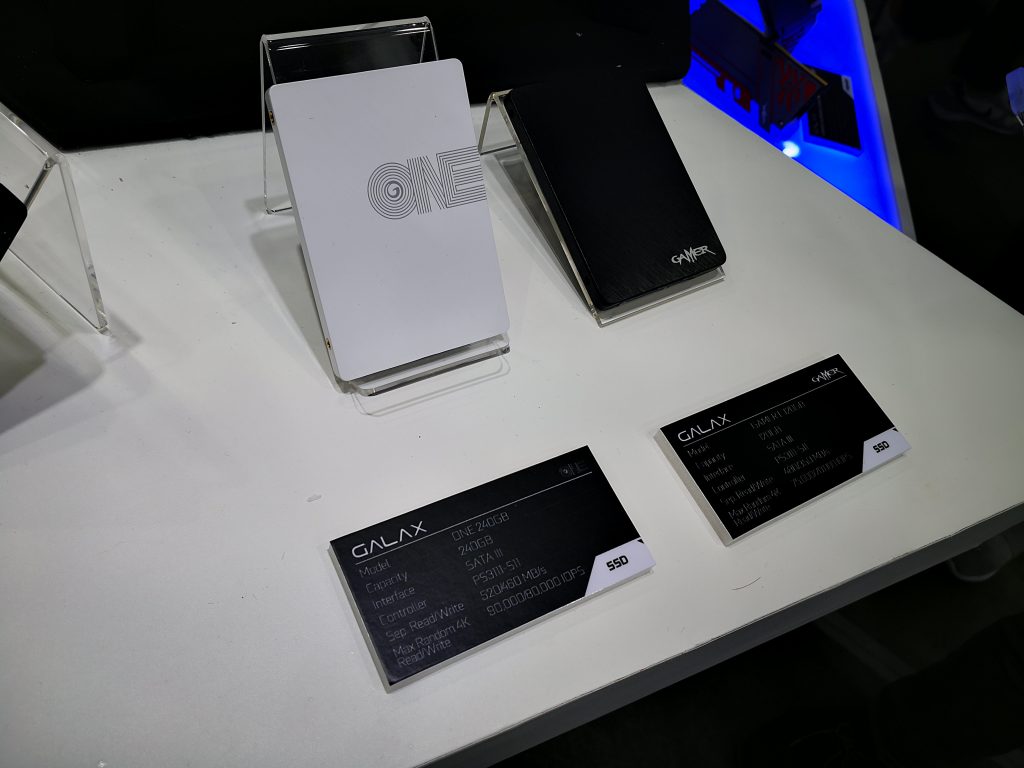 Lastly, the GALAX ONE SSD is another series which should perform better than the Gamer Series. Even though they utilize the same flash controller, the GALAX One is based on a different NAND chip, which allows the SSD to perform slightly better than the Gamer SSDs. 
We realised that many traditional PC component brands are branching out and expanding their product portfolio. It seems to be the case for GALAX as well, as they just launched their new brand, Xanova. The new brand focuses on peripherals for gamers, carrying products such as gaming chairs, keyboards, mice, and headsets.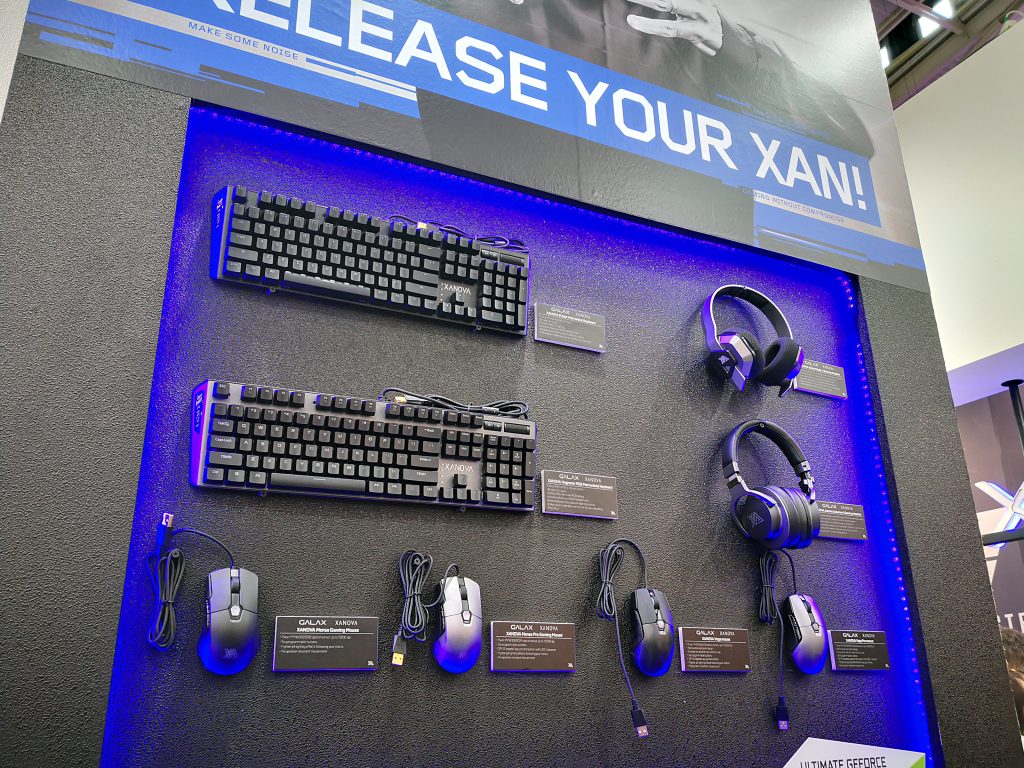 Ultimately, the XANOVA Gaming Chair was what captured our attention. For the first time (likely), there is a gaming chair that could enhance the gaming experience. Putting its flashy RGB lighting aside, this gaming chair has a built-in vibration module which makes it somewhat like a massage chair. However, it has a built-in vibration controller which is compatible with FPS games.
For example, if you are shot on the right side of the body in-game, the right side of the chair will vibrate. Vice versa for the left side. This brings in another dimension of game environmental awareness to the real world, and we think that would enhance the overall gaming experience. It's certainly something to look forward to!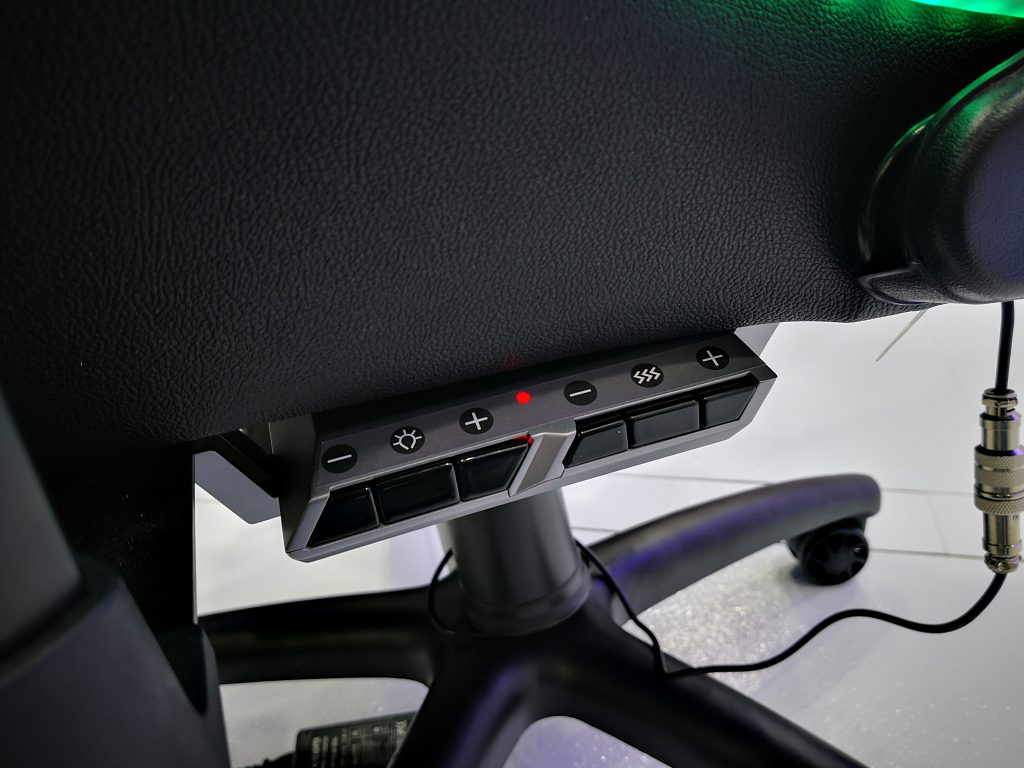 XANOVA has also mentioned to us that the gaming chair is currently in its final stage of design, and that what is shown here in the pictures may not be the final product to be released to the market. This new gaming chair is expected to be launched later in the coming months.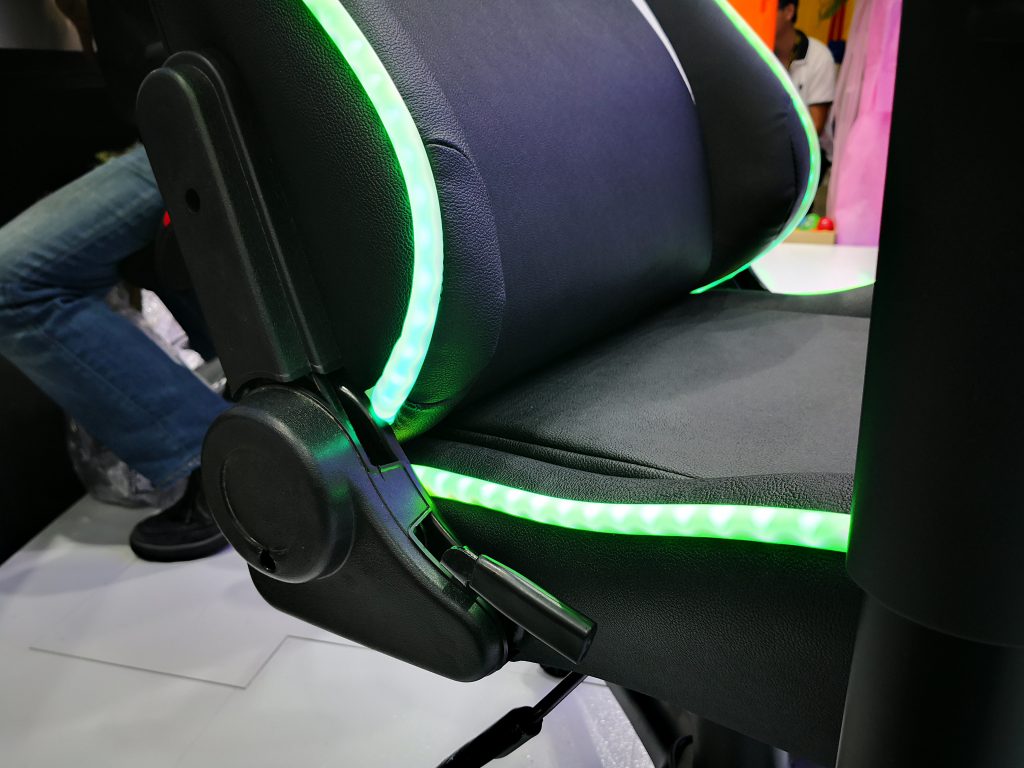 This is it! That's a quick overview of all the different new products that we've seen at GALAX's booth at COMPUTEX 2018.