Cooler Master done quite a bit of work to their latest Power Supplies. By fully designing the power circuitry in-house, they managed to achieve a simpler, but more efficient power supply line-up. This is why, their new XG and V Platinum Power Supply Series will all be rated 80 PLUS Gold and above.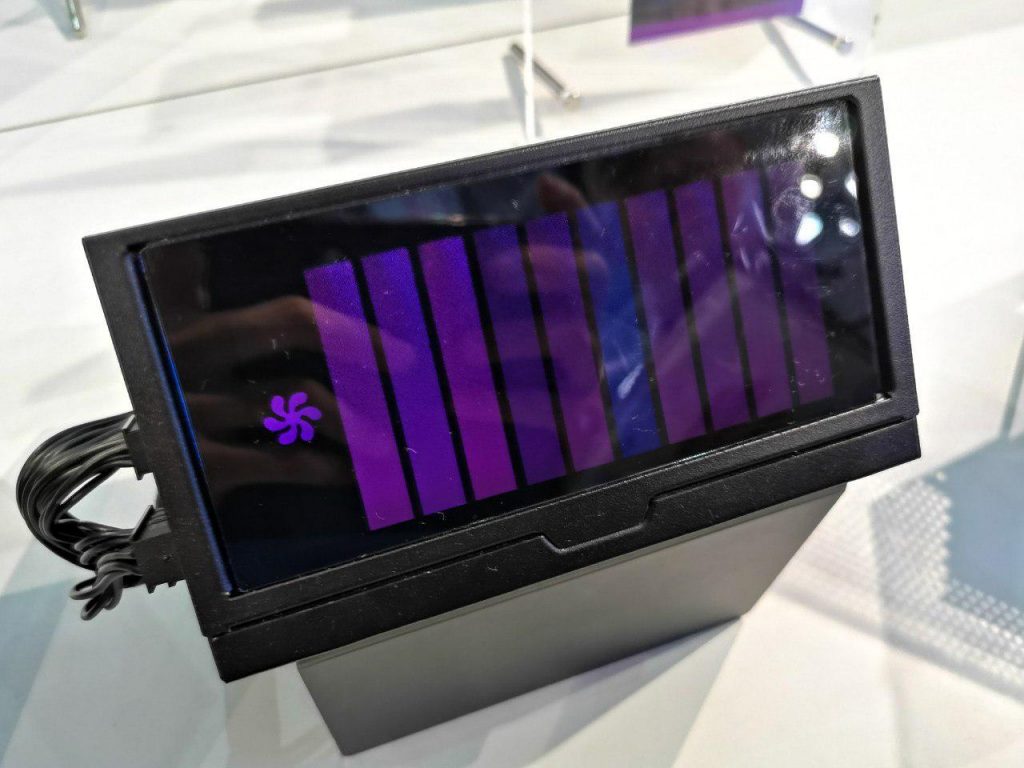 While we were at Cooler Master's booth at COMPUTEX 2018, the new Cooler Master XG captured our attention. This power supply has a unique side panel which can be customized to show different status and information of the power loading, fan speed and temperature. Of course, to keep up to trends, Cooler Master has also integrated an RGB addressable 135mm fan to it.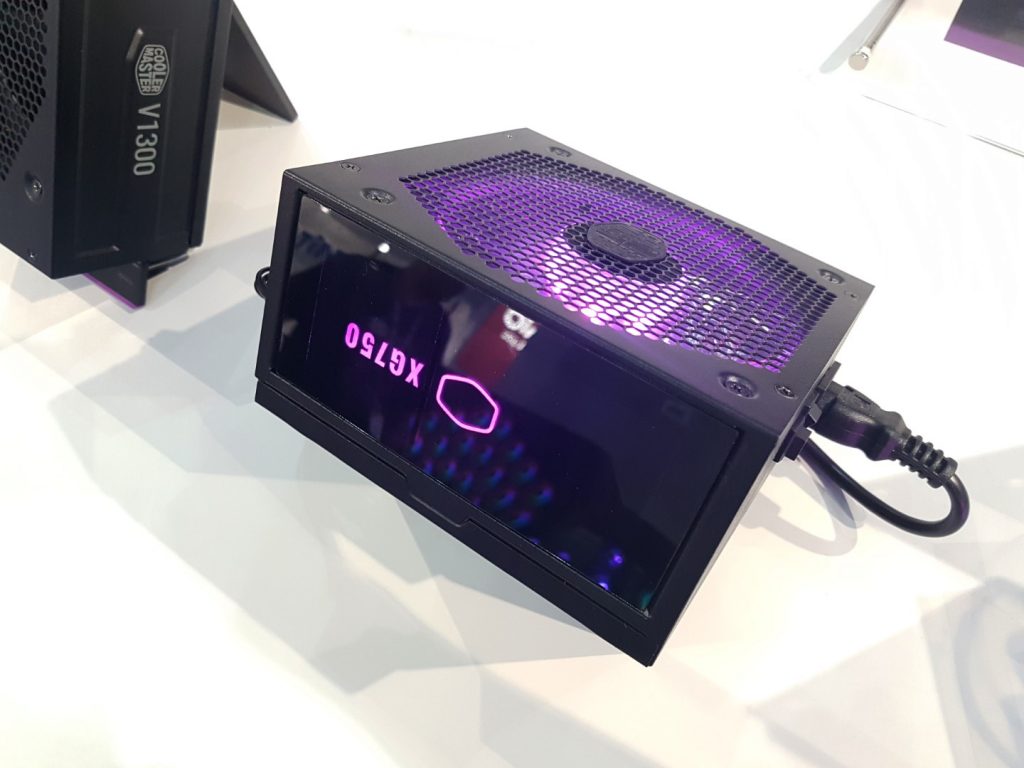 They also showed us the new V Platinum series. As the name suggests, the different models from the V Platinum series all comes with an 80 PLUS Platinum efficiency rating. They are also all fully modular, which means that cable management will be a lot simpler, as system builders won't have many unused wires hanging around. Cooler Master also explained to us that these power supplies will perform in "Hybrid Mode". This mode allows slower and quieter fan operations while the power loading is low. The fan speeds will increase, when the power loading and temperatures of the power supply increases. This is different from traditional power supply, where their fan are always running at 100%.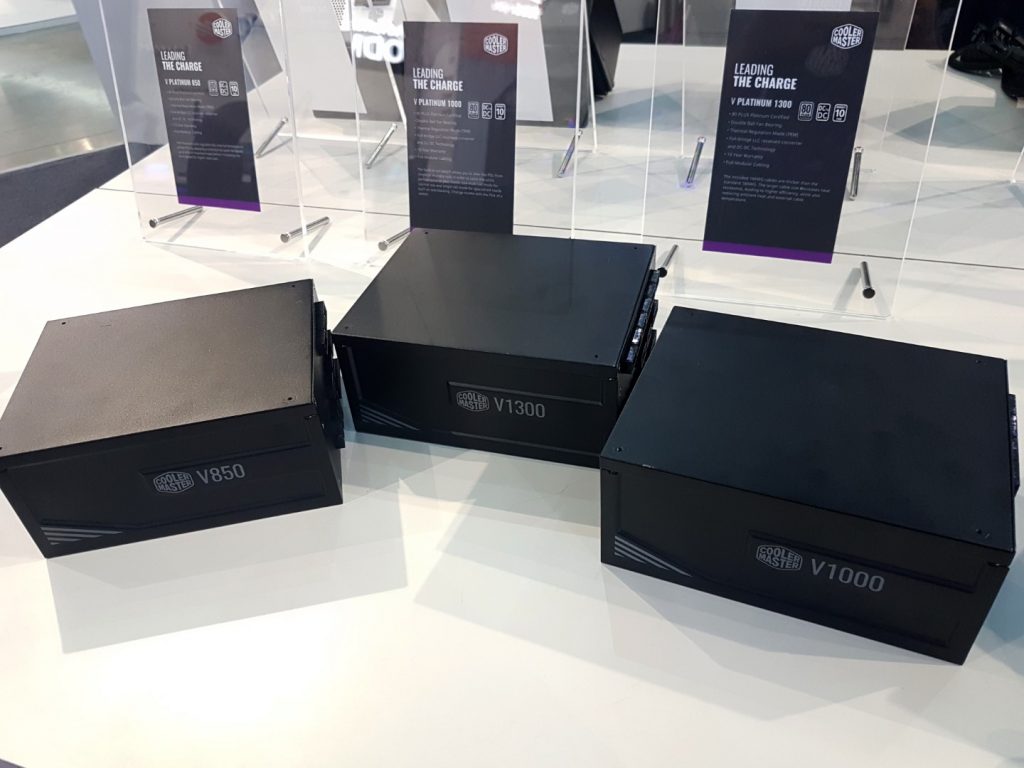 For more information about the new Cooler Master Power Supplies that were launched at COMPUTEX 2018, read the Press Release below :
---
Cooler Master Announces New XG & V Platinum Series at COMPUTEX 2018
Taipei, TAIWAN – Cooler Master, a leading manufacturer of desktop components and peripherals, today teased a few of the new power products and services that will be shown at their booth during COMPUTEX, one of the largest annual technology conventions in Asia. Though the specific details are scarce at this point, they did announce the names of some of the things that would be featured at the show.
V Platinum
It has been years since the original V series was released and to date the V1200 is the only platinum rated PSU in the V series ever to be released. Cooler Master has stated that they will be releasing a new line of V series units with a platinum efficiency rating in at least three different wattage levels. The specifics are not yet available, but it has been indicated that multiple models in this new series will be available to see firsthand at Cooler Master's booth during Computex.
XG
It has been announced that for the first time ever, Cooler Master has designed and manufactured their own PSU completely in house. Everything from the initial design concept to the final testing has been done exclusively by Cooler Master's in house product development team. Currently being referred to as simply the XG, Cooler Master claims that this brand new power platform is not only a milestone for them as a company, but for the entire PSU market.
Extreme Overclocking with Wizerty
As active supporters of the OverClocking community, Cooler Master has invited the world renowned OverClocker, Jean-Michel 'Wizerty' Tisserand of France to host a live extreme OverClocking demo complete with liquid nitrogen (LN2) cooling. At Cooler Master's booth, you will be able to see both pro-competitive and enthusiast level overclocking. You will also be able to ask Wizerty any questions you have about the process and why he chooses to use Cooler Master components.
About Cooler Master: Cooler Master is a Taipei-based, global computer components company with more than a 20-year track record in releasing innovative products that truly advance the industry. We are driven by a passion for the things that make building a PC such a unique, rewarding experience, and sustained by a vision that we can reinvent the way these machines are designed, made and used. From our landmark release of the first ever aluminum PC case to our groundbreaking switch to the modular format, Cooler Master is committed to bringing our customers and fans the utmost in choice and control. For more information on Cooler Master, please visit www.coolermaster.com or follow us on Facebook www.facebook.com/coolermastersingapore