THE LATEST NEWS:
「Taiko No Tatsujin: Drum Session!」English version for Southeast Asia will be released simultaneously with Japanese version on 26th October 2017!
SINGAPORE – 8th September, 2017 – Bandai Namco Entertainment Asia today announced that the PlayStation 4 drum rhythm game Taiko No Tatsujin: Drum Session!English version, will be released on 26th October 2017 in Southeast Asia (Singapore, Malaysia, Thailand, Philippines and Indonesia), synchronized with the release in Japan.
Second Announcement of Song List!
POP
LOSER
海の声 (Umi no Koe)
向日葵的約定 (Himawari no Yakusoku)
ギミチョコ!!(Gimme Chocolate!!)
恋音と雨空 (Koi Oto to Amazora)
太陽無用 (Ikenai Taiyou)
アポロ (APOLLO)
Anime Music
トライ・エヴリシング (Try Everything)
限界突破×サバイバー (Genkai Toppa × Survivor)
紅蓮の弓矢 (Guren No Yumiya)
ウィーアー!(We Are!)
VOCALOID™ Music
エイリアンエイリアン (Alien Alien)
ロストワンの号哭 (Rosutowanno Goukoku)
Integrated Music
HELLO KITTY
最終鬼畜妹フランドール・S
チルノのパーフェクトさんすう教室
Game Music
Theme of Ryu
Heat Haze Shadow 2
Urban Striker
EAT' EM UP!
Classic Music
ハンロック (Hung-rock)
ウィリアム・テル序曲 (William Tell Overture)
クラシックメドレー(ロック編) Classical Medley (Rock)
A Variety of Game Modes for More Fun!
In addition to the basic choice of game difficulty and score system after "Performance Mode", other Game Modes are available as follow: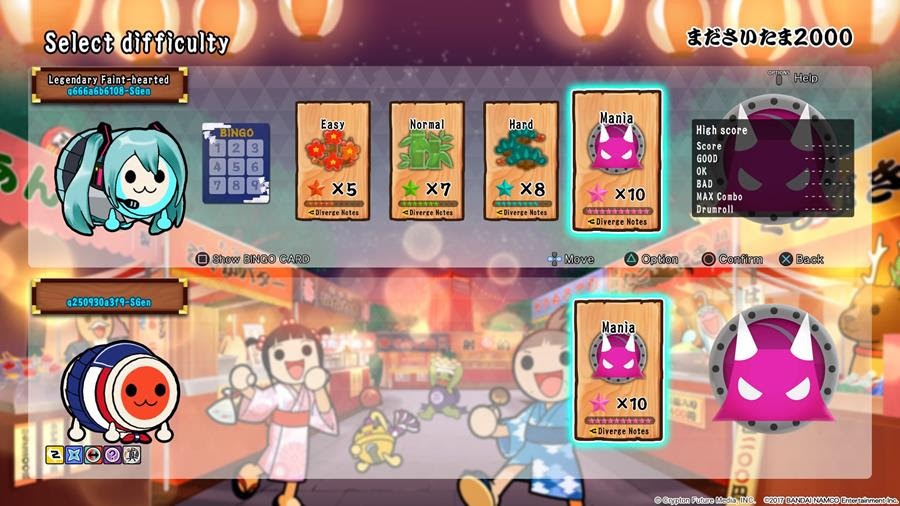 © Crypton Future Media, INC.
Friend Session Mode
Add your family and friends on PSN, and you can play using their game completion and session data even when your friends or family is not present at home with you.
©Fujiko-Pro,Shogakukan,TV-Asahi,Shin-ei,and ADK.
Guest Session Mode
Popular characters like "Hatsune Miku", "Pac-man" and "Doraemon" will appear as guest characters to cheer on players! The dialogue and actions of the characters will change according to the performance result. Players can be entertained by the varied reactions when they re-play the songs.
※There may be some character voices that are not included in the localized version.
Taiko Rank Match Mode
Five matches will first be played to determine the player's performance ability. Next, player will compete against ghost data of other players who have completed the song. Winners can accumulate awards and match points to upgrade their ranks. Enjoy performing and aim for the top rank!
※This game mode requires internet access.
More Practice to Improve Taiko Drum Skills!
Best Play Mode
Load the best performance from ghost data, and let players challenge themselves to achieve better scores! Practice Mode on the other hand will let players train themselves over the areas where they are weak at. This mode features fast-forwarding, rewind, and a variation of play speed to let players practise thoroughly.
For more information, please visit official social channels of Bandai Namco Entertainment Southeast Asia:
Title Information
Title: Taiko No Tatsujin: Drum Session!
Release Date: 26th October 2017
Publisher: Bandai Namco Entertainment Asia Pte Ltd
Platform: PlayStation®4
Genre: Drum & Rhythm
Copyright: Taiko No Tatsujin™&©BANDAI NAMCO Entertainment Inc
VOCALOID is a registered trademark of Yamaha Corporation.
For the LATEST tech updates,
FOLLOW us on our Twitter
LIKE us on our FaceBook
SUBSCRIBE to us on our YouTube Channel!